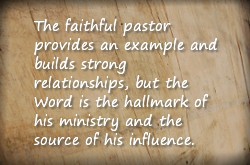 Reposted, with permission, from My Two Cents.
I recently finished teaching through Acts 20:17-38, one of the most influential passages in my life and ministry. In Paul's lecture to the Ephesians elders he provides for us what I call "an inspired philosophy of ministry." He explains what his ministry looked like, providing a pattern for the church throughout the ages. We need to know this passage well and apply it to our churches intentionally, especially in a day when there are so many competing voices regarding the nature of Christian ministry.
Paul speaks often in this "seminar" of the importance of character and affection (as I noted in this post). He roots spiritual influence both in the leader's integrity ("you know me" type comments in v. 18-21 and v. 33-35) and relationships ("I wept over you" comments in v. 19 and 31; cp. v. 37-38). But example and engagement are far from sufficient. The genius—the essence—of Christian ministry is the teaching and preaching of Scripture. Paul emphasizes the centrality of the Word in a variety of ways:
1. Paul describes the ministry ideal by using multiple NT words for preaching. Again and again he reminds us of the centrality of the Word to church life. What did he do for three years in Ephesus? Explain and apply the Bible, in every possible manner. As he recounts his ministry, it's like he's using a Greek Thesaurus:
He declared what was profitable (anangelo, v. 20)
He taught the Ephesians (didasko, v. 20)
He testified repentance and faith (diamartureo, v. 21)
He testified of the gospel (diamartureo, v. 24)
He proclaimed the kingdom (kerusso, v. 25)
He declared the whole counsel of God (anangelo, v. 27)
He admonished the Ephesians (noutheteo, v. 31)
2. Paul describes the ministry ideal by equating "ministry" with preaching. In v. 24, he speaks of his desire to finish his course and fulfill the ministry which he received from the Lord Jesus. But then he defines that ministry in the final phrase of the verse: "to testify the gospel of the grace of God." That's huge. Paul wanted to finish the ministry entrusted to him—that is (or namely, or in other words) to bear witness of the Christian gospel. I can't conceive of a clearer statement of the pastor's central responsibility. He is to point his hearers to the grace of God as manifest in the Son of God and revealed in the Word of God. That is the ministry.
3. Paul describes the ministry ideal as incessant instruction. Paul is talking about more than Sunday morning sermons, though certainly not less. He couldn't open his mouth without Scripture coming out.
Where did Paul he teach the Word? "In public and from house to house" (v. 20). That tells us that biblical instruction takes place both in public (in services and classes) and in private (counseling, discipleship, small groups, etc.). In fact, v. 25 gives the impression that Paul often taught on the fly as he wandered about Ephesus (v. 25), not only at designated teaching times.
To whom did Paul teach the Word? Anyone who would listen, whether Jews or Gentiles (v. 21).
How did Paul teach the Word? Courageously, refusing to flinch or hold back even when what he was saying was hard to hear (v. 20, 27). After all, it wasn't about him (v. 24).
When did Paul teach the Word? All the time, "night or day" (v. 31).
4. Paul describes the ministry ideal by contrasting the teaching of shepherds and wolves. His command to the elders to "care for the church of God" (v. 28) is vital. The term is poimaino, which is the verb form of "shepherd." The KJV's translation of the term as "feed the church" is too narrow. However, it is true that feeding is one of the primary jobs of shepherds—probably the primary job. Sure, they are also to protect the flock (v. 29-30). But even that protection must be an exercise in teaching:
Wolves are noted for their teaching. The M.O. of the church's enemies is "teaching twisted things" (v. 30). The battle for the flock is a battle of ideas. Wolves are teachers as surely as shepherds are. To protect the flock requires that we not only expose false teachers (which is necessary) but that we refute them—protecting from twisted things by teaching straight things!
Wolves are combated with teaching. Paul demonstrates how to fight off wolves by his own Word-centered example. He immediate responds to his discussion of wolves (v. 29-30) by again pointing to his example of teaching: "Therefore be alert, remembering that for three years I did not cease night or day to admonish every one with tears" (v. 31). Preaching is essential in the face of apostasy. It includes warnings, including of specific wolves. It includes emotion. It includes urgency. It's a matter of defense as well as nourishment.
5. Paul describes the ministry ideal by commending the church to God and His Word. Acts 20:32 was forever chiseled into my memory by one of the pastors of my youth. Dr. Richard Keltner would end each service by quoting it as an benediction: "I commend you to God and to the word of his grace, which is able to build you up and to give you the inheritance among all those who are sanctified." I loved that, and I do it often myself. But the words would have been even more meaningful in their original context. Paul wasn't commending the church to God and the Word of His grace (a great name for the Scriptures!) for a week, "till we meet again." He was leaving them for good (v. 25, 38). What's more, he was telling them that they didn't need him. He was expendable as long as they had God and the Scriptures to build them up and to prepare them for their approaching inheritance. Ministry that centers on the Word is sustainable even in the messenger's absence. Why? Because it is the Word that edifies and equips the church of Christ.
Conclusion
Faithful Christian ministry is all about the Word. The pastor delivers it. Announces it. Explains it. Indoctrinates with it. Warns with it. Defends with it. Reminds of it. Applies it. He isn't an executive, a manager, or a marketing specialist. He's a teacher. Yes, he provides an example and builds strong relationships, but the Word is the hallmark of his ministry and the source of his influence. His heartbeat is the gospel. That's the way Paul did the ministry. That's the way he told the Ephesian elders to do it. And that's the way we should be doing it some 2000 years later. God help us.
[node:bio/chris-anderson body]
1335 reads