TylerR Thu, 03/16/2017 - 12:00am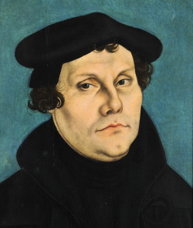 About Luther
"He was never an infidel, nor a wicked man, but a pious Catholic from early youth; but he now became overwhelmed with a sense of the vanity of this world and the absorbing importance of saving his soul, which, according to the prevailing notion of his age, he could best secure in the quiet retreat of a cloister.
He afterward underwent as it were a second conversion, from the monastic and legalistic piety of mediæval Catholicism to the free evangelical piety of Protestantism, when he awoke to an experimental knowledge of justification by free grace through faith alone."1
Luther Tells About His Conversion2
Meanwhile, that same year I had again turned the exposition of the Psalter, confident that after the academic treatment of the Epistles of St. Paul to the Romans and Galatians and the Epistle of the Hebrews I was better trained. Certainly I had been possessed by an unusually ardent desire to understand Paul in his Epistle to the Romans. Nevertheless, in spite of the ardor of my heart I was hindered by the unique word in that first chapter, "The righteousness of God is revealed in it."
I hated that word "righteousness of God," because in accordance with the usage and custom of the doctors I had been taught to understand it philosophically as meaning, as they put it, the formal or active righteousness according to which God is righteous and punishes sinners and the unjust.
As a monk I led an irreproachable life. Nevertheless, I felt that I was a sinner before God. My conscience was restless, and I could not depend on God being propitiated by my satisfactions. Not only did I not love, but I actually hated the righteousness of God who punishes sinners … Thus a furious battle raged within my perplexed conscience, but meanwhile I was knocking at the door of this particular Pauline passage, earnestly seeking to know the mind of the great Apostle.
Day and night I tried to meditate upon the significance of these words:
The righteousness of God is revealed in it, as it is written, 'The righteous shall live by faith.'
Then, finally, God had mercy on me, and I began to understand that the righteousness of God is that gift of God by which a righteous man lives, namely, faith, and this sentence – "the righteousness of God is revealed in the Gospel" – is passive, indicating that the merciful God justifies us by faith, as it is written, "the righteous shall live by faith."
Now I felt as though I had been reborn altogether and had entered Paradise. In the same moment the face of the whole of Scripture became apparent to me. My mind ran through the Scriptures, as far as I was able to recollect them, seeking analogies in other phrases, such as the works of God, by which he makes us strong, the wisdom of God, by which he makes us wise, the strength of God, the salvation of God, the glory of God.
Just as intensely as I had before hated the expression "the righteousness of God," I now lovingly praised this most pleasant word. This passage from Paul became to me the very gate to paradise. Afterwards I read Augustine's treatise On the Spirit and the Letter, and, contrary to my expectation, I discovered a similar interpretation of the righteousness of God: that with which we are endowed when God justifies us. Although up until now this had been imperfectly explained, and he does not clearly expound everything concerning imputation, he nevertheless seemed to teach the righteousness of God by which we are justified …
These words "righteousness" and "righteousness of God" struck my conscience as flashes of lightening, frightening me each time I heard them: if God is righteous, he punishes. But by the grace of God, as I once meditated upon these words in this tower and heated room: "the righteous shall live by faith" and "the righteousness of God," there suddenly came into my mind the thought that if we as righteous are to live by faith, and if the righteousness of faith is to be for salvation to everyone who believes, then it is not our merit, but the mercy of God.
Thus my soul was refreshed, for it is the righteousness of God by which we are justified and saved through Christ. These words became more pleasant to me. Through this word the Holy Spirit enlightened me in the tower.
Notes
1 Philip Schaff, History of the Christian Church, 8 vols. (New York: Charles Scribner's Sons, 1910), 7:113.
2 This excerpt is from Luther's own writing, compiled by Hans J. Hillerbrand (ed.), The Reformation: A Narrative History Related by Contemporary Observers and Participants (New York, NY: Harper & Row, 1964), 27-28.
---
Tyler Robbins is a former Pastor and a graduate of Maranatha Baptist Seminary. He lives in Olympia, WA with his family, where he is an insurance fraud investigator with the State of Washington. He blogs as the Eccentric Fundamentalist.