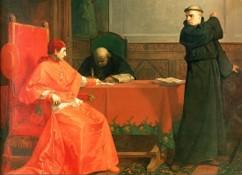 This article originally ran in October 2017.
After Luther published his 95 theses, inviting debate on the abuse of indulgences, things began to move rapidly in Wittenberg. Phillip Schaff, the grand church historian, sums up the course of events during the following year:1
Pope Leo X. was disposed to ignore the Wittenberg movement as a contemptible monkish quarrel; but when it threatened to become dangerous, he tried to make the German monk harmless by the exercise of his power. He is reported to have said first, "Brother Martin is a man of fine genius, and this outbreak is a mere squabble of envious monks;" but afterwards, "It is a drunken German who wrote the Theses; when sober he will change his mind."
Three months after the appearance of the Theses, he directed the vicar-general of the Augustinian Order to quiet down the restless monk. In March, 1518, he found it necessary to appoint a commission of inquiry under the direction of the learned Dominican Silvester Mazzolini, called from his birthplace Prierio or Prierias (also Prieras), who was master of the sacred palace and professor of theology.
3590 reads