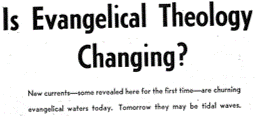 This article was published in the March 1956 issue of "Christian Life" magazine. It was seen by fundamentalists as a direct repudiation of the movement. One fundamentalist scholar wrote that the contributors were "crystallizing new evangelical discontent with fundamentalism."1Still another observed that fundamentalists "viewed the leadership of new evangelicalism as a group of compromisers who were abandoning the fundamentals of the faith in order to be accepted by the larger theological world."2 
This is Part 2 of the article.
A More Tolerant Attitude Toward Varying Views on Eschatology
Used to be that most fundamentalists were pre-millennial and pre-tribulation. That is, they believed that Christ was coming again to begin a thousand-year reign of peace. Furthermore, that the church would be "raptured" – (taken up to Heaven) – before the "tribulation" (seven years of trouble) the Book of Revelation says will come before Christ's return.
But for the last ten years debate has been raging on these subjects. Some evangelicals have taken an "amillennial" position (no actual thousand-year period). Some are saying that the Bible doesn't teach that the church will escape the tribulation.
One theologian expressed to Christian Life fear that conservative Christianity might be seriously split between "those who wish to identify their views with strict orthodoxy and those who wish to keep eschatology as a matter of open and free discussion."
But among theologians, at least, the "free and open" spirit is winning out.
Last year's debate on the tribulation between Harold John Ockenga of Boston's Park Street Church and John Walvoord of Dallas Theological Seminary in the pages of Christian Life is an example. It caused a flurry of comment pro and con. Yet generally it was accepted as a legitimate discussion for an evangelical magazine.
Paul Wooley of Westminster Theological Seminary gives the viewpoint which seems to be growing: "The average evangelical Christian realizes that the exegesis (explanation) of the Scriptures on this point is not so simple that he can be cocksure about every detail. The result is that there is a more healthy open-mindedness about the details of the eschatological scheme."
Certainly everybody isn't going to agree. The significance of the whole thing, however, is that evangelicals can agree to disagree.
Vernon Grounds sums up: "The outcome of the controversy will be exceedingly wholesome. I am confident. We will emerge with a more balanced eschatological interest, emphasizing the larger issues of human destiny which have often been obscured by incidentals."
A Shift Away From So-Called Extreme Dispensationalism
Theologians are probably closer to agreeing on the fact that dispensationalism is facing a real test today than on any other statement.
Warren Young's comment, "The trend today is away from dispensationalism – away from the Scofield Notes – to a more historical approach," is echoed by many evangelical theologians.
Wilbur Smith stated, "Regarding evangelical views on eschatology, I am sure that there is a growing repudiation of extreme dispensational views. In fact, many who are absolutely conservative in their eschatological beliefs rarely use the word dispensation now."
In Assemblies of God schools, it is reported, "dispensational truth," is being submerged "to a less conspicuous place in the curriculum." And fewer and fewer Assemblies of God ministers are using dispensational charts.
An Increased Emphasis on Scholarship
Says Cornelius Van Til of Westminster Seminary: "To present the full implications of the Gospel requires a body of men who are trained in the sciences and in philosophy and who fathom the significance of the Christian religion for these fields."
Carl F.H. Henry of Fuller Theological Seminary feels keenly the need for evangelical schools to "organize their scholarship forces into creative centers of research and writing. We need a great center of conservative theological thought."
It's clear that evangelicals do not glory in ignorance. The evangelical scholar does not stab a finger at the Bible and say, "This is it, take it or go to hell." As Warren C. Young of Northern Baptist Theological Seminary puts it: "The evangelical believes that his position can be supported and justified by a scholarly consideration of the case. He is the apologist for conservative Christianity."
Thought there is as yet no "great center of theological thought," evangelical schools have been steadily upping their standards. Today the evangelical can get a well-rounded education at a good number of schools firmly committed to the teaching of God's Word.
A More Definite Recognition of Social Responsibility
Evangelicals believe that only by calling individual men to the reality of sin in their lives will the ills of society be cured. Nevertheless – unlike fundamentalism – evangelicalism realizes the church has a prophetic mission to society. There are times when the church must thunder, "Thus saith the Lord!"
To quote Grounds again: "We must admit that a compelling ethic in terms of biblical categories has yet to be worked out. We must … make evangelicalism more relevant to the political and sociological realities of our time."
Terrelle B. Crum of Providence-Barrington Bible College stresses that "unless conservative Christian theologians take more time to point out the relevance of Christ and the Bible to important (social) issues conservatism will be neglected by the rising generation."
To be continued …
6398 reads