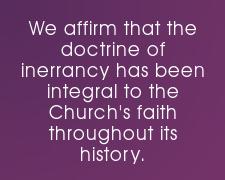 This is the last portion of the "Exposition" section from the 1978 Chicago Statement on Biblical Inerrancy. It gets right to the heart of the issue about inerrancy. For some recent media resources about the inerrancy issue, see the 2015 Shepherd's Conference and Ligonier's 2015 Winter Conference.
Infallibility, Inerrancy, Interpretation

Holy Scripture, as the inspired Word of God witnessing authoritatively to Jesus Christ, may properly be called infallible and inerrant. These negative terms have a special value, for they explicitly safeguard crucial positive truths.

lnfallible signifies the quality of neither misleading nor being misled and so safeguards in categorical terms the truth that Holy Scripture is a sure, safe, and reliable rule and guide in all matters.

Similarly, inerrant signifies the quality of being free from all falsehood or mistake and so safeguards the truth that Holy Scripture is entirely true and trustworthy in all its assertions.

We affirm that canonical Scripture should always be interpreted on the basis that it is infallible and inerrant. However, in determining what the God-taught writer is asserting in each passage, we must pay the most careful attention to its claims and character as a human production. In inspiration, God utilized the culture and conventions of His penman's milieu, a milieu that God controls in His sovereign providence; it is misinterpretation to imagine otherwise.

So history must be treated as history, poetry as poetry, hyperbole and metaphor as hyperbole and metaphor, generalization and approximation as what they are, and so forth. Differences between literary conventions in Bible times and in ours must also be observed: since, for instance, non-chronological narration and imprecise citation were conventional and acceptable and violated no expectations in those days, we must not regard these things as faults when we find them in Bible writers. When total precision of a particular kind was not expected nor aimed at, it is no error not to have achieved it. Scripture is inerrant, not in the sense of being absolutely precise by modern standards, but in the sense of making good its claims and achieving that measure of focused truth at which its authors aimed.

The truthfulness of Scripture is not negated by the appearance in it of irregularities of grammar or spelling, phenomenal descriptions of nature, reports of false statements (e.g., the lies of Satan), or seeming discrepancies between one passage and another. It is not right to set the so-called "phenomena" of Scripture against the teaching of Scripture about itself. Apparent inconsistencies should not be ignored. Solution of them, where this can be convincingly achieved, will encourage our faith, and where for the present no convincing solution is at hand we shall significantly honor God by trusting His assurance that His Word is true, despite these appearances, and by maintaining our confidence that one day they will be seen to have been illusions.

Inasmuch as all Scripture is the product of a single divine mind, interpretation must stay within the bounds of the analogy of Scripture and eschew hypotheses that would correct one Biblical passage by another, whether in the name of progressive revelation or of the imperfect enlightenment of the inspired writer's mind.

Although Holy Scripture is nowhere culture-bound in the sense that its teaching lacks universal validity, it is sometimes culturally conditioned by the customs and conventional views of a particular period, so that the application of its principles today calls for a different sort of action.

Skepticism and Criticism

Since the Renaissance, and more particularly since the Enlightenment, world-views have been developed which involve skepticism about basic Christian tenets. Such are the agnosticism which denies that God is knowable, the rationalism which denies that He is incomprehensible, the idealism which denies that He is transcendent, and the existentialism which denies rationality in His relationships with us. When these un- and anti-biblical principles seep into men's theologies at [a] presuppositional level, as today they frequently do, faithful interpretation of Holy Scripture becomes impossible.

Transmission and Translation

Since God has nowhere promised an inerrant transmission of Scripture, it is necessary to affirm that only the autographic text of the original documents was inspired and to maintain the need of textual criticism as a means of detecting any slips that may have crept into the text in the course of its transmission. The verdict of this science, however, is that the Hebrew and Greek text appear to be amazingly well preserved, so that we are amply justified in affirming, with the Westminster Confession, a singular providence of God in this matter and in declaring that the authority of Scripture is in no way jeopardized by the fact that the copies we possess are not entirely error-free.

Similarly, no translation is or can be perfect, and all translations are an additional step away from the autographa. Yet the verdict of linguistic science is that English-speaking Christians, at least, are exceedingly well served in these days with a host of excellent translations and have no cause for hesitating to conclude that the true Word of God is within their reach. Indeed, in view of the frequent repetition in Scripture of the main matters with which it deals and also of the Holy Spirit's constant witness to and through the Word, no serious translation of Holy Scripture will so destroy its meaning as to render it unable to make its reader "wise for salvation through faith in Christ Jesus" (2 Tim. 3:15).

Inerrancy and Authority

In our affirmation of the authority of Scripture as involving its total truth, we are consciously standing with Christ and His apostles, indeed with the whole Bible and with the main stream of Church history from the first days until very recently. We are concerned at the casual, inadvertent, and seemingly thoughtless way in which a belief of such far-reaching importance has been given up by so many in our day.

We are conscious too that great and grave confusion results from ceasing to maintain the total truth of the Bible whose authority one professes to acknowledge. The result of taking this step is that the Bible which God gave loses its authority, and what has authority instead is a Bible reduced in content according to the demands of one's critical reasonings and in principle reducible still further once one has started. This means that at bottom independent reason now has authority, as opposed to Scriptural teaching. If this is not seen and if for the time being basic evangelical doctrines are still held, persons denying the full truth of Scripture may claim an evangelical identity while methodologically they have moved away from the evangelical principle of knowledge to an unstable subjectivism, and will find it hard not to move further.

We affirm that what Scripture says, God says. May He be glorified. Amen and Amen.
1685 reads