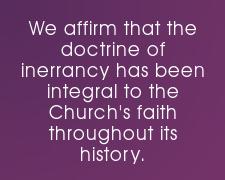 This is the last portion of the "Exposition" section from the 1978 Chicago Statement on Biblical Inerrancy. It gets right to the heart of the issue about inerrancy. For some recent media resources about the inerrancy issue, see the 2015 Shepherd's Conference and Ligonier's 2015 Winter Conference.
Infallibility, Inerrancy, Interpretation

Holy Scripture, as the inspired Word of God witnessing authoritatively to Jesus Christ, may properly be called infallible and inerrant. These negative terms have a special value, for they explicitly safeguard crucial positive truths.

lnfallible signifies the quality of neither misleading nor being misled and so safeguards in categorical terms the truth that Holy Scripture is a sure, safe, and reliable rule and guide in all matters.

Similarly, inerrant signifies the quality of being free from all falsehood or mistake and so safeguards the truth that Holy Scripture is entirely true and trustworthy in all its assertions.
1592 reads