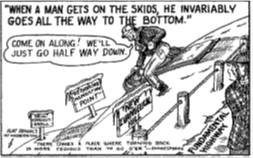 In the spring of 1959, Ernest Pickering wrote an article for the Central Bible Quarterly entitled "The Present Status of the New Evangelicalism."1 This was only one of the first in an eventual avalanche of articles written by passionate and articulate fundamentalists, beginning in the late 1950s, as the breach between the "New Evangelicalism" and "Fundamentalism" became, for many men, a bridge too far.
Elsewhere, Robert Ketchum wrote to GARBC churches and pleaded with them to not participate in Billy Graham's crusades. To do so, he warned, would be "the same in principle as going back into the [American Baptist] Convention for a season."2
In the summer of 1959, William Ashbrook (also writing for the Central Bible Quarterly) solemnly warned his readers about the "New Evangelicalism." He thundered forth, "First, it is a movement born of compromise. Second, it is a movement nurtured on pride of intellect. Third, it is a movement growing on appeasement of evil. And finally, it is a movement doomed by the judgment of God's holy Word."3
This isn't the language of diplomacy! The gauntlet had been thrown down, and Pickering's article was one of the opening salvos fundamentalists launched to warn its constituents about this insidious threat.
One of the most significant theological movements of this generation is exercising an increasingly large influence in American church life. It has arisen out of the soil of American fundamentalism. The distinguished character and ability of its leaders and the wide-spread exposition of its principles are combining to assure it a ready hearing among many conservative ministers and laymen today.

By common usage this movement has come to be known as the "new evangelicalism." Basically, it is an attempt to find a meeting place between liberalism (with its more modern expression, new-orthodoxy) and fundamentalism. It is unwilling to espouse all the tenets of liberalism, but is anxious to escape some of the reproach attached to fundamentalism.

Probably several factors have contributed to the rise of this new approach. Apparently one of the most basic of such factors is a long-cherished desire to exert more influence and receive more recognition from the contemporary secular and religious society. A hint of this is given in this statement by one of its advocates:

And we have not always been granted even that measure of civilized respect which our competitors seem willing to accord each other in the world of scholarship and learning. Too often our best reception has been an amused indulgence…" (Christianity Today, March 4, 1957).

Some evangelicals have for years chafed at the bit because their classification as fundamentalist precluded any serious consideration of their thought and writings by the masses of our country. The bitter pill of reproach, isolation, and derision because of their theological position has been a difficult one to swallow. They have longed for acceptance as bona fide religious leaders among the recognized religious groups of the day. This driving motive has compelled them to change their approach in order to better conform to the pattern of the day, and so seek to make themselves acceptable.

Coupled with this has been an unwillingness to continue in a constant, vigorous defense of the faith. New evangelicals express impatience and disdain with those who expose the sin and error of apostasy and long to forget the whole fundamentalist-modernist controversy and move on to something more "constructive." They have grown weary in the battle, and have decided that the advice of the old frontiersman is wise, "If you can't lick 'em, jine 'em."

The Principles of The New Evangelicalism

The new evangelicalism is a very recent movement, an emerging movement, and hence it does not as yet present itself in any highly organized form nor have its principles been all thoroughly crystallized. However, it is not too difficult to discover their major premises by a perusal of various articles which are appearing in defense of their cause.

Friendliness to liberalism and neo-orthodoxy.

This new evangelicalism approaches the liberal bear with a bit of honey instead of a gun. It expresses the feeling that liberalism is on the wane and that conservatism is growing in many of the major denominations. So, Donald Grey Barnhouse, in a letter of apology to the Presbyterian Church for his uncooperative spirit in the past, states that, "there has been a change of circumstances and of theological emphasis within our denomination," (Monday Morning, Dec. 20, 1954). He declares in another place that "the movement in the theological world today is definitely toward the conservative position," (Eternity, Sept., 1957).

Feeling that theological liberals are increasingly "repentant" and are seeking Bible truth, the new evangelicals are advocating a rapprochement with them, and one editor has noted "a growing willingness of evangelical theologians to converse with liberal theologians." This feeling has expressed itself in many ways — cooperative evangelism, acceptance of speaking engagements in liberal institutions, and in other ways. Specifically, this tenet of evangelicalism is gradually bringing its proponents into a closer relationship with the leaders of the ecumenical movement— the National and World Council of Churches.

Alva McClain, President of Grace Theological Seminary, has very aptly and forcibly put his finger upon the fallacy of this reasoning.

Does anyone really think that we might "profitably engage in an exchange of ideas" with blasphemers who suggest that our only Lord and Master was begotten in the womb of a fallen mother by a German mercenary and that the God of the Old Testament is a dirty bully? Basically, the problem here is ethical rather than theological. We must never for one instant forget that they are deadly enemies with whom there can be neither truce nor compromise, (King's Business, January, 1957).

Disavowal of fundamentalism and hostility toward separation

The adoption of the title "evangelicalism" is in itself an expression of rebellion against fundamentalism. The statement has been made by one leading figure that "God has bypassed extreme fundamentalism." A number of journals have produced articles severely castigating the fundamentalists for their "divisiveness," "bitterness," and a host of other evils. The temper of the new evangelicalism is definitely one of strong criticism of fundamentalism as a movement.

This is accompanied by a hostility to separatists, those who hold that severance from denominational apostasy is the only Scriptural course to follow. Harold Ockenga, first president of Fuller Seminary, stated at the inception of that seminary that it intended to train young men to go back into the established denominations and that it was not a separatist institution. Donald Grey Barnhouse, for the past few years, has severely reprimanded anyone who separated from an ecclesiastical organization on doctrinal grounds.

Theological elasticity

New evangelicals view fundamentalism as impossibly rigid in its theological expression. In an article setting forth some of their major beliefs it was suggested that the "whole subject of biblical inspiration needs reinvestigation," (Christian Life, March, 1956) … In fact, they resist the use of the phrase, "verbal inspiration," because they feel that it antagonizes liberal theologians.

This contemporary brand of evangelicalism is very broad in doctrinal inclusivism. It opposes the preciseness of dispensationalism and registers an impartiality which borders on indifference when faced with the great prophetic questions. It is cordial to Pentecostal and holiness theology, "advocating great latitude on the doctrine of the Holy Spirit. In short, it tries to embrace as wide a constituency as possible by removing as many theological obstacles as it can. This results of course in an undefined evangelicalism which bypasses many important doctrines.

Emphasis on social problems

One of the leaders of the new evangelicalism was requested by reporters to define its nature. He replied that the new evangelicalism "differs from fundamentalism in its willingness to handle the social problems which the fundamentalists evaded," (Associated Press, Dec. 8, 1957). Vernon Grounds declares, "We must … make evangelicalism more relevant to the political and sociological realities of our times," (Christian Life, March, 1956).

The problem the evangelicals face at this point is the rather clear fact that nowhere in Scripture is the church commissioned to agitate for better social conditions or to attempt to solve current social problems. While it is the duty of every believer to conduct himself as a good citizen and vote for whatever measures seem right, it is not the responsibility of the church of Christ to remedy all the social evils of its day. Paul never organized a "Society for the Abolition of Slavery." He simply admonished slaves to be good slaves for Christ's sake.

The New Testament does not reveal any divine plan for a church-sponsored social program. History teaches that preoccupation with this eventually leads to the ruin of the church.

A positivism without negativism

New evangelicals wish to avoid as much controversy as possible. The leading editorial spokesman for the position seeks a ministry which is "positive and constructive rather than negative and destructive," (Christianity Today, March 4, 1957). The clear implication is that negativism is not constructive.

For this reason the new evangelicalism does not clearly and consistently expose the machinations and error of religious apostasy. It feels that to engage in such ministry would be to alienate the liberals and render their hopes of winning them void. To bolster their program of positivism evangelicals have branded fundamentalists as too "negative" and "reactionary." Doctrinal controversy has been described as unfortunate and divisive.

However, John F. Walvoord answers this charge. "Fundamentalists have inevitably been controversialists, since historically they have fought the tide of liberal theology. Those who dislike controversy naturally turn away from fundamentalism," (Eternity, June, 1957, p. 35).

An obedient church must contend with error as well as propagate truth.

The Impact of The New Evangelicalism

Compromising theologies are not new in the Christian church … The two extremes of liberalism and fundamentalism are bound eventually to bring forth a mediating effort such as the new evangelicalism. Very rapidly the new evangelicalism is cohering into a definite theological movement. It already can lay claim to its own leaders, its schools, and its magazines. It has become a force which cannot be ignored in Protestantism today.

For any honest observer it is obvious that the new evangelicalism is dividing the conservative camp. Many conservatives are being swayed by the large-scale scholarly and popular presentation of the new evangelicalism. Possibly the single greatest asset to their cause is the ecumenical evangelistic technique which in metropolitan centers of the world is uniting liberals and fundamentalists and thereby subtly gaining the objective of evangelicalism — a synthesis.

On the other hand, many fundamentalists of various denominational allegiances are standing fast against the inroads of this evangelicalism and not without great opposition.

The effect of this entire movement will have to be decision. Decision on the part of all those who have in the past been identified with what is known as the fundamentalist movement. The interdenominational schools of our country are facing a decision. Will they stand for fundamentalism or will they abdicate to the new evangelicalism? For most of them it is not an easy decision for their interdenominational character relates them to leaders on both sides of the issue.

The same decision will face interdenominational missionary agencies. Many of them are reluctant to take sides in any doctrinal or ecclesiastical controversy for fear of alienating some of their supporters. However, the very nature of the new evangelicalism will demand a decision.

The new evangelicalism, while propagated by sincere and able men, is not worthy of the support of Christians. It lacks moral courage in the face of the great conflict with apostasy. It lacks doctrinal clarity in important areas of theology. It makes unwarranted concessions to the enemies of the cross of Christ. Christians everywhere should resist it steadfastly in the faith.
Notes
1 Ernest Pickering, "The Present Status of the New Evangelicalism," Central Bible Quarterly, CENQ 02:1 (Spring 1959).
2 Robert T. Ketchum, "Special Information Bulletin #5," GARBC, (n.d.), 4.  
3 William Ashbrook, "The New Evangelism - The New Neutralism," in Central Bible Quarterly, CENQ 02:2 (Summer 1959), 31.        
18974 reads