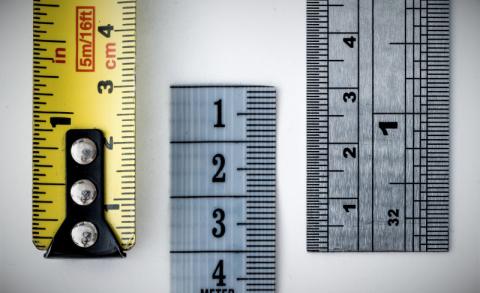 A recent forum discussion raised the question of what role the narrative portions of Scripture have for establishing Christian doctrine. The question had two parts: "What is sound doctrine concerning the doctrinal importance of narratives in Scripture? Who decides what is the correct view and what is not?"
I remember hearing a lot of bad preaching from narrative, growing up. I also heard a lot of good preaching from narrative. One lesson learned: If we don't respect what narrative is, we can easily miss what God intended and even abuse the Scriptures.
As for "Who decides…"? I hope to show here that nobody special is required. We can all see that there are challenges involved in using narrative properly.
I'll explore the topic briefly here in Q & A format.
1. Can biblical narrative establish doctrine?
It can! Consider the first few chapters of Genesis. Our doctrines of creation and the fall are clear (though not complete) from Genesis alone.
Both Jesus (Matt 19:4-6) and the apostles (1 Tim 2:13-14, 2 Cor 11:3, 1 John 3:12, 1 Pet 3:20) referenced portions of Genesis as support for doctrines they taught.
Still, narrative almost never stands alone as a basis for doctrine (more on why later).
2. Can biblical narrative show us how to behave?
The popular answer that "narrative is descriptive, not prescriptive" is an overgeneralization.
For one thing, anything God affirms as true is something we are prescribed to believe. In that sense, all narrative is "prescriptive." Looking at Genesis again, we're not called to believe the lies the Serpent told to Eve, but we're called to believe that the Serpent told those lies.
When people say, "Narrative is descriptive, not prescriptive," though, they're usually referring to ethical prescription—our conduct. But even this overgeneralizes.
We are taught that we should follow Christ's example and be like Him (1 Pet 2:21, 1 Cor 11:1)—and most of what we know to imitate is in the narratives of the four Gospels.
But "narrative is descriptive, not prescriptive" is correct in this sense:
A report that some individual or group did something is not, in itself, teaching that we should do likewise.
We know this is the case when the Bible reports that someone sinned: Cain killed Abel. Context tells us this was sin (Gen 4:10-11, 1 John 3:12).
But what about passages where the reported actions are not sin or not clearly sin?
Elijah took the last bit of food from a starving widow and child. 1 Kings 17:12
He also killed false prophets. 1 Kings 18:40
Ezra refused government aid. Ezra 8:21-23
Nehemiah accepted government aid. Nehemiah 2:7-9
Ezekiel preached lying down on his side for 390 days. Ezekiel 4:4-8
Isaiah preached in his underwear. Isaiah 20:2
Most of us have more sense than to read these passages and reason that hungry preachers should rob widows and children. We're not going to say there's a biblical principle that we should hack false prophets to pieces. We're not going to start preaching lying down or wearing only our Fruit of the Looms.
To draw principles from these passages, we need (a) good sense and, (b) other Scriptures. (The second has priority in authority, but the first can save a lot of time!)
Even if the individual in question is clearly a godly person, there might be special circumstances that provide the context for their actions. The same could be said of an ungodly person.
As a child, I thought as a child—so the Bible had "good guys" and "bad guys." When I became a man, I put away childish things. I now understand that sometimes the good guys do something wrong (e.g., 2 Sam 11:3ff), and sometimes the bad guys do something right (e.g., Exodus 10:16, Acts 5:34-35).
Identifying good and bad examples requires that we evaluate the immediate context, the larger context, and the context of Scripture as a whole. A bit of common sense helps, too.
3. Do biblical narratives provide metaphors for spiritual realities?
Let's not be too hasty answering this. Consider: Nothing that happens is by chance. God works all things according to the counsel of His will (Eph 1:11). And nothing recorded in Scripture is there by chance either. So, are the spiritual parallels we see in Bible stories "just a coincidence"?
Paul certainly seems to see layers of meaning in the account of Hagar and Ishmael and Isaac, for example (Gal 4:21-26).
On the other hand, we're clearly wrong to make features of biblical narratives representative of deeper truths just because we think we see a resemblance of some sort (a.k.a. "spiritualizing").
That path leads to making stories mean whatever we want. How could it do otherwise? (Sorry, Origen. There's just no way it can work.)
Killing Goliath
As David approached Goliath, he took five stones from a brook (1 Sam 17:40). I recall one preacher who expounded on "five stones you need to have in your bag to be successful against temptation"—or something like that.
We know a stone can be a metaphor (2 Sam 22:3, 1 Cor 10:4). But are we supposed to see David's five stones as representative of something more? Is there anything in the immediate context or the rest of Scripture to suggest that we should? And is David's behavior in picking up stones supposed to teach us about overcoming temptation?
Suppose for a moment these "hidden meanings" are really there. Listeners who have learned any critical thinking skills at all are still going to be very skeptical. It's always better to preach meaning that you can help hearers see is truly in the text.
Our "David's five stones" preacher has an additional problem, though.
4. Does every detail in a biblical narrative convey a principle?
It's inherent in the nature of stories—true ones included—that they contain details that have no other purpose than to draw us into the scene and make it more real and understandable.
So, with narrative, it's easy to zoom in too far. This happens when we get focused on a small sequence of events—here, picking up stones. Then we miss the larger story—here, the story of Israel's failure to keep the covenant, the story of Saul's failure, the story of God's decision to bless David for His own purposes. There is plenty of great preaching available in those storylines, and the Goliath incident is a great story about how God's power doesn't lie in what meets the eye (1 Sam 16:7; cf. 1 Sam 9:2) and about the joy of putting ourselves in a position to be powerfully used by taking God at His word (1 Sam 17:37).
When we zoom in too far, we can easily replace the treasure in the text with an imitation from our imagination. It's godly imagination, let's hope, but still no substitute for what God put there for us.
It's also possible to zoom out too far and preach only the biggest story. This is less hazardous but tends to result in story after story having exactly the same point. If this was what God had in mind, the Old Testament would be a lot shorter!
Back to our five stones sermon: Why are we informed that David picked up five stones? A few reasons can be suggested and supported to varying degrees by details in the text and other passages (e.g., 2 Sam 21:22). But we don't really know. The detail may only be there to help us feel the story.
We certainly can't read a narrative like this one and draw principles like these:
Stones are the best weapons. (We should amend the U.S. Constitution to say we have a right to bear stones!)
Only stones from brooks are suitable for weapons. (River stones and dry ground stones are no good!)
Stone style is not neutral! Since smooth stones were used here for good, the stones used for evil in Acts 7 and 14 must have been bumpy—the evil stone style.
Hopefully it's clear from these examples why narrative can't usually stand alone as a basis for establishing doctrine. There's just too much ambiguity in determining (1) what the story is intended to mean and (2) what story details are intended to "mean" anything at all.
That common sense thing comes into play again here, too. But we can guide our common sense by asking ourselves some questions when we're working with narrative:
How does this story relate to the larger story of (a) the section of Scripture and (b) the ultimate story of the whole Bible?
Is there evidence in the context that this detail has purpose beyond making the story more engaging, vivid or clear?
Photo modified from an original by William Warby on Unsplash
---
Aaron Blumer, SharperIron's second publisher, is a Michigan native and graduate of Bob Jones University (Greenville, SC) and Central Baptist Theological Seminary (Plymouth, MN). He and his family live in a small town in western Wisconsin, not far from where he pastored Grace Baptist Church for thirteen years. He is employed in customer service for UnitedHealth Group and teaches high school rhetoric (and sometimes logic and government) at Baldwin Christian School.
2210 reads
2695 reads