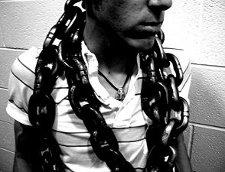 In a previous post, I asserted that popular confusion about law, grace, and the Christian life is often partly due to misunderstanding what was happening in the Galatian churches and what Paul taught to correct it. I argued that the Galatian trouble centered on their understanding of justification and its relationship to Mosaic Law, and that they were led astray by unbelievers who, in reality, cared as little for the Law of Moses as they did for the gospel.
Seen in this light, the epistle does not encourage sweeping rejections of effort and struggle in the Christian life, nor does it provide a basis for excluding firm boundaries against sin (often termed "man-made rules") in Christian living.
But loose ends remain. Further study of the letter not only resolves the remaining issues but also clarifies common points of confusion such as the distinction between conscious self-discipline vs. "the flesh" (or the non-biblical term, "self-effort") and the difference between slavery to the Law vs. obedience to Christ.
Some Problem Passages
Galatians 5:1
For freedom Christ has set us free; stand firm therefore, and do not submit again to a yoke of slavery. (ESV, Gal. 5:1)
"Freedom," "free" and "yoke of slavery" are the key terms here. The "yoke of slavery" is often taken to refer to all forms of do's and don'ts beyond what is expressly revealed in Scripture. Given the fact that the Galatian problem specifically referenced do's and don'ts God had revealed in Scripture ("circumcision"—13 times!) this is an interesting application to derive from the text. It's possible the reference to days, months, seasons, and years in Galatians 4:10 includes some "man-made rules," but may just as readily refer to what God gave to Israel.
The "yoke of slavery" was not rules in general or even the Law of Moses, per se, but the corrupt teaching that the Law (or some parts of it) is the path to justification. How the justified go about living holy lives is not in view in 5:1.
So where does this view of 5:1 come from? In many cases, it's simply read into the text for convenience. Others, though, are taking 5:1 in light of a faulty understanding of "the flesh" in Galatians 3:2-3.
Galatians 3:2-3
Let me ask you only this: Did you receive the Spirit by works of the law or by hearing with faith? Are you so foolish? Having begun by the Spirit, are you now being perfected by the flesh? (Gal. 3:2-3)
Here, Paul seems to point out the absurdity of beginning their Christian experience through the work of the Spirit, then attempting to grow in holiness (sanctification) by self-effort. But what do the terms "the flesh" and "being perfected" actually mean? Rather than accepting our first impression as fact, perhaps we should take a closer look?
ESV's and NASB's "being perfected" translates the Greek epiteleo (present middle/passive). NIV (1984) paraphrases: "trying to attain your goal." The 2011 NIV shows more restraint: "trying to finish" (so also NET). KJV and NKJV opt for "made perfect," implying a completed act: "now made perfect."
So is Paul correcting their understanding of their position in Christ (justification, etc.) or correcting their view of the Christian experience (sanctification)? The Greek is somewhat ambiguous on that point, so a study of "the flesh" in Galatians is helpful.
"The Flesh" in Galatians
The word for "flesh" (sarx) occurs 18 times in Galatians. Several of these refer to the physical body or some physical aspect,1 but the remainder speak of "the flesh" negatively in a variety of ways.2
Positionally, the flesh is dead through our union with Christ (Gal. 5:24a, Rom. 6:6-7), but in experience, it is still very much alive (Rom. 6:12-13, Colos. 3:5, 8—which, by the way, interprets Rom. 6:11). In Galatians, the flesh clearly includes a set of fallen appetites (Gal. 5:24b, "passions… desires"), and its "works" are various forms of indulgence of corrupt desires (Gal. 5:19-21). The flesh is anti-Holy Spirit (Gal. 5:17), anti-service (Gal. 5:13) and anti-good works (6:9). It is actually opposed to "fulfilling" the law (Gal. 5:14).
So if the flesh opposes good works and Law-fulfilling, what are we to make of the passages where Paul links the flesh to "the law" (3:2, 3:5)?
The answer lies in what we've already observed about the Galatian problem and Paul's corrective teaching. Galatians 3:3 is surrounded by references to justification and is not a departure from that topic. Here's the passage again with some context:
I do not nullify the grace of God, for if righteousness were through the law, then Christ died for no purpose. O foolish Galatians! Who has bewitched you? It was before your eyes that Jesus Christ was publicly portrayed as crucified. Let me ask you only this: Did you receive the Spirit by works of the law or by hearing with faith? Are you so foolish? Having begun by the Spirit, are you now being perfected by the flesh? … Does he who supplies the Spirit to you and works miracles among you do so by works of the law, or by hearing with faith—just as Abraham "believed God, and it was counted to him as righteousness"? Know then that it is those of faith who are the sons of Abraham. (Gal. 2:21-3:7)
In this sequence, Paul begins with how we obtain righteousness and ends with how we become true sons of Abraham. These are both ways of speaking of our position with God, our standing, as is evidenced by the reference to what is "counted" as righteousness in Galatians 3:6 (compare Paul's extended discussion of justification in Romans 4 based on the same quotation from Genesis 15:6).
In context, "now being perfected" refers to completing our standing with God, our justification—a foolish effort for at least two reasons: (1) the old covenant was never intended to justify, and (2) believers already stand in grace, fully justified by faith. There is nothing to perfect (finish).
What, then, does "in the flesh" refer to? It should come as no surprise that "the flesh" in Galatians 3:3 has the same meaning we see in all the other non-physical references in the epistle. It refers to the sinfulness that remains in believers. Since the Law is already fulfilled in Christ, and justification is already fully accomplished for those who believe, any effort to complete that standing through the Law is a farce. What is really driving that effort is pride, envy, strife, and similar "passions" and "desires" (5:24b).
Galatians 4:9-10
What about Paul's reference to "turn[ing] back again to the weak and worthless elementary principles of the world, whose slaves you want to be once more"? Is he speaking here of believers who know they are fully justified "returning" to personal effort as a growth strategy?
The understanding of 3:3 above has no difficulty here. These weak and worthless elementary principles are not the Law of Moses. The predominantly-Gentile Galatians could not "return" to those; rather, Paul indicates that attempting to be "more justified" through portions of a now-ended covenant is, in reality, an expression of pride, envy, strife, and various evil desires (see, again, Gal. 6:12-13).
To put it another way, if you have finished a journey, then try to somehow go further by stepping on to some stairs that are not actually there anymore, what you do is fall (Gal. 5:4).
Wrapping Up
"The flesh" in Galatians does not include the tiniest particle of desire to grow in Christlikeness or to bring God pleasure (Col 1:10, 2 Cor. 5:9) through disciplined obedience (1 Tim 4:7b-8), nor was calling believers to work hard at serving others and at growing in holiness any part of the Galatian error.
"The law" in Galatians refers either to the Mosaic Covenant itself or (possibly more often) the specific error of viewing Law as a path to justification. It does not refer to law as an abstraction, much less to "man-made rules."
In most cases, "faith" in Galatians is the alternative to the false gospel of justification by works (e.g., Gal. 2:16, 3:11, 3:24). In this epistle, faith is not set up in opposition to works as a method of living the Christian life (i.e., sanctification). Indeed, the idea that we grow either by faith or by works is implicitly rejected in statements like these:
For you were called to freedom, brothers. Only do not use your freedom as an opportunity for the flesh, but through love serve one another. (Gal. 5:13)

And let us not grow weary of doing good, for in due season we will reap, if we do not give up. (Gal. 6:9)
The word for "justify" (dikaioō) and its close cousin "righteousness" (dikaiosunē) appear thirteen times in 2:15-5:15, the section of the book that focuses on countering the Galatian error. As always in Paul, it refers to the believer's standing before God and what is credited to him.
Galatians does not encourage us to view the Christian life as one in which nothing but faith is required of us, nor does it teach that growth in sanctification occurs by faith alone.
1 These are: 1:16, "anyone;" 2:16 "no one;" 2:20, "live in the flesh;" 4:13 "bodily ailment;" 4:14 "condition;" 4:23 & 29, "born…the flesh;" 6:13, "boast in your flesh."
2 Negative references to "the flesh" in Galatians:
in contrast with the Holy Spirit: Gal. 3:3, 5:16 & 17, 5:19 (cf. 5:22), 6:8
parallel with the "works of the law": Galatians 3:3 (compare Gal. 3:2, 3:4)
what "freedom" may, but should not be, used for: Galatians 5:13
in contrast to serving one another and "fulfil[ling]" the Law: Galatians 5:13-14
what produces "works" such as "sexual immorality, impurity, sensuality, idolatry, sorcery, enmity, strife…and things like these": Galatians 5:19-20
what is already crucified: Galatians 5:24
linked with "passions and desires": Galatians 5:24
sowing to it contrasted with doing good works: Galatians 6:8-9
14952 reads