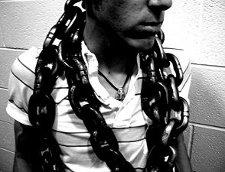 Loathing toward legalism (and perceived legalism) is commonplace in today's evangelical ministries, including those of fundamentalist heritage, and Galatians often plays a prominent role in how we think about legalism and Christian liberty.
But liberty is often misunderstood, and overreactions—as well as under-developed reactions—to legalism seem to be a growing problem. It's no coincidence that the Galatian error, and Paul's remedial teaching, is also often misunderstood. The result is that a letter that has great potential to help us with our present-day understanding of law, grace and liberty ends up contributing to confusion instead.
So the question in focus here is, to paraphrase the title, what was the Galatian problem?
The Galatians Themselves
The first clue to understanding the Galatian problem lies in the nature of the Galatians themselves. Until recently, I've often wondered—were these people even true believers?
I am astonished that you are so quickly deserting him who called you in the grace of Christ and are turning to a different gospel (ESV, Gal 1:6)
How can people who "desert" Christ and turn to "a different"—therefore false—gospel be Christians at all? Isn't that what we usually call apostasy? Paul seems to hint at the same sort of doubts.
You observe days and months and seasons and years! 11 I am afraid I may have labored over you in vain. (Gal. 4:10-11)
… my little children, for whom I am again in the anguish of childbirth until Christ is formed in you! (Gal. 4:19)
You are severed from Christ, you who would be justified by the law; you have fallen away from grace. (Gal. 5:4)
But evidence in the rest of the epistle shows that, though seriously confused, the Galatians were genuine believers.
Let me ask you only this: Did you receive the Spirit by works of the law or by hearing with faith? 3 Are you so foolish? Having begun by the Spirit, are you now being perfected by the flesh? (Gal. 3:2-3)
And because you are sons, God has sent the Spirit of his Son into our hearts, crying, "Abba! Father!" 7 So you are no longer a slave, but a son, and if a son, then an heir through God. 8 Formerly, when you did not know God, you were enslaved to those that by nature are not gods. 9 But now that you have come to know God, or rather to be known by God, how can you turn back again to the weak and worthless elementary principles of the world, whose slaves you want to be once more? (Gal. 4:6-9)
Now you, brothers, like Isaac, are children of promise. (Gal. 4:28)
For freedom Christ has set us free; stand firm therefore, and do not submit again to a yoke of slavery. (Gal. 5:1)
This persuasion is not from him who calls you. (Gal. 5:8)
But I say, walk by the Spirit, and you will not gratify the desires of the flesh. (Gal. 5:16)
In the first five chapters, Paul uses language over and over that applies only to the truly regenerate. The remainder of the epistle, from 5:16 onward, follows Paul's usual general pattern of Christian-living instruction for believers. We can only conclude that the problem in Galatia was one that took root among people who had truly come to Christ by responding in faith to the message of the true gospel.
The Hinderers in Galatia
Though Paul does not dismiss the Galatians from responsibility, it's clear that they were victims of teachers who led them astray. This is our second major clue in understanding the Galatian trouble.
 … there are some who trouble you and want to distort the gospel of Christ. (Gal. 1:7)
You were running well. Who hindered you from obeying the truth? (Gal. 5:7)
Evidence abounds that these troublers and hinderers were not fellow-believers who were merely in error. They wanted to distort the gospel, and Paul rejects them using the strongest possible language.
As we have said before, so now I say again: If anyone is preaching to you a gospel contrary to the one you received, let him be accursed. (Gal. 1:9)
… the one who is troubling you will bear the penalty, whoever he is… . 12 I wish those who unsettle you would emasculate themselves! (Gal. 5:10-12)
In 6:12-13, note what motivated these hinderers: cowardice, pride, and "the flesh."
It is those who want to make a good showing in the flesh who would force you to be circumcised, and only in order that they may not be persecuted for the cross of Christ. 13 For even those who are circumcised do not themselves keep the law, but they desire to have you circumcised that they may boast in your flesh. (Gal. 6:12-13)
The Substance of the Error
It's clear from passages we've already considered (e.g., Gal. 1:6-7) that the gospel itself was under attack by unbelieving teachers from outside the church (Paul consistently refers to the source of the trouble as "they," "them," etc., in contrast to "you").
Galatians 6:12-13, along with other portions of the epistle (such as Gal. 2:16, 21), also show that the false teaching focused on tying justification to the Law of Moses, that is, the Old Covenant. The tie apparently took the form of teaching that disciples of Jesus Christ had to bring themselves under the Law of Moses by becoming circumcised. Note Galatians 5:11 on this point.
But if I, brothers, still preach circumcision, why am I still being persecuted? In that case the offense of the cross has been removed.
Apparently, the hinderers' arsenal of confusing claims included suggesting that Paul himself actually still preached circumcision. But we're in danger of overlooking a more important point here: the error did not consist of teaching that this or that bit of the Mosaic Code was necessary for proper Christian living. That would have been an error of a different kind. Rather, the error directly attacked the gospel by asserting that followers of Jesus Christ must relate to God through the Old Covenant.
This is why Paul says "in that case [if we put ourselves back under the Mosaic relationship to God, expressed by circumcision] the offense of the cross [in the eyes of the Jews] has been removed." In other words, Paul reasons that there would be no persecution at the hands of Jews if he and the other Christians were simply adding Jesus on to Moses (this understanding also explains Gal. 5:3).
Finally, it's worth noting that the error being spread in Galatia was utterly insincere. The proponents were not Christians who overemphasized discipline and effort in the Christian life. They weren't even sincere Judaizers, in the sense of faithful Old Testament believers. Rather, 6:13 shows that, like the Pharisees, these were men bent on power, self-promotion, and secret self-indulgence, using adherence to Mosaic Law only as the leverage to draw followers.
Some Conclusions and Objections
This understanding of the Galatian problem means the epistle serves poorly as support for de-emphasizing rigor in the Christian life or for views of sanctification that call believers to do little more than ponder the gospel. Where legalism exists in the truest sense—a tying of justification  (and/or position in Christ) to rule-keeping—the epistle is a powerful antidote. But its calls to "liberty" are not calls to throw off restraint and discipline, much less good works in general; they are calls to reject any kind of return to relationship with God through a now-fulfilled (and therefore terminated) Mosaic Covenant.
The letter also serves as a sharp warning to all of us that, though we are in Christ, it is still possible to become confused about the gospel and unwittingly replace it with something distorted and damaging.
I anticipate some objections. Doesn't this view overly restrict the application of the epistle? Don't passages such as Galatians 3:3 and 4:9-10 argue for a view of Christian living and sanctification that rejects self-effort and rule-keeping in general?
Answering these objections, as well as more fully developing the message of the book, requires a study of several key terms in Galatians, including "the flesh," "the law," "faith" and "justification." These will be the focus of a future post.
12618 reads