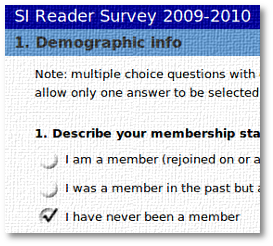 By the end of January 2010, SharperIron will have been on the Web for a full five years. Those years have seen quite a bit of change. At SI, members have come and gone, the moderating team has changed and one owner/publisher has passed the baton to another. And SharperIron's context has changed as well. Fundamentalism's self perception has shifted, the Internet has continued to morph. Blogging has passed out of the "amazing new phenomenon" phase and social networking is now familiar to all. We can only assume that SI's readers have changed in various ways as well. But we have no idea how they've changed. 
This survey can partly solve that problem. We didn't know a great deal about who SI's readers were and what they thought in the early days, so we lack a baseline. But if participation is robust, we will be able to get a much clearer picture of who reads SharperIron now and what they value most and least about it.
Please take the time to complete the survey.  You'll note that the survey is divided into three sections. The first gathers some demographic information. The second focuses on evaluating reader's use of, and opinions about, SharperIron. The third polls for views on some issues. A few of the questions in parts one and two are required in order to turn the survey in. The rest are optional, but we'd like to see as many complete surveys as possible.
Questions and Answers
Is it anonymous?
Yes. Theoretically be possible to trace some IP addresses to individuals, but we have no interest in doing nor do any of us have the time to figure it how to do it.
Can I do the survey more than once?
There are ways to do this, but please don't. We're looking for accuracy here.
What are the goals?
One goal is to be able to provide better information to our sponsors regarding who visits the site. Another is to find out what SI readers are thinking about the site itself and help us make decisions about how to improve what we offer and chart a course for the future.
Will you publish the results?
We will publish results of most if not all the questions.
Why should I bother?
To help SI improve. There must be something you like about it if you're reading this. The survey might help there be much more you like about it.
A voice for non-members.  If you aren't an SI member, we only have a couple of ways of knowing what you think. One is if you send us an email or comment via the site contact form. But it's hard to generalize from the few who do that. The survey is a great opportunity for non-members to tell us what they think in a way we can measure.
Get included in the results. If you don't participate, your views may be under-represented.
The more who participate, the more valid the results will be.
In the multitude of counselors there is safety. Counsel us.
It won't take all that long.
It's fun to share your opinions, especially anonymously.
Thanks for your help with making SharperIron a better place!
Click here to take the survey.
3638 reads