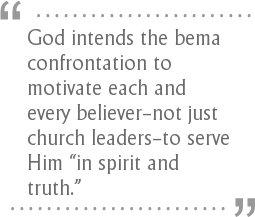 Read parts 1, 2, 3, 4, 5, 6, and 7.
The Public Testimony of Believers
What concerns our loving Lord is not only His daily relationship with each of His children, but also the long-term impact and influence of our Christian lives and ministries upon others. This is especially true with regard to Christian leaders. For example, if the pastor of a church commits a serious public sin, his position of leadership in the church is (with possible rare exceptions) finished, even though he might genuinely confess his sin to God.
As Paul wrote to Timothy, "A bishop then must be blameless…he must have a good testimony among those who are outside, lest he fall into reproach and the snare of the devil" (NKJV, 1 Tim. 3:2,7). And, "be an example to the believers in word, in conduct, in love, in spirit, in faith, in purity" (1 Tim. 4:12).
To the great church at Ephesus, Paul admonished: "But fornication and all uncleanness or covetousness, let it not even be named among you, as is fitting for saints" (Eph. 5:3). And to Titus, a church-planter in the island of Crete, he wrote: "Appoint elders in every city as I commanded you—if a man is blameless, the husband of one wife" (Tit. 1:5, 6).
In his final chapter, the author of Hebrews concluded: "Marriage is honorable among all, and the bed undefiled; but fornicators and adulterers God will judge" (Heb. 13:4). James, the half-brother of Jesus and pastor of the "mother church" in Jerusalem, warned: "My brethren, let not many of you become teachers, knowing that we shall receive a stricter judgment" (James 3:1).
The public doesn't know and certainly does not even care about whether such a church leader has made a personal confession to God. What the public does care about—and will probably never forget—is his public sin. This deeply hurts and grieves our Lord, and will surely be a major factor in determining the gain or loss of a reward or crown at the bema. "Do not grieve the Holy Spirit of God, by whom you were sealed for the day of redemption" (Eph. 4:30).
Adultery is not the only sin that disqualifies a minister from office, but it is one of the more visible and confusing sins plaguing the church of our time. What is particularly troublesome about this sin is the abuse of (pastoral authority) that often attends it. Deep pain is brought to the sexual partner in a clergy affair, and even deeper pain to the minister's wife. The minister, given an honored office through which he is called to serve abused and vulnerable people, violates that very trust by becoming, himself, a violator… Many borrow psychotherapeutic concepts such as healing and recovery as rationales for returning to pastoral ministry, but with no genuine recognition of the pathology that manifests itself in the abuse of [pastoral authority]. (R. Kent Hughes and John H. Armstrong, "Why Adulterous Pastors Should Not Be Restored: Repentance Is Not Enough for Restoring Fallen Ministers to the Pulpit." Christianity Today, April 3, 1995, p. 34)
Thus, God intends the bema confrontation to motivate each and every believer—not just church leaders—to serve Him "in spirit and truth" (John 4:24). It has not been designed by our Savior to be a horrible threat that produces fear and depression, but, rather, an encouragement to love Him and to obey and serve Him from the heart.
In this light, may we, as Christians, be more concerned than ever before about our testimony for the Head of the Church, the Bridegroom of the Bride, who loves us with infinite love, and who paid the ultimate price for our redemption and future glorification.
[node:bio/john-c-whitcomb body]
1009 reads