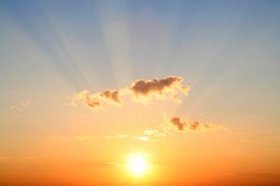 Peviously, in this series: Part 1, Part 2, Part 3, and Part 4.
Purgatory and loss by fire
What kind of a superstructure has a Christian built upon his or her life in Christ? This is the supreme issue to be dealt with at the bema—for believers in ancient Corinth, and for all of us today.
This is the heavy part of God's final word on this subject:
Now if anyone builds on this foundation (i.e., the finished work of Christ on the cross and His resurrection from the dead) with gold, silver, precious stones, wood, hay, straw, each one's work will become clear; for the Day will declare it, because it will be revealed by fire; and the fire will test each one's work, of what sort it is. If anyone's work which he has built on it endures, he will receive a reward. If anyone's work is burned, he will suffer loss; but he himself will be saved, yet so as through fire. (NKJV, 1 Cor. 3:12-15)
Tragically, hundreds of millions of people who claim to be Christians—namely, Roman Catholics—have been taught that this passage refers to purgatory, a place where imperfect Roman Catholics supposedly must pay for their sins, perhaps for centuries. (The horrible reality is that if we have to pay for our sins, we will never arrive in heaven.)
"But that is to miss Paul by a wide margin. This is metaphor, pure and simple. The Greek construction, houtos de hos, makes this certain: 'thus, as it were, only through fire.' (Paul is) probably reflecting something like Amos's 'firebrand plucked from the burning' (4:11)." (Gordon D. Fee, The First Epistle to the Corinthians NICNT. Eerdmans, 1991, p. 144)
Another author states:
The Roman Catholic interpretation completely misses the point. Paul is using an analogy. He is not talking about real fire. He is not talking about men and women burning. Paul is speaking of an imaginary building that represents a person's ministry, not the individual himself. Figuratively speaking, it is a person's work that will burn, not the person himself. The focus of the illustration is the potential loss of reward for poor service, not the atonement of sin or the cleansing of souls." (James G. McCarthy, The Gospel According to Rome. Harvest House, 1995, p. 111)
See also Mike Gendron, "The Fatal Fable of a Sin-Purifying Fire" in Proclaiming the Gospel (April-June, 2009, 18:2); Norman A. Olson, "Biblical Basis for Purgatory?" in Baptist Bulletin (April, 2005), p. 9; and, especially, Norman Geisler, Systematic Theology 4 (Bethany House, 2005), pp. 362-380. An official Roman Catholic statement may be found in Catechism of the Catholic Church (Liguori Pub., 1944), pp. 268-69.
Thus, everything we have said, done and even thought, as true Christians, must be brought to full light. Could it be any other way? Can our Lord be deceived by mere outward religious forms and appearances? If any final recognition, honor, reward or crown be granted to any of God's servants in that day, must it not be done in loving perfection? Will not all Christians, fully glorified and thus sinless on that great day, agree totally with His final evaluation of each and every one of us?
Plainly, it is the unworthy works that will be burned, not the believers themselves! In fact, even though a believer's "work is burned…he himself will be saved" (1 Cor. 3:15). But does that not reduce the bema confrontation to total insignificance? No, for "he will suffer loss…as through fire" (v. 15).
Does this mean, then, that some believers will be in a state of depression forever?
It would not be heaven if we were to spend eternity in sadness because of what we did not do. Undoubtedly there will be regret, but our overwhelming emotion will be the realization of the wonderful grace of God that saved us and brought us to heaven. There will be rejoicing in heaven instead of tears. (C. Swindoll and R. Zuck, Understanding Christian Theology. Thomas Nelson, 2003, p. 1279).
The long-term effects of the bema
No matter what loss of reward a Christian may experience at the judgment seat of Christ, he will be eternally grateful to be there. Only born-again Christians are allowed to see Him on that awesome occasion. As the Apostle John expressed it,
Beloved, now we are children of God; and it has not yet been revealed what we shall be, but we know that when He is revealed, we shall be like Him, for we shall see Him as He is. And everyone who has this hope in Him purifies himself, just as He is pure. (NKJV, 1 John 3:2-3).
Each of us, as members of His body, will be in total agreement with His evaluation of us. There will be no complaining, and no appeal to a higher court. In fact, we will humbly participate in the divine process of preparing us for the marriage of the Lamb, which occurs in heaven seven years after the rapture of the church and just before our Lord's glorious second coming. At that time, we are told, " 'Let us be glad and rejoice and give Him glory, for the marriage of the Lamb has come, and His wife has made herself ready.' And to her it was granted to be arrayed in fine linen, clean and bright, for the fine linen is the righteous acts of the saints" (Rev. 19:7-8).
No, the body and bride of Christ will not be split apart, with some reigning with Him and other believers excluded from this privilege. Our Lord made this promise to His disciples in the upper room: "I will come again and receive you to Myself; that where I am, there you may be also" (John 14:3). And, "Blessed and holy is he who has part in the first resurrection. Over such the second death has no power, but they shall be priests of God and of Christ, and shall reign with Him a thousand years" (Rev. 20:6).
Does this include believers who have brought great disappointment to our Lord? Yes, for among the most carnal-minded Christians Paul ever had to deal with were those in the church at Corinth. And to them he wrote: "Do you not know that the saints will judge the world? And if the world will be judged by you, are you unworthy to judge the smallest matters? Do you not know that we shall judge angels? How much more, things that pertain to this life?" (1 Cor. 6:2, 3).
God graciously gives to every person wonderful opportunities and responsibilities, especially toward Himself, our creator and Lord. Some will accept these and build upon them. Others will reject them. That is one of the lessons of His parable of the talents (Matt. 25:14-30). To one person the master gave five talents—a fabulous amount, financially speaking. To another, he gave two talents; and to another, one talent, to invest "each according to his own ability" (Matt. 25:15).
The first two immediately invested their talents to have something to give to their master upon his return from a long journey. But the third man despised his gift and put it into a hole in the ground. When the master finally returned, the first two showed deep respect for him, and were rewarded. The third man said to him: "Lord, I knew you to be a hard man, reaping where you have not sown, and gathering where you have not scattered seed. And I was afraid, and went and hid your talent in the ground. Look, there you have what is yours" (Matt. 25:24-25).
D.A. Carson observes that this servant "is saying that the master is grasping, exploiting the labor of others…and putting the servant in an invidious position…(and thus) betrays his lack of love for his master, which he masks by blaming his master and excusing himself" (in The Expositor's Bible Commentary, Vol. 8, Frank Gaebelein, ed. Zondervan, 1984, p. 517).
Obviously, the first two men in the parable represent believers who use their God-given gifts for His glory. The third man represents unbelievers. No true believer will experience the destiny of this man: "Cast the unprofitable servant into the outer darkness. There will be weeping and gnashing of teeth" (Matt. 25:30).
Our Lord makes no mistakes in judgment. He is infinitely gracious, loving and generous. But He also requires accountability. That is a basic part of our possession of His image and likeness.
Excellent papers on the destiny of believers at the bema are available from George Zeller at www.MiddletownBibleChurch.org.
[node:bio/john-c-whitcomb body]
2417 reads