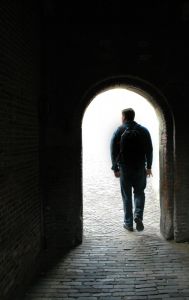 Read Part 1, Part 2, and Part 3.
Our Lord Jesus Christ will evaluate us some day, not only on the basis of our motives, but also on the basis of how much we knew of His will and Word, because "for everyone to whom much is given, from him much will be required" (Luke 12:48, NKJV). Therefore, "that servant who knew his master's will, and did not prepare himself or do according to his will, shall be beaten with many stripes" (Luke 12:47).
But if we did not know His will, are we not completely free of any consequences? No, for such ignorance is culpable: we should have done everything possible to learn His will for our lives through reading, believing and obeying His Word! Here is an earthly illustration: what would happen to me if I were stopped by a traffic officer for driving 90 miles per hour though the city on my way to a conference? Would I be completely excused if I told him that I didn't know what the speed limit was? His answer would be: "Sir, you are driving a dangerous machine! You should have found out what the speed limit is here. Explain your case to the judge!"
Mere human courts and judges, of course, cannot begin to compare with the absolute perfection of God's examination of people! That is because "the word of God is living and powerful, and sharper than any two-edged sword, piercing even to the division of soul and spirit, and of joints and marrow, and is a discerner of the thoughts and intents of the heart. And there is no creature hidden from His sight, but all things are naked and open to the eyes of Him to whom we must give account" (Heb. 4:12, 13).
At the bema our Lord will show no partiality. "Whatever you do, do it heartily, as to the Lord and not to men, knowing that from the Lord you will receive the reward of the inheritance; for you serve the Lord Christ. But he [i.e., the Christian servant] who does wrong will be repaid for what he has done, and there is no partiality" (Col. 3:23-25). And Peter adds: "The Father…without partiality judges according to each one's work" (1 Pet. 1:17). Finally, the Bible ends with this word of divine assurance: "Behold, I am coming quickly, and My reward is with Me, to give to every one according to his work" (Rev. 22:12), to which the apostle John, and hopefully each and every believer, responds: "Even so, come, Lord Jesus!" (Rev. 22:20).
The Most Detailed Description of the Bema of Christ
Paul had (under God) laid the foundation for the church at Corinth (cf. Acts 18:1-18), and Apollos of Alexandria, a disciple of John the Baptist (Acts l8:24-28), effectively built upon that foundation. But the Corinthians, in a fleshly way, polarized around one or the other of these faithful servants of God (1 Cor. 1:10-17).
Now Paul confronted this sectarian mentality as a basis for teaching the doctrine of the bema. "So then neither he who plants [i.e., Paul] is anything, nor he who waters [i.e., Apollos], but God who gives the increase. Now he who plants and he who waters are one, and each one will receive his own reward according to his own labor. For we are God's fellow workers; you are God's field, you are God's building. According to the grace of God which was given to me, as a wise master builder I have laid the foundation, and another builds on it. But let each one take heed how he builds on it [i.e., the foundation]. For no other foundation can anyone lay than that which is laid, which is Jesus Christ" (1 Cor. 3:7-11).
Thus, the discussion relates to the destiny of true, born-again believers only.
---
Dr. John C. Whitcomb has been a professor of Old Testament and theology for more than 50 years and is widely recognized as a leading biblical scholar. He taught at Grace Theological Seminary (Winona Lake, IN) from 1951-1990 and gained much recognition for his work on [amazon 0875523382 inline] (Presbyterian and Reformed Publishing Company), which he co-authored with Dr. Henry Morris in 1961. That book has been credited as one of the major catalysts for the modern Biblical creationism movement. His ministry homepage is Whitcomb Ministries, and his sermons are available at SermonAudio.com.
1047 reads