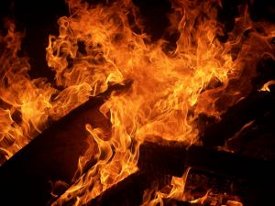 Read Part 1 and Part 2.
The Judgment Seat in Paul, Peter and John
The Apostle Paul used the term "bema" when he wrote to the church at Corinth about our final confrontation with Christ to determine the gain or loss of rewards: "For we must all appear before the judgment seat (bema) of Christ, that each one may receive the things done in the body, according to what he has done, whether good or bad [phaulon, worthless]. Knowing, therefore, the terror of the Lord, we persuade men" (2 Cor. 5:10, 11, NKJV).
The Corinthians were very familiar with this word, for it was inscribed on the front of the large marble judgment throne where judicial issues were evaluated by the supreme judge, such as Gallio, the proconsul of Achaia, before whom Paul stood one day (cf. Acts 18:12, 16, 17). It was my privilege to see this bema during a trip to the ruins of ancient Corinth on Aug. 21, 1952. Amazingly, it was before the bema of Pontius Pilate that our Lord took His stand (cf. Matt. 27:19, John 19:13).
To the church at Rome, Paul wrote: "We shall all stand before the judgment seat [bema] of Christ…So then each of us shall give account of himself to God" (Rom. 14:10, 12). Even more ominous, perhaps, are the words of the Apostle Peter: "For the time has come for judgment to begin at the house of God; and if it begins with us first, what will be the end of those who do not obey the gospel of God? Now 'If the righteous one is scarcely saved, where will the ungodly and the sinner appear?'" (1 Pet. 4:17, 18).
The Apostle John warned his disciples ("little children"): "Abide in Him, that when He appears, we may have confidence and not be ashamed before Him at His coming" (1 John 2:28). D. Edmond Hiebert explains that the expression "be ashamed" describes "the feeling of personal shame of those who have fluctuated in their devotion and service and have allowed things to come into their lives which they will then recognize as evoking Christ's disapproval…The picture is not of an unsaved individual but of a born-again believer who has allowed sin in his life because of slackness in his relationship with Christ. In support of this view is the first-person, plural subject of the verb ["we"], as denoting John and his readers" (The Epistles of John. Bob Jones Univ. Press, 1991, p.128).
Christ's Qualifications for Judging Us
One fact that will be agreed upon by all Christians is that our Lord is fully equipped and qualified to examine and evaluate the thoughts, motives, words and deeds of every member of His body, the church. "Our God is a consuming fire" (Heb. 12:29), and He has "eyes like a flame of fire" (Rev. 1:14; cf. 19:12).
In fact, the Lord Jesus told us that, "There is nothing covered that will not be revealed, nor hidden that will not be known. Therefore whatever you have spoken in the dark will be heard in the light, and what you have spoken in the ear in inner rooms will be proclaimed on the housetops" (Luke 12:2, 3).
The Apostle Paul confirmed that "God will judge the secrets of men by Jesus Christ" (Rom. 2:16). These "secrets" include the motives behind all of our thoughts, words and actions. In other words, our God is infinitely concerned about the true reasons why we do and say things.
In this light, Paul could assure the Corinthian believers that it is not really so much what they think of him that matters. Infinitely more important is what God thinks of him. "He who judges me is the Lord. Therefore judge nothing before the time, until the Lord comes, who will both bring to light the hidden things of darkness and reveal the counsels [motives] of the hearts. Then each one's praise will come from God" (1 Cor. 4:4, 5).
When it comes to praise (or disapproval), it is what Christ says of us at the Judgment Seat that really counts.
---
Dr. John C. Whitcomb has been a professor of Old Testament and theology for more than 50 years and is widely recognized as a leading biblical scholar. He taught at Grace Theological Seminary (Winona Lake, IN) from 1951-1990 and gained much recognition for his work on [amazon 0875523382] (Presbyterian and Reformed Publishing Company), which he co-authored with Dr. Henry Morris in 1961. That book has been credited as one of the major catalysts for the modern Biblical creationism movement. His ministry homepage is Whitcomb Ministries, and his sermons are available at SermonAudio.com.
2314 reads