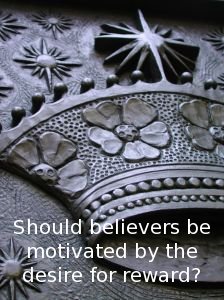 Read Part 1.
In spite of having a sin nature like all of us, the Apostle Paul struggled valiantly, through Christ ("I do not count myself to have apprehended; but…I press toward the goal for the prize of the upward call of God in Christ Jesus" [Phil. 3:13-14; cf. 4:13, NKJV]), to be ready for the great day when he would see his Lord.
Precious indeed are his final words to his closest disciple, Timothy: "I have fought the good fight, I have finished the race, I have kept the faith. Finally, there is laid up for me the crown of righteousness, which the Lord, the righteous Judge, will give to me on that Day, and not to me only but also to all who have loved His appearing" (2 Tim. 4:7, 8).
The Apostle Peter had the same anticipation when he encouraged pastors to be "examples to the flock; and when the Chief Shepherd appears, you will receive the crown of glory that does not fade away" (1 Pet. 5:3, 4).
The Apostle John warned his readers: "Look to yourselves, that we do not lose those things we worked for, but that we may receive a full reward" (2 John 8). And he recorded these solemn words from the Savior to the persecuted church at Smyrna: "Be faithful until death, and I will give you the crown of life" (Rev. 2:10). To the faithful church at Philadelphia (also in Asia), John recorded this challenge from Jesus: "Behold, I am coming quickly! Hold fast what you have, that no one may take your crown" (Rev. 3:11).
James, the half-brother of our Lord Jesus and pastor of the great "mother church" at Jerusalem, wrote: "Blessed is the man who endures temptation; for when he has been approved, he will receive the crown of life which the Lord has promised to those who love Him" (James 1:12).
But, someone might ask, "Why do I even need a reward or a crown? Isn't it enough to be assured of heaven with the Lord Jesus forever?" Even if most Christians would not actually say this, they often act as if the possibility of a reward provides no vital motivation for faithful Christian living and service.
The answer to such a question seems clear: the crown a believer might receive on that day will be for His honor, for we will "cast (our) crowns before the throne, saying: 'You are worthy, O Lord, To receive glory and honor' " (Rev. 4:10-11). Presumably, then, we will be ashamed to have nothing to cast down before Him! Amazingly, even the Lord Jesus was motivated by the anticipation of a reward, for we are told that He, "for the joy that was set before Him endured the cross, despising the shame, and has sat down at the right hand of the throne of God" (Heb. 12:2).
As John Frame has helpfully commented in The Doctrine of the Christian Life:
I confess that I was surprised by the number of times Scripture uses rewards to motivate obedience. Like many of us, I tend toward the Kantian notion that we should simply do our duty for duty's sake and never think about reward. But that notion is quite unbiblical. If God takes the trouble (this many times!) to urge our obedience by a promise of reward, we should embrace that promise with thanks, not despise it. That is, we should not only do good works, but we should do them for this reason. This teaching, of course, is not salvation by works or merit. Although the word reward is used in these passages, there is no suggestion that we have earned the reward in the sense that we have paid God what the reward is worth. Jesus says that even when we have done everything commanded of us (and not one of us has done that), we have done no more than our duty (Luke 17:7-10). Indeed, in that case we are 'unworthy' servants. Elsewhere, Scripture represents the reward as something out of all proportion to the service rendered (Matt. 19:29; 20:1-16; 25:45-46; 25:21-30; Luke 7:36-50; 12:37). (P&R Pub., 2008. pp. 283-284) 
---
Dr. John C. Whitcomb has been a professor of Old Testament and theology for more than 50 years and is widely recognized as a leading biblical scholar. He taught at Grace Theological Seminary (Winona Lake, IN) from 1951-1990 and gained much recognition for his work on [amazon 0875523382] (Presbyterian and Reformed Publishing Company), which he co-authored with Dr. Henry Morris in 1961. That book has been credited as one of the major catalysts for the modern Biblical creationism movement. His ministry homepage is Whitcomb Ministries, and his sermons are available at SermonAudio.com.
1287 reads