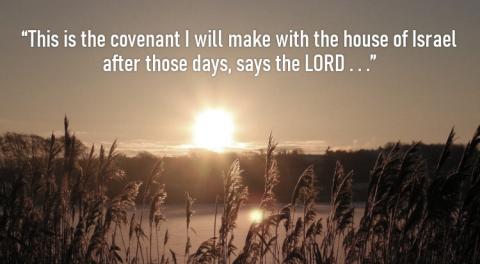 Read the series.
Putting Some More Passages Together
Deuteronomy 30 describes a time when God Himself will convert His people:
"If any of you are driven out to the farthest parts under heaven, from there the LORD your God will gather you, and from there He will bring you.

Then the LORD your God will bring you to the land which your fathers possessed, and you shall possess it. He will prosper you and multiply you more than your fathers.

And the LORD your God will circumcise your heart and the heart of your descendants, to love the LORD your God with all your heart and with all your soul, that you may live." (Deut. 30:4-5)
In this text we get the earliest example of a promise of inner transformation of a sinful people resulting in divine acceptance and blessing. This involves a change of heart and an obedient walk—indeed, a "circumcision of the heart." This reminds one of Paul's words in Colossians 2:11-14, especially verse 11 ("In Him you were also circumcised with the circumcision made without hands, by putting off the body of the sins of the flesh, by the circumcision of Christ.")
Perhaps this is what Paul is referring to in Philippians 3:3 when he declares, "we are the circumcision, who worship God in the Spirit"?
Isn't this precisely what we see in Jeremiah 31:33, Isaiah 59:21 and Ezekiel 36:26-27? Deuteronomy 30 is a New Covenant passage, and is accepted as such by all authorities.
694 reads