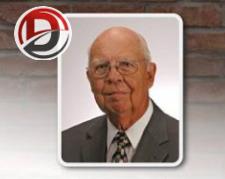 Posted with permission from Dispensational Publishing House.
One of the wonderful privileges that I have in my role with Dispensational Publishing House is the opportunity to interact with great Bible teachers, pastors and other authors. One such man is Dr. Robert Lightner. I have heard of him for many years, as he was a seminary professor to my own teachers, and I was also acquainted with the wealth of his written materials. We share a common heritage in the General Association of Regular Baptist Churches. I am so grateful for the faithful testimony of this man over many decades. And I am pleased to announce that Dispensational Publishing House will be publishing two new books from him: Christ: His Church, His Cross, His Crown and Heaven and Hell. How blessed we are to introduce him to you here, first, in this interview article, where we are able to profit from Dr. Lightner's observations regarding dispensational theology across the decades of his ministry.
So now, brethren, I commend you to God and to the word of His grace, which is able to build you up and give you an inheritance among all those who are sanctified. (Acts 20:32)
Dr. Robert Lightner has been a fixture at Dallas Theological Seminary for nearly 50 years. Doubtless like many of his own students, he traces his understanding of dispensational theology to some very influential professors.
3143 reads