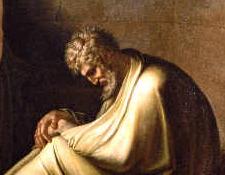 Read the series so far.
Elijah sits under the juniper and bemoans the failure, unfairness, and pointlessness of his years of work (1 Kings 19:10). Jonah sits under his gourd and broods over his unwanted success (and God's unwelcome mercy!) in Nineveh (Jonah 4:1-11). Job sits among his "friends" and agonizes physically, emotionally, and spiritually (Job 2:8, 13).
Then there's Peter. What was he doing between his denial of Jesus, with its resulting bitter regret (Matt. 26:75), and his decision to "go fishing"?
It probably involved a lot of sitting.
2225 reads