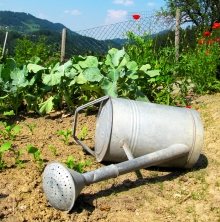 Having tried my trowel in a modest 3- by 4-foot plot surrounding our mailbox, I felt primed to take on a more sizable project. So, in a spurt of gleeful ambition, my husband and I declared war on the 100-plus feet of backyard over-brush, hoping to cultivate a small ridge for our first "real" flowerbed. Easy enough—or so this city girl thought. Eager as we get about first time yard endeavors, the road of "trial and error" has been well-worn. I am, however, pleased that the tidbits of horticultural knowledge acquired have delivered more than a greener thumb. Almost embarrassed to pen the obvious, three gardening fundamentals have captured my interest because of their striking correlation to spiritual realities. Humbled and enlightened, please bear with the amateur lingo.
Basic Fact #1: Neglected soil is hard to hoe.
From what I hear, our backyard flowerbeds were once flourishing with a variety of botanical beauties, each one carefully chosen for continual blossoms throughout the summer. Needless to say, hours of back-breaking work digging up bulbs and bushes confirmed the hearsay. Uprooting established plants or nature's sporadic foliage is no sissy's job. And just when you turn your back, more late-bloomers make their appearance, summoning another evening of labor. In comparison, our spiritual "garden" is already speckled with unattended, undesirable "foliage" that becomes more firmly rooted with each sinful indulgence. Hoeing up bad habits and weeding out pet sins will be a life-long, arduous process. Often, the discovery of what lay beneath the surface is daunting as you uncover what seems like an impossible extraction. Plopping pretty little seeds atop an underground "beast" will not suffice. Only those surrendered to hard work, in cooperation with the Holy Spirit, will cultivate adequate soil, well-groomed for lasting spiritual growth.
867 reads