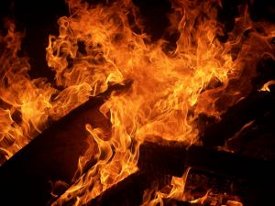 Read Part 1 and Part 2.
The Judgment Seat in Paul, Peter and John
The Apostle Paul used the term "bema" when he wrote to the church at Corinth about our final confrontation with Christ to determine the gain or loss of rewards: "For we must all appear before the judgment seat (bema) of Christ, that each one may receive the things done in the body, according to what he has done, whether good or bad [phaulon, worthless]. Knowing, therefore, the terror of the Lord, we persuade men" (2 Cor. 5:10, 11, NKJV).
The Corinthians were very familiar with this word, for it was inscribed on the front of the large marble judgment throne where judicial issues were evaluated by the supreme judge, such as Gallio, the proconsul of Achaia, before whom Paul stood one day (cf. Acts 18:12, 16, 17). It was my privilege to see this bema during a trip to the ruins of ancient Corinth on Aug. 21, 1952. Amazingly, it was before the bema of Pontius Pilate that our Lord took His stand (cf. Matt. 27:19, John 19:13).
1641 reads