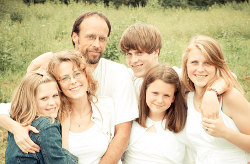 Republished with permission from Baptist Bulletin Jan/Feb 2012. All rights reserved.
Joy Brace earned her name early in life, having inherited her mother's sparkling eyes and easy laugh, and having somehow channeled a good deal of her father's personality, especially his serenity during the difficult times of life. Her birth certificate reads, "Florilla Joyce Crawford," but she was Joy from the beginning.
Joy was diagnosed with a brain tumor in August, allowing her four months with her family and friends before her death on Sunday, Dec. 4, 2011. More than a thousand people attended her funeral service, held at Faith Baptist Bible College, Ankeny, Iowa. Many testified how she spent the last months of her life spreading joy.
Students at Grandview Park Baptist School—where Joy began teaching after her marriage—had organized a fund-raising event on Thanksgiving weekend, "Embrace Joy," featuring a preseason basketball game against Iowa Christian Academy. Joy continued to work at the school as a substitute teacher until the time of her death. Proceeds from the event were given to the Brace family. Both sides of the family were invited to a thanksgiving dinner at the church. Then at halftime, Joy sat in a chair on the edge of the basketball court, testifying of God's goodness in her life. That weekend she had already experienced the first of several seizures, but she would not pass up a final opportunity to testify of God's goodness in her own life.
993 reads