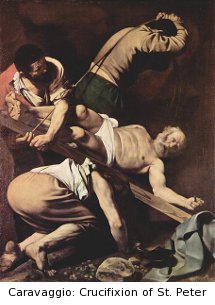 Read Part 1.
No rapture hope for Peter
The last recorded words of the Lord Jesus Christ in the Gospel of John look forward to His second coming: "If I will that he [John] remain till I come, what is that to you [Peter]?" (NKJV, John 21:23).
In spite of Peter's denial of Jesus in the courtyard of the high priest (cf. John 18:15, 25, 26), our Lord graciously restored him to the position of leadership he had temporarily abandoned (John 21:1-19). But He also solemnly affirmed that Peter would die—probably by crucifixion: " 'Most assuredly, I say to you, when you were younger, you girded yourself and walked where you wished; but when you are old, you will stretch out your hands, and another will gird you and carry you where you do not wish.' This He spoke, signifying by what death he [Peter] would glorify God" (John 21:18-19).
If Peter had the slightest hope of being raptured to heaven without dying, that hope was now removed (cf. 2 Pet. 1:14—"knowing that shortly I must put off my tent, just as our Lord Jesus Christ showed me"). But he asked Jesus about the destiny of his close friend and fellow-apostle, John: "But Lord, what about this man?" (John 21:21).
Jesus' answer must have amazed Peter and many other believers: "If I will that he remain till I come, what is that to you?" (v. 22). What did Jesus mean by this statement? Did he mean that John would never die, but would experience the rapture? That is what many thought: "Then this saying went out among the brethren that this disciple [John] would not die. Yet Jesus did not say to him that he would not die, but, 'If I will that he remain till I come, what is that to you?'" (v. 23).
Some 60 years later, the aged apostle John, probably the last survivor of the original twelve, exiled to the Isle of Patmos, penned these words at the end of the book of Revelation: "He [Jesus, cf. Rev. 1:1] who testifies to these things says, 'Surely I am coming quickly.' Amen. Even so, come, Lord Jesus!" (Rev. 22:20). John was probably praying for Jesus to take him alive to heaven—to be glorified and raptured without dying.
The church is not Israel
Our Lord did not tell us specific details about the rapture. He left that for the apostles, especially Paul, to explain. As we have seen, Paul told us that the church is very different from Israel—it is a divine/human organism—a unique body< composed of Gentiles as well as Jews. The origin, nature and destiny of the church "was not made known to the sons of men, as it has now been revealed by the Spirit to His holy apostles and prophets" (Eph. 3:5; cf. Rom. 16:25-26). The church has not permanently replaced Israel, for that chosen nation will someday be grafted back into its own "olive tree" whose root is the unconditional Abrahamic Covenant (Rom. 11:11-24). Paul was very concerned that this be understood by his readers: "For I do not desire, brethren, that you should be ignorant of this mystery, lest you should be wise in your own opinion, that blindness in part has happened to Israel until the fullness of the Gentiles has come in. And so all Israel will be saved…For the gifts and the calling of God are irrevocable" (Rom. 11:25-29).
Israel and the church do share some wonderful things: (1) salvation by grace alone, (2) through faith alone, (3) based alone upon the merits of Messiah/Christ and His work upon the cross. But the differences are also highly significant: the church has no visible temple, no special class of priests, no animal sacrifices, no Sabbath law and no circumcision sign.
Israel had (and some day again will have) all of these. But the blessed hope of rapture without dying is for the church, not Israel.
[node:bio/john-c-whitcomb body]
1824 reads