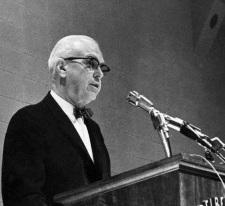 By Paul Jackson (1903-1969): keynote address delivered at the 1958 GARBC Conference.
The Bible teaches clearly that every believer should be separated from all sin, including unbelief and apostasy. We shall seek to prove this statement with the Word of God, and to show that we must also have proper attitudes and objectives in the practice of Biblical separation.
Unfortunately there are many Baptists and other sincere Christian believers who do not share the convictions presented in this article. However, it is not written in a controversial fashion, but is designed to deal fairly and constructively with a great issue that faces all of us today. You and I who hold this truth live in an atmosphere charged with opposition. Much of this opposition springs out of misinformation or prejudice. We are in such a situation, whether or not we like it, and I trust we are convinced that we occupy a Biblical position. We urge your closest, most thoughtful attention!
1346 reads