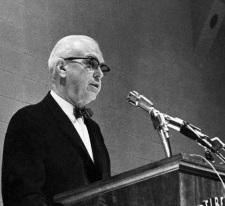 Read the series.
The Biblical Teaching on Separation
There are three major points which the Bible teaches on the subject of separation. First, the position that we must hold. Second, the attitudes that we must maintain. Third, the objectives that we must seek.
The Biblical Position
The position that we hold is set forth in three subdivisions.
First, separation is an eternal and unchanging principle of God.
It began in Genesis 1, where God divided between the light and the darkness, the day and the night, the firmament that is above from the firmament that is beneath. God divided and divided, as we read in Genesis 1. We move on into the area of people and of nations, and in the 12th chapter of the book of Genesis, God divided between Israel and the nations. He called them out, and they are distinct. They have been ever since. Whenever Israel has been marked by the mixed multitude, whenever they have broken down the separation between them and the nations, they have come into judgment from God. They are a distinctive people. Separation is a divine principle. It is eternal in its operation under the hand of God, all the way through the New Testament until you come to the book of Revelation, and God says, in the 18th chapter, "Come out of her, my people, that ye be not partakers of her sins." Division, division, division! The Lord Jesus Himself says, as you read in the Gospel of Matthew, "I came not to send peace, but a sword" (Matthew 10:34).
Anyone who likes comfort, anyone who likes a placid sea in which there is never a ripple will become very dissatisfied with the controversies of truth. The devil will see to it, if you stand for the truth, that there will be many a tempest in the sea!
This is not a place for peace now. This is a place for conflict. The Lord Jesus said so. I came not to send peace but a sword, and division within the very families of men. It has been so ever since. It will continue to be so until we get into glory. Our hearts are filled with peace! He said, "Peace I give unto you, not as the world giveth, give I unto you" (John 14:27). The controversy is not within our own hearts. The controversy is between God and Satan, between light and darkness, between truth and error, and you and I must espouse God's side and the truth and the light, or else we become compromisers and fall down under the judgment of God. As we live in this atmosphere, it is an atmosphere of conflict, and those who love idleness and peace are not willing to pay the price, and will fall back into the quietness and unbelief of death. As long as we walk with God in this present scene, there will be controversy because the Lord said so. You read all of that in Matthew 10:34–39.
Second, God has commanded that we should be separate from unbelievers.
This is not a doctrine that originated with the Regular Baptists. This is not even a doctrine that originated with our brethren on back through the centuries before this particular Fellowship was established. This is a doctrine that is taught in the Word of God from its very beginning. We present a few of the Scriptures that establish this point.
In 2 John 9–11, the Scripture says, "Whosoever transgresseth and abideth not in the doctrine of Christ, hath not God. He that abideth in the doctrine of Christ, he hath both the Father and the Son. If there come any unto you and bring not this doctrine, receive him not into your house, neither bid him God speed, for he that biddeth him God speed is partaker of his evil deeds." The writer of the little book to which I referred earlier either carelessly or deliberately twisted that portion. I can see why he did so, because it repudiates the position for which he was contending. It is very clear. If any come unto you and bring not this doctrine, receive him not into your house, nor bid him God speed, for he that does is partaker of his evil deeds! He made the assertion that he did not know any man supporting this modern, evangelical, cooperative movement, "who denied the historical fact of Christ." That does not satisfy the demands of this Scripture! The modernist himself has been talking for years about getting back to "an historical Jesus." This involves much more than that! This speaks of the doctrine of Christ, His eternal deity, His virgin birth, His spotless humanity, His sacrificial death as He bore our sins in His redemptive work at Calvary, suffering vicariously there. It speaks about His physical resurrection as He went back into the glory. Many are involved in ecumenical evangelism who deny these truths. This doctrine of Christ marks off men that are the children of God, and if any man does not bring this doctrine, no Christian has the right to have fellowship with him, upon the authority of the Word of God. It is God's command, and he who violates it, violates the very plain precepts of the Word of God. We have no right to dilute, alter, or substitute any of the commands of the Book. It is God's Word!
God goes on and on through His Word to command. Remember the portion in Galatians 1:8 and 9, where the Apostle Paul says: "Though we, or an angel from heaven, preach any other gospel unto you than that which we have preached unto you, let him be accursed." The volume on Cooperative Evangelism referred to above tried to dispose of this portion by saying that it concerns legalism (which is true) and hence has no bearing on separation (which is not true). It declares an anathema upon any who preach any other gospel (not merely legalism). Certainly the liberal preaches another gospel; God says so (2 Corinthians 11:4). I care not whether it is the doctrine of legalism, or the doctrine of liberalism; it is surely damned. If any man preach any other gospel unto you, let him be anathema. God commands separation. (We do not mean isolation. We are to go to men with the Word of God, but we are not to go with men who walk contrary to sound doctrine.)
Separation is an eternal principle. It is God's commandment that we must separate from unbelievers.
Further, in the third place, it is God's commandment that we separate from our brothers when they walk in disobedience.
Now I know that many men who will go along forthrightly, and shout Amen as far as we have gone, will object at this point, and say, "I believe in full fellowship with all evangelicals." Well, God doesn't! I present a few portions of Scripture. First Corinthians 5:7 and 13 are talking about a brother who is in immorality. He is a brother. It says so here. How wrong do you have to be? That's the question. In 1 Corinthians 5:7, you read very plainly, "Purge out therefore the old leaven that you may be a new lump." The 13th verse: "Therefore put away from among yourselves that wicked person." That he is a brother is made manifest from this portion and its context, and from 2 Corinthians 2:5–7, where they are told to restore him again, lest he be swallowed up of over much sorrow. There is a cause for separation between those that are the children of God, on the basis of immorality.
In 2 Thessalonians 3:6 and 14 there is another basis upon which God gives us commandments to separate from brethren: "We command you brethren, in the name of our Lord Jesus Christ, that ye withdraw yourselves from every brother that walketh disorderly and not after the tradition which ye received of us." "If any man obey not our word by this epistle, note that man and have no company with him, that he may be ashamed."
You are familiar with the portion in Matthew the 18th chapter, and the way in which the Lord Jesus Himself dealt with those who were out of fellowship and walking in sin. The 15th verse says, "If thy brother shall trespass against thee, go and tell him his fault, between thee and him alone: if he shall hear thee, thou shalt gain thy brother. But if he will not hear thee, then take with thee one or two more, that in the mouth of two or three witnesses, every word shall be established. If he shall neglect to hear them, tell it to the church. If he neglect to hear the church, then let him be unto thee as a heathen man and a publican." This does not mean that he is to be hated and despised. It means simply that when a man refuses to bow to the authority of the Word of God, to the church of Jesus Christ and its disciplinary action, that he must be treated as an unsaved man until he confesses his sins, and is restored to fellowship. You see, it is not correct to say that we have no right to break fellowship with men who are our brethren!
In 1 Timothy, the first chapter, God speaks again on this subject. This is crucial: "Holding faith, and a good conscience; which some having put away, concerning the faith have made shipwreck, of whom is Hymenaeus and Alexander; whom I have delivered unto Satan, that they may learn not to blaspheme." Some have made "shipwreck" here of things spiritual, and they have been delivered in disciplinary action unto Satan. Note that Paul, the apostle, did not hesitate to put his finger individually upon the men by naming them. There are people who say, "I don't think you have a right to say anything about an individual." But, you see, if I say to a congregation, "There are two thieves in the audience tonight," I cast suspicion upon everyone in the place. If there were two thieves, I would do well to name them, and vindicate every honest man in the group. It does not do any good to say that there are many unbelievers abroad. Who are they? I want to know where to go to church where the Word is preached in truth! There should not be bitterness here, but there should be clarity. Paul did not hesitate to say in substance, "The men about whom I am talking are Hymenaeus and Alexander." This is not an unusual circumstance in the Word of God.
In this same book of 1 Timothy 6:3–6 he says, "If any man teach otherwise, and consent not to wholesome words, even the words of our Lord Jesus Christ, and to the doctrine which is according to godliness, he is proud, knowing nothing, but doting about questions and strifes of words whereof cometh envy, strife, railings, evil surmisings. Perverse disputings of men of corrupt minds, and destitute of the truth, supposing that gain is godliness; from such withdraw thyself." Paul's doctrine is the basis of separation.
Second Timothy 2:16–18 further confirms this: "Shun profane and vain babblings: for they will increase unto more ungodliness. And their word will eat as doth a canker: of whom is Hymenaeus and Philetus; who concerning the truth have erred, saying that the resurrection is past already; and overthrow the faith of some." False doctrine is another basis of separation from those who are at least professedly our brethren.
One last thing under this point. In Romans 16:17 God marks out those who cause divisions contrary to doctrine. Will you notice this? "Now I beseech you, brethren, mark them which cause divisions and offences contrary to the doctrine which ye have learned; and avoid them." He is not saying that these men are unbelievers. He says that they are controversialists, and they are causing divisions that are contrary to doctrine. There is many a church that has been torn asunder for years on end because this portion of the Word of God has not been implemented. Men unsound in the faith have been allowed to stay in the church. They may be born again men, but men who have made controversy over unbiblical teachings, and they have been storm centers that have rent the testimony and spoiled the power of that church. Had they been disciplined and dealt with years ago, peace and harmony and power would well have marked the testimony of the church that has been disrupted needlessly. I am not contending, brethren, that the moment a man differs with us that he should be thrown out in the street. There needs to be patience and prayer and teaching and waiting upon God. But this is the Scripture: "Mark those that cause divisions contrary to doctrine and avoid them."
One of the great Biblical doctrines of the faith is separation from the world and from apostasy. Men that are tearing our churches and our associations apart in fighting Biblical doctrines are causing divisions contrary to doctrine. We have a responsibility to walk separately from our brethren who insist upon being unbiblical in these areas of their conduct, and we do so without in any sense condemning them to Hell. There are some very foolish remarks made about separation from brethren, such as: "Well, but after all—we are all going to be in Heaven together. Why can't we get along down here together?" Because there will be unity of faith and practice in Heaven! That is something different. There needs to be unity down here, but how can two walk together except they be agreed? You and I who know this truth have a right to hold it steadfastly. We are not to be cantankerous toward those who differ with us. We need to pray for them and to wait upon God to deal with their hearts, but we do pray that there shall be strength and courage and boldness to stand fast and hold the whole counsel of God.
Titus 3:10 says that we are to mark a man that is factious—it says a "heretic" in the King James Version. "A man that is a heretic, after the first and second admonition, reject." Literally it says that he is a factious man. I understand it to be the same thing discussed in Romans 16:17—a man that consistently makes factions and divisions contrary to doctrine. Mark them, avoid them, reject them! Our whole proposition here is that God commands us to be separate even from our brethren when they walk in disobedience to the Word of God. May God spare us from any sense of Phariseeism in this, from any sense of saying we are better than others. We have reasons for our stand, but they do not include any sense of self-superiority!
From Baptist Bulletin, March/April 2018 © Regular Baptist Press. All rights reserved.
---
Paul R. Jackson (1903–1969) was among the first generation of GARBC leaders, serving as national representative from 1960 to 1969. Prior to this, he was president of Baptist Bible Seminary for 14 years, a pastor in California and Michigan for 17 years, and a member of the GARBC Council of Eighteen. His book The Doctrine and Administration of the Church is regarded as a classic on church polity. He also wrote a pamphlet on church associations, Biblically Separate: Choosing Alliances Wisely.
1596 reads