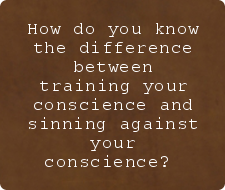 (Read the series so far.)
We often think of "weak" and "strong" as though they are static and unchanging. Are they? Is change possible, either from strong to weak or from weak to strong?
Weakness, properly done, is nothing more than God's Word applied to our lives. He says, "Put no other God's before me." We respond by refusing to involved in idol-worship. But what does it mean to be involved in idol-worship? There is a whole spectrum of positions.
The weakest brother can't eat any meat, for what is sold in the market could be tainted.1 Another would eat meat so long as no one around was conscientious of tainted food. A third brother would go right into the temple and, ignoring the ceremony honoring the idol, eat with his friends and colleagues.
5043 reads