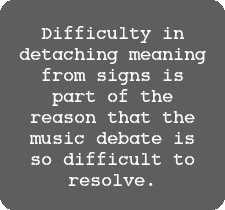 (Read the series so far.)
When we apply Scripture, we arrive at convictions and we obey God by living according to them. But then why the differences? Why would different believers apply Scripture differently? Why would some believers be unable, or "weak" to do things, while others, apparently, don't apply those Scriptures, at least in that way?
If each Scripture passage has one meaning that doesn't change based on the reader, should all readers apply it in the same way?
To answer these questions, it helps to know that all these convictions of conscience can also be thought of in terms of heart-issues. I'll give a personal example. A few years ago, in one of our deacon meetings at church, one of our group didn't take his hat off when we prayed together.
The next month, when it was time to pray, he did the same thing. But this time one of the other deacons asked him to take it off. Now, for me, hats off during prayer was the norm through Christian High School and at BJU. But, he was surprised1 that people thought hats should be off to pray. He willingly took it off. Before going on, ask yourself some questions:
Do you take your hat off to pray?
Do you think you must take it off? Would it be sinful for you to pray with it on?
If you answer "yes" to either of those questions, why should your hat be off?
I'll give you my answers.
Yes, I always take my hat off.
Hard to answer. In a sense, no, but it would feel inappropriate and wrong if I didn't.
The issue, for me, is respect.
Fear of the Lord is commanded throughout the Scriptures. Proverbs 1 calls it the beginning of knowledge and the only wise choice (Prov. 1:7, 29). That we should fear and respect God is beyond question. But what things in our lives show respect to God?
Examples of ways to apply this principle are numerous in Scripture. Psalm 47:1-2 says that participation in worship, including clapping and loud singing, is one response of a heart that fears the Lord. Deuteronomy 31:12-13 says that obedience and teaching God's Law to one's children are ways to fear God.
For many in American Christianity, removal of a hat for prayer is simply a way to show respect for God—and not just as a demonstration to others of our respect, but as a demonstration even to ourselves. Another way to put it might be it is a way to live respect. I myself feel a need, out of respect for God, to remove our hat, even praying all alone.
I also do not pray with my legs crossed. It just feels disrespectful to me. So if I'm sitting with my small group, talking and sharing prayer requests, I might sit with one leg crossed over the other. And when it's time to pray, I put it down. I know why I do it, but I can't say I'd find it disrespectful of someone else if they didn't—unless they told me that they were sitting that way because they intend disrespect for God. It is the response of the heart to God that matters in these issues more than the external action.
So why is it difficult to answer question 2? ("Would it be sinful to pray with my hat on?") Even though it's just an application of a heart issue of respect, on an individual and cultural basis the heart response can become so tied to the action as to almost equate them. If a player stood with his arms folded and hat on during the national anthem, what would you think of his heart? Hat wearing during prayer isn't explicitly prohibited. If someone doesn't view hat wearing as disrespectful, then it would be fine for him to wear his hat.
In the example of hat wearing during prayer, hat removal is a sign of respect. The culture says it means respect, and we take it as a sign of respect for country or God. The study of signs is the science of semiology.2 Many convictions come from Bible principles applied to arbitrary actions which are signs of inner heart conditions. The signs themselves are arbitrary, but they are not personally so.
My culture tells me what "I love you" means. I can't just decide. As a test, go up to a relative stranger, look her (or him) in the eye, and say, "I love you." The person to whom you've professed love will be unable to accept that you only meant, "What time is it?" and that you just say it a different way. And neither will you be easily able to detach the meaning of this phrase from the spoken words.
This difficulty in detaching meaning from signs is part of the reason that the music/CCM debate is so difficult to resolve. Those who have been taught that some beat or musical element is evil have often been steeped in a culture that connects evil with those sounds. And they can't detach it easily. In that case, as a heart issue, those sounds have those meanings and they must treat them as such. And those who are steeped in a subculture that connects those sounds with worship have a very difficult time understanding how their brothers see illicit meaning in CCM.
The solution is Romans 14:14. Nothing is unclean of itself— that must be taught emphatically because those who perceive this type of sign associated meaning will tend to see the matter as of itself evil. At the same time, as they perceive an illicit meaning, we must allow them to conclude those things as truly wrong for them.
Some applications of Scripture are real acts of love. A man works to provide income in order to give his family necessities and gifts. He doesn't spend lavishly on himself to the point that his family has unmet needs (or even wants). Why? Because he is a loving father. His work and spending habits are not just signs of love; they are actual deeds of love.
One of Andy Naselli's disputable matter questions3 was, "Should christians live as frugally as possible so that they can give away the rest to advance the gospel throughout the world?" We could ask, Is it wrong for a Christian to buy a $50,000 car? It isn't prohibited in Scripture. (On the other extreme, we could ask, Must a Christian buy a used car that is at least 5 years old?) Luxury isn't prohibited per se. But there are a lot of heart attitudes that can be wrapped up in his purchase. Perhaps the only way the Christian can afford this car is to not provide his family with medical insurance. Or maybe it would put the family in a position to have no savings for emergencies. Perhaps he wants the car because he is proud and wants others to see him in such a nice car. Perhaps he disregards the call to support the church and the gospel with his money.
For any of these reasons, a man might say, "I can't buy that car; it would be wrong for me." He is not saying that it is wrong of itself. But it really is wrong for him, because it would be pride, or selfishness, or because it would make him fail to provide for his family, or leave him unable to support missions or his church. These are biblical reasons for him to be unable (weak) to buy this car.
Paul's example of celibacy and marriage can be viewed as two different convictions, each with its own biblical support. But they also can be viewed from a framework of heart-issues. Paul and Peter would both see marriage as a means to avoid temptation. But how much temptation is there to be avoided? Different men are tempted by different things and sexual temptation might be more alluring for one man than another.
And they would both see marriage as necessarily bringing worldly anxieties, since one has to devote energy to pleasing his spouse. But some wives produce more of this type of anxiety than others. Some are also motivated for ministry and in some way might work hand-in-hand with their husband, promoting a ministry together for God's glory.
As young people approach questions in this category (Should I get married? When should I start dating? What type of person should I date?), they will have to examine their hearts. One might see that he does have temptation to sexual sin and he will feel it necessary to apply that principle and get married. A young lady might feel called to foreign missions and see dating as a way to be sidetracked by a husband who wants to work in Minnesota4. She might forgo dating altogether5. A young man called to pastoral ministry might seek a wife who will be a help in ministry and not who will make ministry difficult.
We can describe these issues in terms of applications and convictions or in terms of heart-issues, but in every case, the reality is that they are both. The difference between the descriptions is where one tends to locate the difference between the weak and the strong. If one views these as application/conviction differences, then he tends to locate the difference in the action. He says, "Meat is of itself clean," and, "Meat is unclean if it is idolatry-tainted enough."
If one views these as heart-issues, then he tends to locate the difference in the hearts of the brothers. Thus, meat is of itself clean. If someone eats it with a heart of appreciation to God, great. But if someone eats it feeling that doing so is taking part with idol worship, then there is an act of idol worship in his heart and that is wrong.
Understanding this difference is important because with the application/conviction model it is easier to confuse matters ontologically. The weak who thinks something is unclean knows that for him it is unclean. If he is surrounded by weak brothers who share his application/conviction, he will locate the evil in the act itself. No one he knows doubts the application and he concludes that it is ontologically (of itself) evil. It becomes for him not a Romans 14 issue at all. But if he thinks of it in terms of heart issues, then he will more readily understand that the act is not evil, but because it would be done with wrong motive in his heart, it is wrong for him. He sees that the potential evil resides in himself, not the act.
Notes
---
Dan Miller is an ophthalmologist in Cedar Falls, Iowa. He is a husband, father, and part-time student.
792 reads
11166 reads