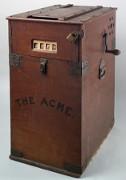 What a surprise! Few anticipated the results from the recent national election. Marti and I stayed up much later than we planned, but we found it difficult to go to bed before the results were announced. Donald Trump defied expectations and won decisively. Hillary Clinton was reportedly left in tears at her unanticipated loss.
Nearly all the opinion polls were wrong. A politically inexperienced, brash playboy businessman has become the forty-fifth president of these United States.
Who, but God Almighty knew what was in store? The main-stream media, who were undisguised in their support for Clinton, are left with pie on their faces, and a whole lot of explaining to do.
3592 reads