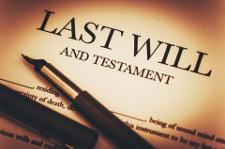 The Christian is called to a life of stewardship. All of one's life, all of one's talents, all of one's time and all of one's material things come from and belong to God. It is both prudent and biblical to plan for one's future.
As one who has received difficult medical news—"I'm sorry to say this, but you have cancer"—I identify with Hezekiah:
In those days Hezekiah was sick and near death. And Isaiah the prophet, the son of Amoz, went to him and said to him, "Thus says the Lord: 'Set your house in order, for you shall die, and not live.'" Then he turned his face toward the wall, and prayed to the Lord, saying, "Remember now, O Lord, I pray, how I have walked before You in truth and with a loyal heart, and have done what was good in Your sight." And Hezekiah wept bitterly. (2 Kings 20:1-3)
"Set your house in order": Final affair planning is just this—setting one's house in order!
Obviously the absolutely most important "order"—and this is so very important!—is to be right with the Lord.  The purpose of this brief article is not to explore this in detail, but the theme of the Book of Romans is "the righteousness of God" and how an unrighteous sinner may have that righteousness. That righteousness comes by faith as is so clear from the Scriptures: "For what does the Scripture say? 'Abraham believed God, and it was accounted to him for righteousness'" (Romans 4:3). Jesus, Whose very name means YHWY is salvation (Matthew 1:20-22), is the answer:
"whom God set forth as a propitiation by His blood, through faith, to demonstrate His righteousness, because in His forbearance God had passed over the sins that were previously committed, to demonstrate at the present time His righteousness, that He might be just and the justifier of the one who has faith in Jesus" (Romans 3:25-27).
Intestate or Testate?
To "die intestate" means to die without a will. To "die testate" means to die with a will.
A will is simply a legally binding document that expresses the wishes of the deceased with regard to his assets. As previously stated, the Christian's assets really belong to the Lord and the Christian is simply a steward of those assets.
Perhaps surprisingly, a will is not always necessary. My thesis is that having a will is the better option than not having a will and I hope to make my case in this section.
A will is not necessary when certain assets can be passed through the beneficiary route:1
life insurance proceeds
real estate, bank accounts, and other assets held in joint tenancy, tenancy by the entirety, or community property with right of survivorship
property held in a living trust
funds in an IRA, 401(k), or retirement plan for which a beneficiary was named
funds in a payable-on-death (POD) bank account
stocks or other securities held in a transfer-on-death (TOD) account, and
real estate or vehicles held with a transfer-on-death (TOD) deed or title document.
Examples of the beneficiary route:
In the Jim Peet household, my house in Plymouth Minnesota is owned in joint tenancy with my spouse. Upon my death, Kathleen will be the sole owner of the home.
I have 2 IRAs: one resulting from my 16 years as a pastor, the other as a result of 20 years with Wells Fargo (upon retirement I moved all of my 401K assets to an IRA). Kathee is the beneficiary of both IRAs. Upon my death, those assets will become hers.
My dear Mother, who passed away just several months ago in her 96th year, purchased a life insurance policy before Pearl Harbor and before her marriage. (The policy document itself is something to behold and a family keepsake!). Several years ago, my sister investigated this policy and discovered that our deceased father was still listed as the beneficiary. Working with our mother, she was able to change the beneficiaries to me and my siblings. Upon my mother's death, the proceeds of this policy were divided three ways to us.
An important note about the beneficiary route: The beneficiary route trumps the will! A Wall Street Journal article notes this:2
When the account owner dies, the assets go directly to the beneficiaries named on the accounts, bypassing the sometimes long and costly probate process. The problem: Because these beneficiary designations override your will.
Sadly there can be a disconnect between the beneficiary designation and one's will. Just this year I've been made aware of an example of this: A man died naming one sister as a beneficiary, while his will named three siblings. Such cases cause quite a bit of grief to heirs and can be a major source of strife.
When is a will required?  A will is required at least in these cases:
When property is not held in joint tenancy. An example would be when a surviving spouse passes and the property is held in single tenancy.
When children are involved and guardianship will need to be determined.
We have had three iterations of wills. It should be noted that for a married couple, both the husband and wife should have a will. When something major changes (e.g. the birth of a child), the will should be revisited. Our three rounds:
Shortly after the birth of our first son (1980), we had a local attorney draft wills for us and we assigned guardianship to a couple whom we deemed best suited to raise our son.
When our third child was 16 or 17, and Kathee and I were preparing for a long trip. We realized that will #1 was hopelessly out of date. I bought a will-maker product and produced the will. We engaged a notary to notarize the will in the presence of witnesses.
We had a legal benefit though work called ARAG.3 We used that benefit to have wills, durable power of attorneys, and health care directives created.
Should one have a will? Perhaps you will remember the old Fram oil filter ads with the catch phrase: "pay me now or pay me later"?4 In my mind having a will accomplishes at least these things:
The planning demonstrates stewardship.
The planning is really for the benefit of one's heirs—it simplifies their lives.
The planning expedites the estate process. Probate is time consuming (for example up to 2 years in Massachusetts).5
Often dying intestate requires the very expensive services of an attorney!
A helpful article is "What happens if I die without a will?"6 For an extreme example of this consider the case of "Prince."7 Dying without a will requires the probate court to determine beneficiaries and guardians for minor children.
One common objection to will creation is the expense involved. Anymore this really is not the case. There are online resources such as Legalzoom8 that enable the creation of a will for under $100.
One advantage of the beneficiary designation distribution option is that beneficiaries are relatively easy to change. It typically involves downloading a form, completing the form, having the form witnessed and sending it back in. So beneficiaries are easy to change, wills less so. This is an important point!
Beyond the scope of this article is the Living Trust.9 It would be wise for some with large estates to consider this option as well. 
My mother died this past March. It is my privilege to serve as an executor of her estate. Mom's loving final legacy is that she made things very easy for her children. She had three important documents: a will, a health care directive, and a durable power of attorney. Mom did something that was unnecessary and not recommended: she named all three children as tri-executors. As it turned out, while unnecessary, we have joyously worked together as executors. One of the first things we did was have two copies of The Executor's Guide: Settling a Loved One's Estate or Trust10 shipped to my sister's house (which served as funeral and estate central for several weeks). This book has served as an invaluable resource and really a step by step guide for settling Mom's estate. In short order all of her assets were distributed and as we stand today we have but one final task—Mom's taxes for 2016. Everything is on track for having this completed by March of 2017.
(Next: Advance Directives, Durable Power of Attorney, Preplanned Funerals, Executors.)
Notes
13024 reads