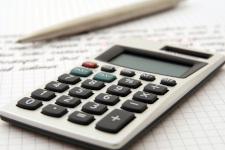 Read the series.
Kludge. Also kluge: "'An ill-assorted collection of poorly-matching parts, forming a distressing whole' (Granholm); esp. in Computing, a machine, system, or program that has been improvised or 'bodged' together; a hastily improvised and poorly thought-out solution."1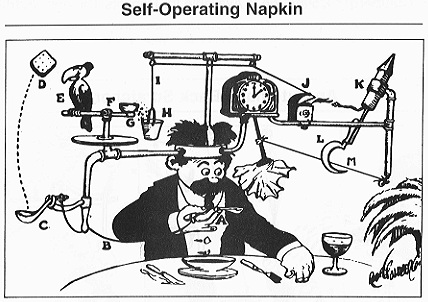 Image source2
In my own experience as a treasurer, I've used a paper system, a home-grown programmed system, QuickBooks Pro, and currently a cloud-based system designed for non-profits – Aplos.
When I volunteered to be Grace Church's treasurer, I anticipated that I would be using QuickBooks again, but the church was using a product unfamiliar to me. I'm purposely not naming it because I don't wish to disparage or critique a software program that I'm unfamiliar with. Suffice it to say, the church wasn't happy with it!
Surveying the treasurers I know, I observed this application usage:

What was klugey about the previous system?3 This describes my first experience with it:
In my training on our church's financial systems, my predecessor brought her laptop and the church's laptop to a Wednesday night service. After the service, we set up on a round table in the foyer. Our financial secretary and our treasurer shared the church laptop and it was rotated from one to the other weekly. The financial secretary would complete her work and then bring the laptop in to give to the treasurer who would do her work and then pass the church laptop back. The treasurer used Bluetooth to transfer the files either from her personal laptop back to the church laptop (or vice versa, my mind was numb by this time!).
I asked some computer professional type of questions:
How are backups handled? (Answer: backed up to Dropbox)
What version are we on? (Answer: not sure. Later to find out we were not current!)
The other observation is that the startup of the church laptop was excruciatingly slow.
Evaluating the situation (relating to Nehemiah inspecting Jerusalem's broken-down walls):
The passing back and forth and transferring the main files to another computer) was a problem.
Not being on the current version was a problem!
There was no way I was going to use the church's aged laptop.
Before I could become the treasurer, I had to be a member and be voted upon by the church. The membership class was 3 months long, and the annual meeting wasn't until January, so I was the defacto "treasurer-in-training" for about 5 months. During this time, I was set up for bank access and would observe the treasurer's reporting as I attended pastor-deacons' meetings.
As 2018 drew to a close, the software issue still was not resolved. The direction was to move to Alpos but there were three obstacles:
The budget was not done. And the church would not vote on the budget until the annual meeting in January.
There were no available funds to purchase the subscription.
If we were going to convert, January 1st as the beginning of the church's fiscal year was the optimum time for the change!
Facing this, I was presented with my own issues:
I did not own a Windows computer and the existing software was Windows-based
I really didn't know how the software worked.
The vendor training on the software is fee-based and is hours of videos. I would have to fund that myself.
Then a minor miracle occurred: Aplos had a Black Friday sale for 50% off and a member volunteered to pay the first year's fee!
With that, we started our subscription on Black Friday – November 23, 2018.
Why did I choose Aplos? I've been asked that, and the funny thing is that I did not! I hadn't even heard of the software until the leader's advised me in my July 2018 meeting4 that that's the direction they intended to go. I had presumed that I would be using QuickBooks. I was so clueless about Aplos that I had to ask how it was spelled. I thought the pastor had said Alpaca5 and that's what I wrote in my notes!
Researching Aplos I found that it is critically praised:
Aplos Fund Accounting is a cloud-based fund accounting program designed for small to mid-sized nonprofit organizations. Aplos works on both Windows and Mac platforms and contains a user-friendly interface for easy system navigation. Scalable, Aplos is available in three versions; Starter, Standard, and Advanced.

Aplos offers a default chart of accounts for users to utilize. There is also an option to use a current chart of accounts, which needs to be sent to Aplos support personnel, who will upload the data into the system. Users can easily customize the default chart of accounts, adding new accounts, account groups or sub-accounts as needed. All funds entered in Aplos are displayed in varying colors, making it easy to manage and track each individual fund.

Aplos easily processes a variety of transaction types including journal entries, cash receipts, vendor payments, bank reconciliation, and fund transfers. Basic budgeting capability is included in all Aplos product versions, which includes budget versus actuals that can be compared throughout the calendar year. Users can also create a budget for the upcoming year; accessing historical budgets for easy comparison. The Advanced version of Aplos offers more comprehensive budgeting capability such as the ability to create a budget for each fund, department, location, or even fundraiser, if desired.

Aplos offers excellent donor management and tracking capabilities, with users able to easily track donation levels for each donor. The product also handles online donations as well. Aplos also includes a Donor Management dashboard, where users can quickly view recent donors, total online donations, and the number of active and recurring donors. Donations can also be tracked by campaign and by program if necessary. A Contributions Manager is available in both the Standard and Advanced version of Aplos, offering more comprehensive donor management capability.

Aplos is ideal for very small nonprofits but can easily ramp up for larger organizations as well.6
The advantages from my own point of view are these:
It is cloud-based and platform independent. I could use it with my browser on my Mac or from my seminary office on my HP Windows 10 PC.
There would be no more passing the church laptop back and forth with the financial secretary.
The software would be kept current by the vendor
There's no need for backups. The vendor has its own BCP plan and multiple servers.
There's another really neat feature of Aplos that is like Intuit's Mint.7 Aplos has bank integration whereby bank transactions are transferred into Aplos in a semi-automatic way for the Treasurer to collect and code into the software. More on this in another article where I will describe the conversion process.
Several have asked if the subscription cost is worth it? If the Treasurer's time has no value (I'm not paid but I do regard my time as valuable) then Aplos costs too much. If my time is worth $27.77, the average hourly earnings of an American worker,8 then Aplos is certainly worth 4 hours of a Treasurer's time per month! (I invest about 15 to 20 hours per month as the Treasurer and I'm sure that our Financial Secretary invests at least a dozen!)
On Monday November 26, I began the conversion with an objective to be live on January 1, 2019. I was nervous!
---
Jim is a business systems consultant in desktop engineering at Wells Fargo Bank where he has worked for 20 years.  He formerly served as a pastor for 16 years, and is now a member of Fourth Baptist Church where he serves in the ABF (Adult Bible Fellowship) ministry. He is also a member of Toastmasters International and The Mayflower Society.
546 reads
1890 reads