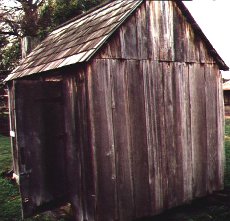 Republished, with permission, from Voice magazine, Sept./Oct 2011. Read Part 1.
Child discipline and the Bible
Once upon a time Father knew best, and once upon a time we allowed Him to teach us how to parent. In Deuteronomy 8:3, God acknowledges humbling Israel and allowing them even to go hungry (of course, only to a point), calling it parental discipline (Hebrew yaser, LXX Greek paideusai) in Deuteronomy 8:5. Solomon counsels his reader not to reject the Lord's discipline (same Hebrew and Greek roots as in Deuteronomy 8) and reminds that the Lord reproves those He loves, "as a father the son in whom he delights" (Prov. 3:11-12). Solomon suggests. further, "reproofs for discipline are the way of life" (Prov. 6:23b), "whoever loves discipline loves knowledge" (Prov. 12:1), and "a wise son accepts his father's discipline" (Prov. 13:1a).
Not only does Solomon communicate the importance of discipline, but he also relays an important method, saying, "He who spares his rod hates his son, but he who loves him disciplines him diligently" (Prov. 13:24), and "foolishness is bound up in the heart of a child; the rod of discipline will remove it far from him" (Prov. 22:15). He adds, "Do not hold back discipline from the child, although you beat [or smite] him, he will not die" (Prov. 23:13). From these contexts it is easy to see that Solomon is not advocating cruelty and physical damage. Rather, in no uncertain terms Solomon portrays physical discipline as an expression of love for the purpose of training and fostering growth—and according to Solomon, it has to hurt.
In addition to discussing purpose and method, Solomon also expresses the urgency of parental discipline: "Discipline your son while there is hope, and do not desire his death" (Prov. 19:27); "You shall beat him with the rod and deliver his soul from Sheol" (Prov. 23:14). Solomon contends that if a parent is not disciplining forcefully (causing pain) and intentionally (with love and for growth), that parent is sentencing his child to walk a path endangered by stupidity (Prov. 12:1b), poverty and shame (Prov. 13:18a), self loathing (Prov. 15:32a), straying from knowledge (Prov. 19:27), foolishness (Prov. 22:15), and even premature death (Prov. 19:18; 23:14).
Wow. Those are strong words, indeed. Surely, we can't take Solomon seriously right? Jesus acknowledged the great wisdom of Solomon (Matthew 12:42), and the writer of Chronicles tells us from where this wisdom came, and consequently why we must take Solomon seriously:
God said to Solomon, "Because you had this in mind, and did not ask for riches, wealth or honor, or the life of those who hate you, nor have you even asked for long life, but you have asked for yourself wisdom and knowledge that you may rule My people over whom I have made you king, wisdom and knowledge have been granted to you. And I will give you riches and wealth and honor, such as none of the kings who were before you has possessed nor those who will come after you." (2 Chron. 1:11)
Particularly notable to me, considering the occasion of this article, is that last phrase: "…nor those who will come after you." While this is a specific reference to forthcoming kings of Israel, nonetheless, I wonder if Jose Longoria would consider his statement to have a greater weight of wisdom than Solomon's teachings on discipline. I must strongly commend Judge Longoria for his desire to ensure that children are protected in accordance with the law. He is probably familiar with many cases in which children have been greatly harmed by parental irresponsibility and cruelty. For example, a Texas man was recently arrested for allegedly causing the death of his two year old daughter by a spanking episode (Fox News, viewed 10/3/2011). Still, I must consider Judge Longoria to be strongly mistaken in his consideration of how such protection should be accomplished: eliminating spanking altogether. His statement certainly is incompatible with the biblical concept of discipline.
Of course, the biblical data on parental discipline is not limited to the Hebrew Bible, but is also prominent in later Scripture as well. Paul exhorts fathers, "do not provoke your children to anger; but bring them up in the discipline and instruction of the Lord" (Ephesians 6:4). In this passage Paul employs the same Greek term, translated discipline, as is translated by the LXX of Moses' and Solomon's admonitions. In this context we discover that discipline is part of a three-pronged parental approach that additionally includes instruction (the non-painful aspect of teaching) and an acute sensitivity on the part of the parent to avoid the potential provocation that can so easily accompany the instructive and disciplinary processes.
The writer of Hebrews further indicates that discipline is foundational to the relationship of parent and child, that the human parent-child relationship illustrates the relationship between God and His children, and that though discipline is sorrowful, its results are joyous. The words are poignant and worth repeating here:
It is for discipline that you endure; God deals with you as with sons; for what son is there whom his father does not discipline? But if you are without discipline, of which all have become partakers, then you are illegitimate children and not sons. Furthermore, we had earthly fathers to discipline us, and we respected them; shall we not much rather be subject to the Father of spirits, and live? For they disciplined us for a short time as seemed best to them, but He disciplines us for our good, so that we may share His holiness. All discipline for the moment seems not to be joyful, but sorrowful; yet to those who have been trained by it, afterwards it yields the peaceful fruit of righteousness. (Heb. 12:7-11)
Finally, Christ proclaims, "Those whom I love I reprove and discipline" (Rev. 3:19a). Ultimately, our discipline comes from Him and serves His purposes. We understand from these passages that discipline is a correction and pruning process that usually (if not always) requires at least some degree of pain, is always to be conducted in love, and is never intended to punish but always to instruct. We also understand that God as our Father models this discipline in our own lives and we are called to be receptive and teachable, even submissive to our Heavenly Father as the Creator who best knows how we should be trained and what best causes our growth.
How should we respond?
So, how should we respond when our society concludes that Father doesn't know best? While of course I lament the continual erosion of religious freedom in this country, knowing from history the terrible oppression that is the inevitable result, it does not seem we are called presently to revolution, rebellion, or retreat. Perhaps two simple suggestions can help us to deal biblically with these challenges.
First, I suggest that we consider and appreciate that we do indeed have a place in the public square. And as such we can be influential in the shaping of society, and that we must keep in mind that this seat at the public discourse—be it a privilege or a right—should not be viewed as our primary role. We may, as individual members of the body of Christ, heavily influence public policy from time to time and we must be grateful to be part of a society in which an aspect of submission to government is in the shaping of that very government.
We must not take these things for granted, and we should not fear giving voice in the public square. Still, we must realize that Jesus didn't die and rise again to save society. He died and rose again to save people. The means to revitalizing society is not broad political or humanly derived theocratic agendas. These have historically given rise to their own forms of oppression (as human solutions are always tarnished with sin and imperfection). But rather the means to revitalizing society involves the person-to-person sharing of the love of Christ and individual conduct in the manner He prescribes. If society is to be biblically moral in its ideas and conduct (and we know that it will never be fully so until God Himself ushers in eternity, making an end of sin), it will be so only by the grace of God and through the collective influence of Godly men, women, and children on people.
We must not forget that the disciples were called fishers of men, not fishers of societies and nations. God will deal with societies and nations. Ultimately they are accountable to Him. Ours is not to judge them or to hold them to an ethical standard under which they have never been placed. Remember, only believers are commanded to conduct themselves in godliness, while unbelievers are commanded to believe in Him for new life. Why would we expect unbelievers to demonstrate the fruit of the Spirit whom they do not have? Still He calls us as His children to demonstrate His character to those around us. It seems that we should be socially active and responsible, but not obsessive. Our priorities must be in order.
Second, I suggest we consider the example of Daniel, who was above reproach (Dan. 6:5), and who had a habit of praying with windows opened and kneeling, facing Jerusalem (Dan. 6:10). When those trying to destroy him were successful in putting forth a law forbidding prayer to all but King Darius (Dan. 6:8-9), Daniel did not alter his course—he continued doing what he had done previously (Daniel 6:10). He did not incite revolution or conspire against the king nor against the officials who set out to harm Daniel. He did not rebel by becoming any more outspoken. Nor did he retreat by hiding or discontinuing his habitual prayer. Instead, he was steady in maintaining prayer and also in fulfilling his duties to the king inasmuch as was possible, in light of the king's edict. When the two finally conflicted, Daniel unhesitatingly continued his service to God despite its freshly minted illegal status.
When consequences came, just as before, Daniel did not resort to revolution, rebellion or retreat. Instead he submitted to the king, accepting the consequence (death) for his actions (Dan. 6:7,12,17). When King Darius saw how righteously Daniel had behaved, and how God protected Daniel, Darius could do naught but glorify God and decree that men should treat Daniel's God with requisite honor (Dan. 6:26-27).
Daniel's goal was not to reform his society, but to obey God. Yet God used Daniel's righteousness and obedience also in a way that had a remarkable impact on the society in which Daniel lived. When the law of the land decreed that Father didn't know best, Daniel maintained his conviction to the contrary. Daniel had his priorities straight. What about us?
[node:bio/christopher-cone body]
25488 reads