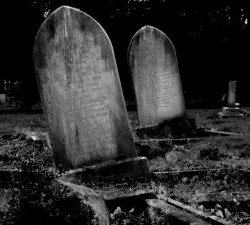 Read Part 1, Part 2, Part 3, Parts 4 & 5, and Part 6.
The dead in Christ—what are they doing?
Before Christ, believers were often perplexed by the prospect of death. One of God's great servants, Job, recorded his fear that it would be a realm of permanent nothingness—
As the cloud disappears and vanishes away,
      So he who goes down to the grave does not come up. (NKJV, Job 7:9)
But later, God illumined his mind to write:
For I know that my Redeemer lives,
      And He shall stand at last on the earth;
And after my skin is destroyed, this I know,
      That in my flesh I shall see God,
Whom I shall see for myself,
      And my eyes shall behold, and not another.
      How my heart yearns within me! (Job 19:25-27)
Many centuries later, even David, who was "a man after His own heart" (1 Sam. 13:14; cf. Acts 13:22), likewise sank into despair at the prospect of death:
For in death there is no remembrance of You;
      In the grave who will give You thanks?"(Ps. 6:5)
But he, too, was given a more optimistic view:
As for me, I will see Your face in righteousness;
      I shall be satisfied when I awake in Your likeness." (Ps. 17:15)
Another psalmist wrote:
Precious in the sight of the LORD
      Is the death of His saints. (Ps. 116:15)
But now, thank God, the prospect for dead believers shines even brighter because of "our Savior Jesus Christ, who has abolished death and brought life and immortality to light through the gospel" (2 Tim. 1:10). "To me," Paul says, "to live is Christ, and to die is gain" (Phil. 1:21). In fact, "to depart and be with Christ…is far better" (Phil. 1:23).
Dead believers are in a "far better" state than living believers! In fact, they have "gain[ed]" something they never possessed while they were alive. What have they gained? God will show us many things about this someday, but here is a starter—for the first time in their personal existence, they are sinless! While he was still on the earth, the mighty apostle Paul had to confess: "For I know that in me (that is, in my flesh) nothing good dwells; for to will is present with me, but how to perform what is good I do not find… O wretched man that I am! Who will deliver me from this body of death? I thank God—through Jesus Christ our Lord!" (Rom. 7:18, 24, 25).
So what is Paul doing in heaven now? What are all dead believers doing? They are not working and serving, for they are incomplete without a body. They are resting. "'Blessed are the dead who die in the Lord from now on.' 'Yes,' says the Spirit, 'that they may rest from their labors, and their works follow them'" (Rev. 14:13). They are contemplating the glory of their Savior. That is what our Lord asked for: "Father, I desire that they also whom You gave Me may be with Me where I am, that they may behold My glory which You have given Me; for You loved Me before the foundation of the world" (John 17:24). They are worshiping Him in truth and love (cf. Rev. 4:9-11). They are looking forward to the day of resurrection. As Paul expressed it: "Even we ourselves groan within ourselves, eagerly waiting for the adoption [which is not death, but], the redemption of our body [i.e., glorious resurrection]" (Rom. 8:23).
The exalted position of dead Christians
Not because of personal merit, but by reason of God's gracious choice, born-again Christians, members of Christ's body and bride, will be the first humans to experience physical glorification since the Savior arose from the dead. The Lord Jesus explained: "Assuredly, I say to you, among those born of women there has not risen one greater than John the Baptist; but he who is least in the kingdom of heaven [i.e., the church] is greater than he" (Matt. 11:11). John himself announced: "He who has the bride [i.e., the church] is the bridegroom; but the friend of the bridegroom [i.e., John the Baptist], who stands and hears him, rejoices greatly because of the bridegroom's voice. Therefore this joy of mine is fulfilled. He must increase, but I must decrease" (John 3:29, 30). Not personally, but positionally, Christians occupy the highest level of dignity and privilege of all mankind.
Peter saw this too: "To them [the Old Testament prophets and John the Baptist] it was revealed that, not to themselves, but to us [Christians] they were ministering the things which now have been reported to you through those who have preached the gospel to you by the Holy Spirit sent from heaven—things which angels desire to look into" (1 Pet. 1:12).
Yes, amazingly, but certainly, "the dead in Christ will rise first" (1 Thess. 4:16)!
[node:bio/john-c-whitcomb body]
2875 reads