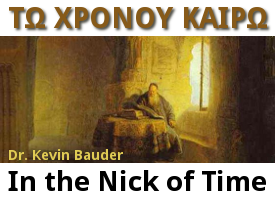 Many conservative Christians are still fascinated with objectivity. For example, they insist upon the objectivity of truth and, consequently, upon the objectivity of meaning. The objectivity of truth implies the objectivity of meaning because truth is normally understood to be a property of propositions. To the degree that the meaning of propositions is subjective, the truth-value of what they express also becomes subjective.
Subjectivity is too dreadful for some to face. They fear that a significant element of subjectivity would render both human communication and divine revelation completely relative. To put it rather woodenly, they assume that if meaning is subjective, then anything can mean anything. Verity becomes an illusion.
In spite of such seemingly dire consequences, we might well ask whether this insistence upon the objectivity of meaning is true to our own experience of communication. Is it really the case that (as one radio commentator is fond of saying) words mean things? Is this the end of the matter?
This question can be answered in many wrong ways. For example, some postmoderns argued that words cannot mean things. They note that when we look for meanings, we do not usually look for the things that the words are supposed to mean. Instead, we look in dictionaries or lexica. Such reference tools do not define terms by their relationship to objective realities, but by their relationship to other terms. A word is defined by other words, which are defined by still other words. Eventually, dictionaries begin to reintroduce into their definitions the very words that they have already defined. If one chases definitions far enough, one eventually ends up back where one started.
Structuralists suggest that language is a web of meaning. It is ultimately self-referential. Deconstructionists believe that this web takes the form of ideology, which is used by power structures to manipulate people and legitimate their own interests. Consequently, deconstructionists seek liberation by untangling the whole web.
These are wrong approaches. While most conservative Christians do not know enough about these philosophies to respond to them, they do find them frightening. Deconstruction, in particular, seems to confirm the fear that if objectivity is compromised, then meaning and truth are in imminent danger.
In other words, many conservative Christians simply retreat from postmodernism into a form of modernism. They counter the relativism of postmodernism by trying to make meaning and truth as objective as possible. They do not see a third alternative.
Our own experience of meaning, however, indicates that this theory is less than satisfactory. Only certain kinds of meaning can be communicated objectively, and even those might be less objective than is frequently supposed. Much meaning is both expressed and apprehended in very subjective ways.
Take, for example, the three terms girl, maiden, and wench. The dictionary definition of these three words is, or ought to be, identical. Each designates an unmarried female, typically of young age. This dictionary definition is called denotation.
Objectively, the words mean the same thing. Subjectively, each of the three strikes us in a different way. Each pulls a different response out of us. This evocative power is called connotation.
What connotation does is to force us to adopt a particular perspective toward the thing that is under consideration. It inclines us to perceive the thing in a particular way. This should come as no great surprise to those who understand that our grasp of reality is never purely independent, abstract, and factual. There are no brute facts. All of our knowledge concerns a reality that is always and everywhere already interpreted.
Consider the term dollar. In colonial times, a dollar was a silver coin weighing a full ounce. Both Americans and Spaniards minted dollars, and because the Spanish dollars were worth eight Reales, dollars were sometimes called pieces of eight. In other words, the terms dollar and piece of eight have identical denotations. The two terms evoke rather different responses, however. While their denotation is the same, their connotations are decidedly different. In a sense, they point to the same object, but they do not mean the same thing.
Connotation can be a powerful thing. The most vigorous words in the English language are those that come down from the old Anglo Saxon. Some of these words—particularly those denoting certain execratory or sexual parts and functions—are so strong that they can only be used as obscenities. Polite discussions of such topics avoid Anglo-Saxon monosyllable in favor of terms that derive from Latin and French roots.
In 1972, comedian George Carlin began performing a routine about "Seven Words You Can Never Say on Television." The public utterance of these words (at Summerfest in Milwaukee) was enough to get him arrested. Of course, each of the seven words was paralleled by a word or phrase that would have been publicly acceptable. Those synonyms, however, would have evoked neither the laughs nor the outrage that Carlin craved.
The distinction between denotation and connotation is widely recognized. Meaning cannot be reduced to one or the other. Both denotation and connotation contribute to the meaning of an utterance.
Here is the problem: connotative meaning is highly subjective. A dictionary cannot offer definitions of connotations. It might describe them, but reading a description of a connotation is like reading a description of a kiss: it's not the same thing as the reality. A dictionary might describe a particular phrase as offensive, but reading the description does not communicate the offense.
In this respect, connotations are like jokes. If a joke has to be explained, then it is no longer funny. Likewise, if a connotation has to be explained, it is no longer performing its function as a connotation. To appreciate either a joke or a connotation, you have to "get it." And "getting it" is irreducibly subjective.
Some people assume that whatever is subjective must be unreal. Connotative meaning, however, is very real, even if it is subjective. It is real enough to have sent George Carlin to jail. Granted, connotations may not be intractably absolute or unchangeable. Even so, hurling a few racial epithets at the wrong crowd could easily produce an applied demonstration of the reality of connotative meaning.
Connotation is only one example of non-objective meaning. Perusing the index of a good volume on writing or speaking will produce others. Tone communicates meaning. Sound communicates meaning (gutturals are harsh, while liquids can be languid, lethargic, lazy, or laborious). Tempo and rhythm communicate meaning. Devices like rhyme, repetition, allusion, and metaphor all communicate meaning. Indeed, these items are barely the beginning of the list.
All of these things mean something, but none of them is exactly objective. Grasping their meaning requires judgment. Judgment always involves a subjective element.
The most vicious philosophies cannot dissolve meaning altogether. Someone always has something to say, and people who have something to say usually find a way to say it. The most radical deconstructionists still write books to persuade others of the value of deconstruction.
Yet meaning is not purely objective, either. Since humans are always interpreting reality, they are always working their interpretations into their utterances. Human communication is rarely (perhaps never) the transmission and reception of purely objective data. A subjective side is always present. Indeed, the ability to communicate this subjective side is what makes us most distinctively human.
Prayer for Grace from The Devotions of Bishop Andrewes
Lancelot Andrewes (1555-1626)
My hands will I lift up
     unto Thy commandments which I have loved.
Open Thou mine eyes that I may see,
Incline my heart that I may desire,
     order my steps that I may follow,
     the way of Thy commandments.
Lord God, be Thou to me a God,
     and beside Thee none else,
     none else, nought else with Thee.
Vouchsafe to me, to worship Thee and serve Thee
     in truth of spirit,
     in reverence of body,
     in blessing of lips,
     in private and in public;
     to pay honour to them that have the rule over me,
          by obedience and submission,
     to shew affection to my own,
          by carefulness and providence;
     to overcome evil with good;
     to possess my vessel in sanctification and honour;
     to have my converse without covetousness,
          content with what I have;
     to speak the truth in love;
     to be desirous not to lust,
          not to lust passionately,
          not to go after lusts.
…
Hedge up, my way with thorns,
     that I find not the path
     for following vanity.
Hold Thou me in with bit and bridle,
     lest I fall from Thee.
Lord compel me to come in to Thee.
[node:bio/kevin-t-bauder body]
10409 reads