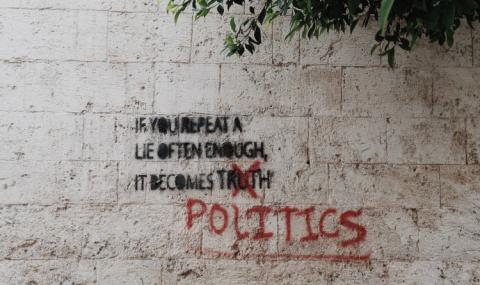 Intellectual dishonesty takes many forms. One of the most common occurs when we look at the collection of arguments someone is making to support a claim, select the weakest among them, ignore the rest, and respond as though the weakest support is the only support.
Often, mockery follows. We heap scorn on the whole claim, emphasizing the absurdity of the one weak supporting idea.
I'm saying "we" here because it's a common human failing. Some do it because the situation is emotionally charged and they haven't learned to use analytical distance and other structured thinking skills.
That's really not an excuse. That kind of interaction isn't the way any lover of truth should behave. Upholding truth is more important than winning the fight.
An Emotionally Neutral (Hopefully) Example
Imagine someone gives a speech to a national audience promoting houseplants. The main idea of the speech is that every American should buy houseplants immediately. In support of his claim, the speaker uses the following arguments.
Houseplants put out oxygen and absorb impurities from indoor air.
Houseplants make the humans who tend them feel good.
Houseplants take up space, relieving the problem of indoor emptiness.
Suppose I'm annoyed by the speech so I write a blog post—or, if I'm Tucker Carlson, I get on TV and address my fans—and denounce this suspicious houseplant-advocacy trend. The indoor emptiness problem is fake news. How-to books and videos on decluttering are a multimillion dollar industry. Why are there so many garage sales every spring? And what about those Goodwill stores full of stuff people have gotten rid of because they have nowhere to put it? Just try to tell the Self Storage Association there's an indoor emptiness problem!
In conclusion, I declare that houseplants are a bad idea because those advocating them are either bonkers or part of some insidious plot to make us all change how we decorate (inside our own homes!!).
The Problem Here
My pushback has multiple problems that are probably obvious. The thing is, when we agree with the source, and the topic is emotionally charged, we tend to overlook problems even more obvious than these:
I ignored two strong supporting arguments in favor of houseplants and focused all my energy on one genuinely weak argument: that houseplants are great because they take up space.
My conclusion is oversized. Even if I'd demolished the case that houseplants are good, that isn't evidence that houseplants are bad.
I missed a great opportunity to go after the worst parts of the pro-houseplant guy's claim: "every American" and "immediately." I could have made a more persuasive common-sense case that though houseplants have benefits for individuals, there's no reason to claim an urgent need for
A Real World Example
In a speech in September, Joe Biden presented a COVID-response plan that included a national COVID-vaccine mandate by employers of more than 100 people.
Like many others on the right (and some center and left as well), Tucker Carlson went after the idea of a federal vaccine mandate on his TV show, September 13.
The segment dealt only briefly with the employer mandate specifically and dealt even more briefly with the supporting arguments in Biden's speech. Though Carlson paused to encourage his viewers to listen to the whole speech, he apparently didn't think many actually would, because he asserted that Biden "didn't bother to explain why" (1:23). About 40 seconds later, he zeroed in on one of Biden's supposedly nonexistent supporting arguments: that the mandate is necessary to protect vaccinated people from unvaccinated people (1:56).
Carlson then characterized the whole case for vaccine mandates as "transparently absurd," as though this was the only supporting argument Biden made in the entire speech.
From there he went after motives. It's really "about power,"(3:37) even "sadomasochism" (3:47), dominance for dominance's sake. For these claims, he offered no evidence beyond the assertion that if it was really about public health, "they" would make the vaccine available to everyone and that would be the end of it. I guess it was supposed to be obvious that "they" couldn't have simply believed voluntary vaccination wasn't working well enough to beat delta variant.
Don't get me wrong. Carlson could be correct about the administration's motives. I can't see into minds to know one way or the other. But neither can he, and there isn't enough external evidence to prove that either.
At one point Carlson insists his they-want-to-oppress-us-all narrative isn't paranoia, but offers no support for the claim. Along the way, he cuts to footage of people chanting "f* Joe Biden" at a ballpark. This is supposed to prove "they know they're being played." They feel they're being lied to. It's "the industrial lie machine." Again, I guess it's supposed to be obvious that they aren't just fans who've had too much beer and are acting like rude idiots … because that never happens at ballgames.
Intellectual Dishonesty?
Carlson's spiel has some facts, quite a few half-truths, and some plain falsehoods. But let's return to the specific form of intellectual dishonesty that takes an opponent's weakest argument and acts like there are no others.
Biden's argument that we need mandates to protect the vaccinated from the unvaccinated was weak, but were there no other supporting arguments in the speech?
The speech's central argument was that although progress has been made, it wasn't enough, and to beat the delta variant Biden's 6-part plan was needed. (By the way, the 6 parts included things like surge response teams and expanded funding for non-vaccine COVID treatments like monoclonal antibodies.) Through the course of the speech Biden offered roughly nine supporting arguments:
We need the plan because we haven't made enough progress without it.
We need the plan to counteract the efforts of some elected officials to take us in the wrong direction (back toward more people getting sick, more in hospitals, etc.)
The vaccines work.
Getting vaccinated is the compassionate thing to do.
Many respected employers already require vaccination.
The vaccinated need protection from the unvaccinated.
You shouldn't have to worry about getting COVID from medical personnel at a medical facility (hence, the immediate medical personnel mandate).
It's the right thing to do.
It will help the economy.
From an effectiveness standpoint, I don't know if it's a good plan or not. I know mandates are politically stupid, because humans reflexively hate being told something is required, and we're already in a climate of extreme mutual distrust and loathing between right and left. It's easy to think of better ways to get more people vaccinated.
But that's not the point. The point is that Carlson's response to the speech was that a) Biden offered no reasons at all and b) Biden somehow also offered only one really absurd reason. This isn't even close to the truth about the speech, and Carlson made no attempt to engage its substance—textbook intellectual dishonesty.
Photo by Brian Wertheim on Unsplash.
---
Aaron Blumer is a Michigan native and graduate of Bob Jones University and Central Baptist Theological Seminary (Plymouth, MN). He and his family live in small-town western Wisconsin, not far from where he pastored Grace Baptist Church for thirteen years. In his full time job, he is content manager for a law-enforcement digital library service.
2456 reads
1557 reads