FBFI Annual '09: Some Final Reflections
Attending the FBFI fellowship reminded me of many relationships I have been blessed with over the last several years of ministry (and things I have learned from the people I have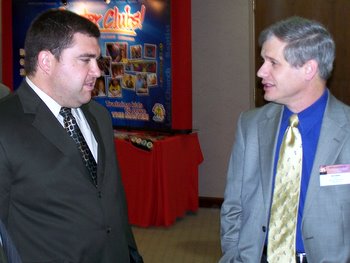 known). I was able to connect with people from my college experience at Faith like Dave Witcher, who had a display for Baptist Church Planters. I saw Brad and Sarah Calhoun, who served as missionaries in Quebec with Baptist Mid-Missions. Brad now pastors in North Carolina, but provided a memorable service opportunity for a group from the church I served with in Iowa back in 2002. I was able to renew acquaintances with several familiar faces from the years I was in New England, including pastors Ken Endean (from Scarborough, ME) and Chuck Phelps and missionaries Jack and Jennifer Mitchell of Grace Dental Mission. Fleshing out some of the online relationships is always a delight, too. I was reminded as I saw some of these familiar faces this week how God has used people in my life whose conclusions on issues might not always mirror my own.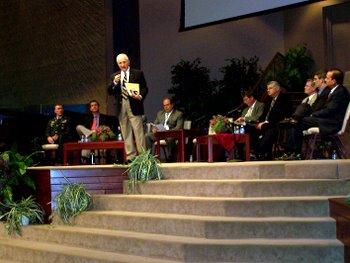 With that being said, It seemed evident to me that the platform of the
FBFI
Annual Fellowship this year focused at least as much on highlighting differences within in the membership as it did on promoting principles that united them. The Wednesday
AM
messages of Hartog and Bauder both seemed to demonstrate a concerted effort by both men to unite those in attendance around truths of Scripture anyone there should have been able to affirm and appreciate. Hartog's message on "The Gospel of God" was rigidly anchored to the text (1 Thessalonians 2). Bauder's message referred to several passages in Romans while including more sustained anecdotes and illustrations than did Hartog, but in the end spent time defining and developing theological terms that everyone there able to affirm the doctrinal principles of the
FBFI
would also be able to support. In other words, both Hartog and Bauder seemed to make it their mission to unite their hearers around the theme of "the glorious gospel of Christ."
In comparison, the messages by Phelps and Minnick seemed intent on rearticulating points that clearly create some measure of controversy within the membership. Phelps plainly acknowledged his awareness of this fact early on in his message Tuesday evening, noting that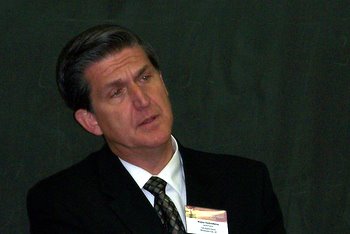 he had likely made several there uncomfortable by raising the topic of Calvinism. Minnick's lengthy contribution on Wednesday evening seemed in some ways, at least, an intentional response and reaction to what Phelps had said Tuesday, particularly when Phelps had described Lordship Salvation as a "pothole" to be avoided. While both messages certainly fell within the parameters of the theme of "the glorious gospel of Christ," they seemed to do so in a way that demonstrated awareness that what they were saying would not be appreciated and affirmed by the membership, nor would it be reasonable to expect that their words should be, given the parameters of the doctrinal statement.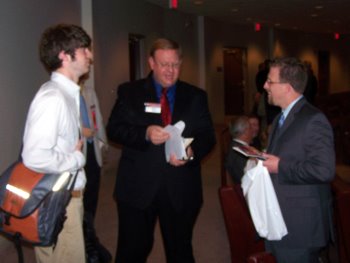 Now, I want to be clear that I believe controversy has its proper place. I certainly understand that the
FBFI
intentionally includes many whose conclusions on issues differ from others in the membership. I would even affirm that I personally would identify with the conclusions reached by one of these men I mentioned over the other. Apparently though, some feel strongly that these controversial issues deserved to be developed in this particular venue. Why? Is there is a concerted effort to redefine the boundaries of the
FBFI
to the exclusion of one set of ideas and the elevation of another? It does strike me that a defining value of historic Fundamentalism and its organizations such as the
FBFI
is a concerted effort to emphasize and develop those things that unite them
as Fundamentalists,
though there are certainly issues that divide them at certain points. It is interesting to me that the two men who seemed to understand that best are relative newcomers to the fellowship (if indeed Hartog even is a member- I am not sure).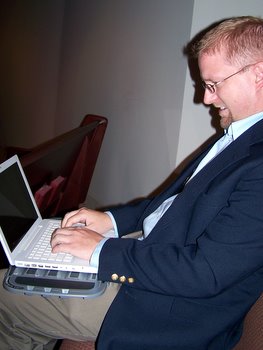 At one point, I counted myself among the membership of the
FBFI
before my membership lapsed a year or two ago. While there were certainly visible elements one could admire and appreciate within the boundaries of its Annual Fellowship this week, the overall impression I received was that I was looking at an organization whose membership and leadership no longer remembered who it was or what it was supposed to be accomplishing and promoting. Factions within the membership (including the board) grow more apparent. The evident lack of consensus amongst the panelists on how to engage the Conservatives Evangelicals in the Thursday symposium (much less on how exactly Fundamentalists differ from them in regards to worldliness) served to develop this impression of instability even further. Based on what I saw, though I love and appreciate many of the individuals who identify as members of the
FBFI
, I did not leave the Annual Fellowship with the impression that I ought to renew my membership post haste.