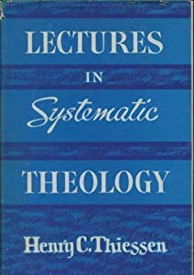 In this excerpt from his classic Lectures in Systematic Theology, Henry Thiessen explains the concept of prevenient grace:1
All Christians are agreed that God has decreed to save men, but not all are agreed as to how He does this. We must, in this connection, particularly remember that God must take the initiative in salvation, that man, even in his present helpless state, is really responsible, and that God's decrees are not based on caprice or arbitrary will, but on His wise and holy counsel. To our mind, the following things seem to be involved in the decree to save sinners:

The freedom of man

God has a very high regard for freedom. He could have made the creature an automon, but He preferred to make him capable of choosing whether or not he would obey and serve Him. The idea of freedom appears in two forms in Scripture.

On the one hand, freedom is thought of as simply the ability to carry out the dictates of one's nature, whether as that of a holy unfallen being or as that of a sinful and fallen one. On the other hand, freedom is conceived of also as the ability to act contrary to one's nature. Originally the creature (both angels and man) had freedom in both senses of the term. It had the ability not to sin and also the ability to sin. With the fall, the creature lost the ability not to sin (Gen 6:5; Job 14:14; Jer 13:23, 17:9; Rom 3:10-18, 8:5-8). It is now free only in the sense that it is able to do so as its fallen nature suggests.

Since man neither looks to God for deliverance, nor has any claim on God's help, he is in a pitiable condition indeed (Rom 7:15-24). We, therefore, ask, How can he help living in sin? How can he ever choose contrary to his evil nature?

Prevenient grace

The upshot of the matter is that God must take the initiative if man is to be saved. God cannot relax His law simply because man is no longer able to obey it. Now all Calvinists believe in common grace. They teach that, since the race fell in Adam and lost all claims to consideration before God, we have in the blessings of life, health, friends fruitful seasons, prosperity, the delay of punishment, the presence and influence of the Bible, the Holy Spirit, and the Church, manifestation of the common grace of God. Common grace is not sufficient for salvation, yet it reveals the goodness of God to all sinful creatures.

This is true, but why stop there?

We believe that the common grace of God also restores to the sinner the ability to make a favorable response to God. In other words, we hold that God, in His grace, makes it possible for all men to be saved.

That God does take the initiative in salvation is evident from His dealings with Adam and Eve after they had fallen (Gen 3:8-9). It is also evident from the teachings of Scripture in general (Isa 59:15-16; John 15:16). Paul says: "Not knowing that the goodness of God leadeth thee to repentance" (Rom 2:4). This is a conative idea: it tries to lead thee to repentance.

Paul also says: "For the grace of God hath appeared, bringing salvation to all men" (Titus 2:11). This results in the freeing of the will in the matter of salvation. That the will has been so freed is implied in the various exhortations to turn to God (Prov 1:23; Isa 31:6; Ezek 14:6, 18:32; Joel 2:13-14; Mt 18:3; Acts 3:19), to repent (1 Kings 8:47; Mt 3:2; Mk 1:15; Lk 13:3, 5; Acts 2:38, 17:30), and to believe (2 Chron 20:20; Isa 43:10; John 6:29, 14:1; Acts 16:31; Phil 1:29; 1 Jn 3:23).

But we should note exactly what this means and what it does not mean. It does not mean that prevenient grace enables a man to change the permanent bent of his will in the direction of God; nor that he can quit all sin and make himself acceptable to God. It does mean that he can make an initial response to God, as a result of which God can give him repentance and faith. He can say: "Turn thou me, and I shall be turned" (Jer 31:18-19; cf. Lam 5:21; Ps 80:3, 19; Ps 85:4).

If he can say this much, then he has had a measure of freedom restored to him; then he can in some measure act contrary to his fallen nature; and then he becomes doubly responsible, even in his present helpless state. And, if he will say this much, then God will turn him, grant him repentance (Acts 5:31, 11:18; 2 Tim 2:25) and faith (Rom 12:3; 2 Pet 1:1). The common grace of God is now seen to be intended to induce men to make this response.
Thiessen goes on to briefly discuss election based on foreknowledge of response to prevenient grace. We close our excerpt with the first portion of Thiessen's discussion on "special or saving grace."
We have seen that prevenient grace makes it possible for a man to respond favorably to God; but it does not compel him to do so. Because of it he can say: "Turn thou me, and I shall be turned" (Jer 31:18-19); in other words, he can now indicate some measure of desire for God. This positive response does not yet save him: it merely gives God the "go" signal, as we would say in this day of traffic signals. There are further conditions to meet; and in response to man's "go" signal, God can now enable man to meet them. These conditions are, as we have already intimated, repentance and faith.
Notes:
1 Henry Thiessen, Lectures in Systematic Theology (Grand Rapids: Eerdmans, 1949), 154-157.  
11323 reads