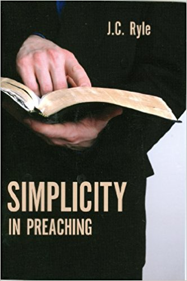 Ryle, the great Anglican bishop, offers some more advice for preachers:1
The third hint I would offer, if you wish to attain simplicity in preaching, is this—Take care to aim at a SIMPLE style of composition. I will try to illustrate what I mean.

If you take up the sermons preached by that great and wonderful man Dr. Chalmers, you can hardly fail to see what an enormous number of lines you meet with without coming to a full stop. This I regard as a great mistake. It may suit Scotland, but it will never do for England. If you would attain a simple style of composition, beware of writing many lines without coming to a pause, and so allowing the minds of your hearers to take breath.

Beware of colons and semicolons. Stick to commas and full stops, and take care to write as if you were asthmatical or short of breath. Never write or speak very long sentences or long paragraphs. Use stops frequently, and start again—and the oftener you do this, the more likely you are to attain a simple style of composition. Enormous sentences full of colons, semicolons, and parentheses, with paragraphs of two or three pages' length, are utterly fatal to simplicity.

We should bear in mind that preachers have to do with hearers and not readers, and that what will "read" well will not always "speak" well. A reader of English can always help himself by looking back a few lines and refreshing his mind. A hearer of English hears once for all, and if he loses the thread of your sermon in a long involved sentence, he very likely never finds it again.

Again, simplicity in your style of composition depends very much upon the proper use of proverbs and pointed sentences. This is of vast importance. Here, I think, is the value of much that you find in Matthew Henry's commentary, and Bishop Hall's Contemplations. There are some good sayings of this sort in a book not known so well as it should be, called 'Papers on Preaching'. Take a few examples of what I mean:

"What we weave in time—we wear in eternity."
"Hell is paved with good intentions."
"Sin forsaken, is one of the best evidences of sin forgiven."
"It matters little how we die—but it matters much how we live."
"Meddle with no man's person—but spare no man's sin."
"The street is soon clean when every one sweeps before his own door."
"Lying rides on debt's back—it is hard for an empty bag to stand upright."
"He who begins with prayer—will end with praise"
"All is not gold that glitters."
"In religion, as in business—there are no gains without pains."
"In the Bible there are shallows where a lamb can wade—and depths where an elephant must swim."
"One thief on the cross was saved, that none should despair—and only one, that none should presume."

Proverbial, pointed, and antithetical sayings of this kind give wonderful perspicuousness and force to a sermon. Labor to store your minds with them. Use them judiciously, and especially at the end of paragraphs, and you will find them an immense help to the attainment of a simple style of composition. But of long, involved, complicated sentences—always beware!
Notes
1  J.C. Ryle, Simplicity in Preaching: A Few Short Hints on a Great Subject (London, UK: William, Hunt and Co., 1882), 26-29.
10508 reads