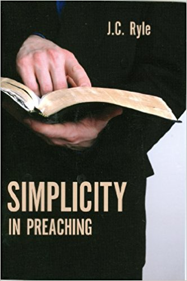 J.C. Ryle, the great Anglican preacher, continues to explain how to attain simplicity in preaching:1
And now bear in mind that my five points are these—

If you want to attain simplicity in preaching, you must have a clear knowledge of what you are going to preach.
If you would attain simplicity in preaching, you must use simple words.
If you would attain simplicity in preaching, you must seek to acquire a simple style of composition, with short sentences and as few colons and semicolons as possible.
If you would attain simplicity in preaching, aim at directness.
If you would attain simplicity in preaching, make abundant use of illustration and anecdote.

Let me add to all this one plain word of APPLICATION. You will never attain simplicity in preaching without plenty of work—pains and trouble, I say emphatically, pains and trouble. When Turner, the great painter, was asked by some one how it was he mixed his colors so well, and what it was that made them so different from those of other artists—"Mix them? mix them? mix them? Why, with brains, sir." I am persuaded that, in preaching, little can be done except by trouble and by pains.

I have heard that a young and careless clergyman once said to Richard Cecil, "I think I need more faith." "No," said the wise old man—"you need more work. You need more pains. You must not think that God will do work for you—though He is ready to do it by you." I entreat my younger brethren to remember this. I beg them to make time for their composition of sermons, to take trouble and to exercise their brains by reading. Only mind that you read what is useful.

I would not have you spend your time in reading the early church Fathers in order to help your preaching. They are very useful in their way, but there are many things more useful in modern writers, if you choose them discreetly.

Read good models, and become familiar with good specimens of simplicity in preaching. As your best model, take the English Bible. If you speak the language in which that is written, you will speak well. Read John Bunyan's immortal work, the Pilgrim's progress. Read it again and again, if you wish to attain simplicity in preaching. Do not be above reading the Puritans. Some of them no doubt are heavy. Goodwin and Owen are very heavy, though excellent artillery in position.

Read such books as Baxter, and Watson, and Traill, and Flavel, and Charnock, and Hall, and Henry. They are, to my mind, models of the best simple English spoken in old times. Remember, however, that language alters with years. They spoke English, and so do we, but their style was different from ours. Read beside them the best models of modern English that you can get at. I believe the best English writer for the last hundred years was William Cobbett, the political Radical. I think he wrote the finest simple Saxon-English the world has ever seen. In the present day I do not know a greater master of tersely spoken Saxon-English than John Bright.

Among old political orators, the speeches of Lord Chatham and Patrick Henry, the American, are models of good English. Last, but not least, never forget that, next to the Bible, there is nothing in the English language which, for combined simplicity, perspicuousness, eloquence, and power, can be compared with some of the great speeches in Shakespeare. Models of this sort must really be studied, and studied "with brains," too, if you wish to attain a good style of composition in preaching.

On the other hand, do not be above talking to the poor, and visiting your people from house to house. Sit down with your people by the fireside, and exchange thoughts with them on all subjects. Find out how they think and how they express themselves, if you want them to understand your sermons. By so doing you will insensibly learn much. You will be continually picking up modes of thought, and get notions as to what you should say in your pulpit.

A humble country clergyman was once asked "whether he studied the fathers." The worthy man replied, that he had little opportunity of studying the fathers, as they were generally out in the fields when he called. But he studied the mothers more, because he often found them at home—and he could talk to them.

Wittingly or unwittingly, the good man hit a nail right on the head. We must talk to our people when we are out of church—if we would understand how to preach to them in the church.
Notes
1   J.C. Ryle, Simplicity in Preaching: A Few Short Hints on a Great Subject (London, UK: William, Hunt and Co., 1882), 40-46.
1713 reads