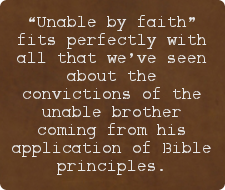 (Read the series.)
The Meaning of "Weak In Faith"
We have been examining the "weak" of Romans 14:1, finding him to be more honorable and biblical  than his description, "weak in faith," would suggest. Here, we will turn to the term "weak in faith" and see a way of interpreting it that fits better with everything else we read about this brother.
We have seen that when brothers differ over an issue, one is sometimes called "weak" and the other "strong." That's true when the issue is relatively unimportant (food—the kingdom isn't meat or drink; food does not commend us to God). In the case of food, it becomes important when someone attaches idolatry to it in their thinking. And it's true when biblical principles more closely apply (Sabbath days—are they of perpetual obligation?). It's even true when the "right side" of the issue is obviously the side of the "weak." Regarding knowledge, while the "strong" claims knowledge, the "weak" sometimes have superior knowledge (1 Corinthians 10:1). Sometimes the strong have equal claim to knowledge (Romans 14:14a).
Paul weighed in on the issue of temple-idol-meat. He called out one side as right and one side as wrong. We don't have the benefit of an Apostle who comes into our arguments and solves our debates on these clear issues. But we do have the benefit of observing the way he chose to intervene. What is significant about his method is that he did not say, "This is an obvious case, so it isn't a weak/strong issue." Nor did he say, "This is an obvious case of Scripture application. In this case, the weak, immature, unbiblical brother is the one who fails to apply Scripture and feels he can eat." Therefore, maturity of faith and excellence of application of the Word are not correlated with "strength." Nor are immaturity and poor application correlated with "weakness."
What consistently differentiates the weak and strong? Strictness. Knowledge and biblical correctness can go either way, but the weak is always the one who can't do something. Whether it is temple-idol-meat and he is right to be weak, or if it's market-idol-meat and both sides are right, according to their own convictions, the "weak" is always the one with inabilities.
"Strength" and "ability" (and "weakness" and "inability") are always closely related. The former is a general attribute, while the later is always in reference to some particular threshold. In English we would say, "He is strong" or "He is able to lift 300 lbs." We would hardly ever say "He is strong to lift 300 lbs." But in Greek, the same word would is used whether the 300 lbs. was mentioned or not: "He is δυνατός" or "He is δυνατός to lift 300 lbs." The KJV translates δυνατός as "able" far more often than "strong." There isn't a way of expressing ability in Greek except to use some form of "strong."
The ambiguity between strength and ability causes us to ask if there is similar ambiguity between weakness and inability. In Romans 15:1, the "weak" brother is called ἀδυνάτων, which is the negation of δυνάτων, strength.
Friberg's lexicon says:
ἀσθενέω… be weak, be powerless; 1-literally, of bodily ailment be sick, be ill, be diseased … figuratively, of incapability of any kind be weak, be incapable (2Cor. 12:10)
ἀσθένημα… weakness, incapability; figuratively as the result of a conscience being bound to legalistic requirements (Rom 15:1)1
In English we say, "He is weak" or "He cannot lift 30 lbs." We also use "cannot" for moral inability. If you suggest to your neighbor that you might kill your cat, he might say, "No! You can't do that!"2 He doesn't mean it would be impossible for you. He means that you should not do it. You are morally unable. To get closer to Paul's words, you can't in good faith kill your cat. This inability would not indicate a lack of faith. In fact, your faith that right and wrong exist and that killing your cat is wrong render you unable. Thus, you are unable in faith.
The idea of weakness, and especially ἀσθενέω, doesn't show up a lot in the New Testament. When it does, it is generally physical and sometimes financial inability. Here are some uses of "weakness"/ "inability" that are pertinent to this discussion:
1. Mark Reasoner gives an example of the Latin word infirmior in Roman literature. One of the characters in Horace's Satire 1.93 refuses to speak of a matter on the Sabbath out of respect for the Jews. He calls himself a "somewhat weaker brother." The term is used by the character to describe himself and "thus is not primarily a term of derision or scorn"4. He was talking about his refusal to break the Sabbath, even though the character himself was not a Jew. His "weakness" cannot be located in his faith, since he himself didn't share that faith with his Jewish friends. His weakness is located in his refusal to do what would bother his friend. He must be referring to his inability to do a certain thing on the Sabbath5.
2. The philosopher Philodemus in On Frank Criticism, mentions that some students are resistant to criticism. The teacher must be more frank or harsh with them. These students, who continued do things they shouldn't were called "strong" while the students who listen and submit to the wisdom of their teacher were called "weak." Philodemus uses a different word for "weak" (ἁπαλόί, not ἀσθενέω) so his writing is of limited value to us. Still, a philosopher whose writings were available to Paul thought of "weakness" in moral areas not as moral ineptitude, but as indicating teachability and appropriate acceptance of scruples6.
3. In Romans 8:3 we see that The Law was unable "ἀδύνατον" to save in that it was "ἀσθενέω" through the flesh. The Law was unable to bring salvation, and Paul uses both "not-strong" and "weak" to describe that in parallel phrases. The Law through the flesh wasn't "weak" to save—as though it would be moderately good at saving, but often would fail; it was unable to save.
4. In 2 Corinthians 13:4, we see that Jesus was crucified "in weakness." What attribute of Jesus that led to the crucifixion is Paul talking about here? Jesus was not without faith or knowledge. Nor was he, in a sense, unable to stop it7. But in another sense, He could not stop and be obedient to the Father. This voluntary, inability is the heart of obedience to any conviction.
In 1 Corinthians 8, the brother has a conscience that is "weak." This phrase means that his conscience is unable to eat idol-meat in the temple. This fits well with Paul's clear argument in favor of the conviction of the weak.
In Romans 14, the brother is unable "in faith." The word "in" is added to make "in faith" because the Greek part of speech makes more sense in English when a preposition is added. But is "in" the right preposition? "The faith" is a noun in the dative case. Most take it as a dative of sphere8, which shows the area or item on which an action has taken place. Where is the man weak? In his faith. Also common is the dative of means9. This shows the means or instrument by which something was accomplished. How did he become weak? By his faith.
Let's look at "faith" as a dative elsewhere. Romans 4:19-20 (NIV): "Without weakening in his faith …he…was strengthened in his faith." We can also read these as datives of means. He was strengthened by means of faith. Specifically, he was strengthened to conceive a child by means of his faith. William Sanday discusses the dative with regard to Abraham having been strengthened in faith in Romans 4 (emphasis mine):
ἐνεδυναμώθη τῇ πίστει.  τῇ πίστει is here usually taken as dative of respect [Sphere], 'he was strengthened in his faith.' i.e., 'his faith was strengthened or confirmed.' In favor of this would be μὴ ἀσθενήσας τῇ πίστει above; and the surrounding terms (διεκρίθη, πληροφορηθεὶς) might seem to point to a mental process. But it is tempting to make τῇ πίστει instrumental or causal [Means] like τῇ ἀπιστίᾳ to which it stands in immediate antithesis: ἐνεδυναμώθη τῇ πίστει would then = 'he was endowed with power by means of his faith.' … And we can hardly doubt that the passage was taken in this way by the author of Heb., who appears to have had it directly in mind: comp. Heb 11:11,12 Πίστει καὶ αὐτὴ Σάῤῥα δύναμιν εἰς καταβολὴν 10
This would make "strengthened in faith" in Romans 4 about Abraham's faith and fertility similar to what was said about Sarah in Hebrews 11:11-12. There the dative "faith" clearly must be read as a dative of means. Where did Sarah strengthen? In her fertility. How did this happen? By means of faith.
Taken this way in Romans 14, "unable by faith" means "unable [to eat meat] by [means of] faith." The faith was the instrument that caused the inability to eat meat.
The brother in Romans 14 was either weak/unable in his faith or by his faith. "Unable by faith" fits perfectly with all that we've seen about the convictions of the unable brother coming from his application of Bible principles and the Lordship of Christ. And it changes what we think about the "weak." His character, the origin of his weakness, the way he is to act, whether he should be encouraged to change, and the way he should be treated all change11. If this brother is unable by means of his faith, then his faith may be (must be!) very robust. After all, it was robust enough to stop him from doing what he otherwise would do.
Understood in this way, the "unable" brother has thought a lot about his convictions. His inabilities shouldn't be viewed as making him inferior or immature. Being "unable by faith" is not better or worse—nor more or less knowledgable—nor more or less logical—nor more or less faithful to God.
What I've said in this paper is not proof that we should interpret "weak in faith" as "unable by faith" (and "conscience is weak" as "conscience is unable"). By itself, many readers will find this translation unfamiliar and improbable. But they should see that it is possible. And we already have seen that all of Paul's writings about ethics depict a "weak" brother who is noble, logical, and biblical, and presumably right in his convictions. The translation of "ἀσθενοῦντα τῇ πίστει" that is most consistent with such a brother is "unable by faith."
Notes
---
Dan Miller is an ophthalmologist in Cedar Falls, Iowa. He is a husband, father, and part-time student.
829 reads
5462 reads