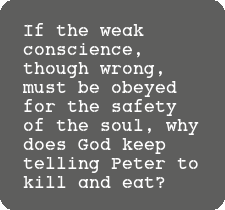 (Read the series so far.)
We need to examine a few miscellaneous verses. Some of them seem to suggest Paul is on the side of the strong. These need explanation. Paul isn't "on" either side. Others, on closer examination, suggest that he is on the side of the weak.
Romans 14:14 begins, "I know and am persuaded in the Lord Jesus that nothing is unclean in itself." Some take this to mean that Paul "knows" the weak brother is wrong. But Paul is not saying that. He says nothing is unclean "of itself." In other words, things are not intrinsically sinful. But our applications of God's principles and our motives can still make them unclean. The context of v. 14, before and after, is the importance of taking seriously the convictions of the weak and not causing him to disobey them. Therefore, contextually, the point of v. 14 as a whole is to express why these things are sinful to the weak.
Romans 14:23 says, "But whoever has doubts is condemned if he eats, because the eating is not from faith. For whatever does not proceed from faith is sin." This does not mean that the weak brother lacks faith except in the sense that he lacks confidence to eat. The word for "doubt" is translated with the sense of "judge" and "discern" just as often as "doubt." And we've already seen that if he has a weak conviction, then of course he doesn't believe he can eat—it is sin for him. He serves his Lord by abstaining.
In Romans 15:1, Paul says, "We who are strong have…" Some take this to mean that Paul is declaring himself on the side of the strong. We shouldn't view people as categorically "weak," meaning such a man will have weak convictions on every issue he comes across. On the issues mentioned here in Romans 14, Paul may indeed be on the side of the strong. But remember that in 1 Corinthians 8-10, he put himself clearly on the "weak" side concerning idol-meat in the temple.
Romans 15:1 finishes, "We who are strong have an obligation to bear with the failings of the weak, and not to please ourselves." The ESV translates "ἀσθενήματα" as "failings," which is the most severe translation. Other versions translate it, "infirmities," "scruples," "failings," and "weaknesses." Of these, "weaknesses" is most literal. The word is the noun form of the verb used for the "weak" in Romans 14:1. Whatever "ἀσθενέω" means, "ἀσθενήματα" is related.
Acts 10
Peter was confronted by God in a vision and told to "kill and eat" previously unclean animals. He refused. "By no means, Lord," he says, "for I have never eaten anything that is common or unclean."
Many believe that Romans 14 exists because the strong Christians need to know how to treat weak Christians who have consciences limited by outdated or simply wrong convictions. They must follow those outdated convictions in order to protect their conscience, even though they are wrong. But God doesn't treat Peter that way. When Peter is slow to accept new teaching concerning formerly unclean animals, God does not say, "Oh, well, then, you must not do what you think is wrong, even though it truly isn't. It is vital to you to follow your weak conscience." No, God says, "What God has made clean, do not call common." This exchange is repeated three times, as Peter tries to remain firm in his refusal and God is firm in his demand for Peter to eat.
If the weak conscience, though wrong, must be obeyed for the safety of the soul, why does God keep telling Peter to kill and eat? Perhaps Peter, as a pillar of the church, needs to strengthen right away for the health of the church. The text tells us how Peter applied the vision (v. 28), "God has shown me that I should not call any person common or unclean." According to Peter's interpretation of the vision, it concerned God's will regarding gentiles. There were no idols in the dream, with sacrificed meat that Peter was to eat. Peter's vision would have done little to change the mind of the weak in Romans. It was about what sort of animals are clean.
Acts 15:29 and Revelation 2:14, 20
The Jerusalem Council, while not requiring circumcision, dictated that εἰδωλόθυτα (idol-meat eaten in the temple) should be avoided. Jesus repeated the prohibition of εἰδωλόθυτα in His letters to the churches. This further reinforces the idea that the position of the "strong" in 1 Corinthians 8-10 is a very dangerous position.
The Effectiveness of Paul's Ethical Writings
Gordon Fee concluded his discussion of 1 Corinthians 8-10 with this (emphasis mine):
Unfortunately, and despite this passage, the issue of personal freedom in matters that are adiaphora, as well as the limitation of freedom for the sake of others, continues to haunt many sectors of the church. Usually the battle rages over what constitutes adiaphora. Conservatives on these issues simply fail to reckon with how "liberal" Paul's own view really is. Hence Paul is seldom heard for the sake of traditional regulations.
While the term adiaphora might not be the best,1 Fee is right that very few who have tried to bring peace to a debate by using these passages have found them helpful. Why?
(1) There is no guidance written into these passages about how to know which issues are weak/strong issues. Therefore, the teetotaller,2 for example (if indeed that is a weak/strong issue), who is sure his conviction is biblical, will assert that these passages are about "doubtful things," not about alcohol. Modern alcohol, they argue, is simply wrong and is not the type of issue about which Christians can legitimately disagree. It, they say, is not adiaphora.
(2) When we think of "weak" as meaning weak faith (immature, lacking knowledge), no one will admit to it.
The assertion that Romans 14 applies to an issue is unprovable and undesirable to one with scruples. The "weak" always find it desirable and easy to argue that this passage doesn't apply.
When someone conscientiously applies the Word of God and forms a conviction, he expects that others should share it. It is a biblical issue and of course he should warn and teach his brothers to prevent them from sinning, especially if he is called to leadership. And he certainly should not be called "weak" for reading and applying God's Word.
A weak brother will refuse his identity of "weak." God's commands for the weak could not be for him. Warning and judging are not just his right, but his obligation. The battle rages on while Romans 14 sits silently applying to nothing.
"Nothing?" One might think that's going too far. This passage can't be applied to any issue that isn't actually named in the passage for the reasons above. It also can't be applied to the issues that are in the passage. Those are officially cleared up: "I am persuaded in the Lord Jesus that nothing is unclean…"(v.14). As normally understood (weak = without knowledge or faith), this passage should have long cleared up the issues it describes. On those issues, who now could be without knowledge?3 Romans 14, then, is impotent for issues not named in it and for issues that are named in it.
Those aspects that make it unfruitful are built right into the text. As Fee put it, it is "seldom heard." Not only that, if the common understanding is correct, it was never possible that it could have been.
The point is not to grade Paul poorly on his effort at peacemaking. We know Paul was inspired. The point is to say that if we understand Paul's message to be pointless, perhaps we have read him wrong. We should read him in a way that assumes he makes sense and is writing in a way that will fulfill his purpose.
In these first four papers, I have argued that everything in these passages views the "weak" as just as honorable, logical, faithful, and biblical as the strong (sometimes more so). The one apparent exception is how we understand the word "weak." In the last paper, I will present an alternative way to translate "weak in faith" and "whose conscience is weak."
Notes
1 Many use the term adiaphora for weak/strong issues. They are "indifferent" in the sense that each Christian must form his own conviction on them. But these convictions do matter, and we must logically apply God's Word to form them. Adiaphora isn't a biblical word. But in Philippians 1:9-11, Paul says, "And it is my prayer that your love may abound more and more, with knowledge and all discernment, so that you may approve what is excellent, and so be pure and blameless for the day of Christ, filled with the fruit of righteousness that comes through Jesus Christ, to the glory and praise of God." "What is excellent" is "διαφέρω." Negated and in the form of a noun, it is adiaphora. Paul isn't talking about discerning what doesn't matter, but what does matter. It might be better to call them diaphora.
2 If you are a teetotaller by conviction, please remember at this point that the weak brother has been consistently portrayed as a logical, faithful, biblical Christian.
3 One might argue that οἶνος (wine) is mentioned, and that hasn't been "cleared up." But my point still stands. One side says that is cleared up and is "clean." While the other side claims that οἶνος doesn't mean οἶνος and that wine isn't a Romans 14 issue.
---
Dan Miller is an ophthalmologist in Cedar Falls, Iowa. He is a husband, father, and part-time student.
827 reads
5579 reads