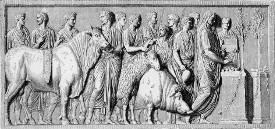 (Read the series so far)
Weakness is How Jesus Exercises Lordship.
Romans 14:4-13—The Servant and His Master
In Romans 14:4 Paul explains why the weak shouldn't judge the strong: "Who are you to pass judgment on the servant of another? It is before his own master that he stands or falls. And he will be be upheld, for the Lord is able to make him stand"1 (ESV). Only the master may give orders and judge whether his servant is in good standing. By this analogy, the weak and strong are servants of a Master who chooses to give different orders to different servants. Some clean the house; some cook. Therefore, the cook gets orders that apply to him but not to the maid.
The common view of the weak brother implies that there is one correct set of orders about which the weak and strong have different levels of maturity, understanding, and confidence. But this passage says that neither servant can be sure that his brother has the same requirements for good standing as he himself does.
In 14:4 Paul reassures the weak, "And he will be be upheld, for the Lord is able to make him stand." They are concerned that their meat-eating brothers are sinning and thereby losing their good standing with God. Paul assures them that if God does want the strong to stop eating meat, then He is able to convict them and thereby, "make them stand."
Two things should be noted concerning this reassurance:
1. The way that Paul reassures the weak is by pointing out the possibility of "weakening" of the strong. The weak is worried that his brother is sinning. His brother seems to be losing his standing before God. That is why he wants to judge. "Good standing" to the judging weak brother is not eating meat. The statement that God is able to make them stand is meant to reassure the weak. Paul says that his brother's standing is God's business and if God wants him to stop eating meat, He is able to put him in good standing.
2. Paul does not reassure the strong about the standing of the weak and God's ability to put him in good standing. If their faith is weak, doesn't Paul need to reassure the strong that the weak will grow stronger? If one has weak faith and the other has strong faith, then surely those with strong faith would be concerned about the spiritual standing of the weak. Surely it would be the strong who need to be reassured that God is able to bring the weak to a fuller understanding and confidence. It seems like Paul was not thinking this way, because he directs reassurances only to the weak.
Romans 14:5-7—Weak Convictions and Service, Strong Convictions and Service
Paul explains, "each one should be fully convinced in his own mind." Why? Because the eater eats for the Lord and the abstainer abstains for the Lord. Paul encourages both the weak and the strong to be fully convinced ("satisfied") with his conviction because living out those convictions is how each brother serves the Lord.
The weak is often seen as having a poor understanding of some new ideas of Christianity. If so, he should be expected to grow and change in his beliefs as his faith strengthens. But that is not what Paul depicts here. Paul tells each brother to be fully convinced in his own mind. The idea that Paul hopes the weak will strengthen is not found in Romans 14-15. In fact, Paul does the opposite. He encourages each to be confirmed in his position.
It is conceivable that the encouragement to strengthen was avoided because the overall thrust of the passage is to promote peace and understanding. Perhaps Paul was afraid encouragement to "strengthen" could be seized upon by the strong. They might push the "weak" to act too soon and against their conscience. But Paul doesn't just avoid asking the weak to strengthen. He encourages him to be fully satisfied in his conviction. And he does more than that. He gives the reason why he should be fully convinced. Living out his weak conviction is how he must serve his Lord. Paul is not simply tolerating the temporary conviction of the weak brother. He encourages the weak to keep it and tells him his service depends on it.
As the weak lives by his weak convictions and the strong lives by his strong convictions, both honor the Lord. But, more than that, both convictions are the result of the Lordship of Christ. Romans 14:9 has one of very few instances of "Lord" as a verb: "For to this end Christ died and lived again, that he might be Lord both of the dead and of the living." This could be translated, "that he might rule [or command] the dead and the living." Jesus is ruling. He is active and real in the conscience of his people, choosing different convictions for each.
1 Corinthians 7
This passage deals with a few issues, including marriage and celibacy. Paul used the term liberty for both idol-meat and marriage. This term comes the Greek word ἐξουσία (exousia), which means right, liberty, or power. It occurs several times in 1 Corinthians 8-10, but not in Romans 14. It is used for issues like idol-meat (1 Cor. 8:9), eating and drinking (1 Cor. 9:4), marriage (1 Cor. 9:5), and taking money for spiritual work (1 Cor. 9:6,12). 1 Corinthians 6b-10 is one long section about ethics on debatable things. 1 Corinthians 6:12 ("All things are lawful for me, but not all things are helpful") and 1 Corinthians 10:23 ("All things are lawful, but not all things are helpful") form an inclusion. All the matters in this section fit under the lawful, helpful, enslaving tests.
In 1 Timothy 4:1-6, the issues of marriage and eating meat are again juxtaposed as issues of "conscience." Being able to give thanks2 for something is the test of holiness. Compare with Romans 14:6 "The one who eats, eats in honor of the Lord, since he gives thanks to God," and 1 Corinthians 10:30 "If I partake with thankfulness, why am I denounced because of that for which I give thanks?"
Paul's discussion of marriage and celibacy involves logical and biblical arguments for each conviction.
Marriage: (1 Corinthians 7:1-5) in order to avoid temptation to fornication, one should marry.
Celibacy: (1 Corinthians 7:32-35) in order to be free from worldly anxieties, one should remain celibate.
The conviction Paul holds for himself (celibacy) seems to us to have the least foundation as a conviction. Jesus said not to be anxious. But should we really take that so far as to avoid marriage, which is stated to be a gift of God3? If it wasn't an apostle, we would say this person has taken that principle too far and isn't applying Jesus' principle correctly. But it was Paul. History has shown that too many took his conviction inappropriately and should have instead applied the principle of avoiding temptation to fornication.
In 1 Corinthians 7:6-7, Paul says, "Now as a concession, not a command, I say this. I wish that all were as I myself am. But each has his own gift from God, one of one kind and one of another." Why, "as a concession"? And why in v. 10 and 12, does he say, "I give this charge (not I, but the Lord)," and "I say (I, not the Lord)"? "Concession" is from the Greek word συγγνώμη (suggnome), which is used just this one time in the New Testament. It is a compound of σύν ("with") and γινώσκω4 ("to know"), which is one of the keywords of 1 Corinthians 8. Josephus uses this word for "to be aware (in conscience)."5 Paul is giving a conviction of his own conscience. And while he is explaining and in a sense advocating it, he wants to make it clear that it is his conviction and not a universal command. Understood this way, vv. 6-7 reads, "Now I speak from conscience, not from commandment: I wish that all were as I myself am. [For6] each has his own gift from God, one of one kind and one of another."
We should use logic to get our convictions of conscience, as Paul demonstrates with marriage and celibacy. But note that once we have them, they are "gifts from God." Each brother has logical, biblical reasons for his conviction and should be treated as right. This idea, that God gives differing convictions as we apply His principles, fits perfectly with the idea of Romans 14:1-9, where the Lordship of Christ is worked out when his servants use their minds to get different convictions.
On the issues of marriage and on taking pay for spiritual work, Paul takes the restrictive position. Paul's conscience did not allow him to marry, though he has the right7. It would seem, then, that Paul takes the weak8 position. But it is difficult to think Paul was "weak in faith." These passages give us more dissonance between the term "weak" and what it seems to mean to be in that category.
The picture Paul paints of those able to marry and not able to marry has both of them obeying their conscience and honoring their Lord. And in Romans 14, the weak and the strong are each obeying their Lord-given convictions. Other than the terms "weak" and "strong" nothing indicates either of these brothers is more "right" or more faithful than the other. Again, we see a picture suggesting we need to re-think how we read "weak in faith" because the weak position can be just as faithful, knowledgeable, and right as the "strong."
Notes
---
Dan Miller is an ophthalmologist in Cedar Falls, Iowa. He is a husband, father, and part-time student.
891 reads
5401 reads