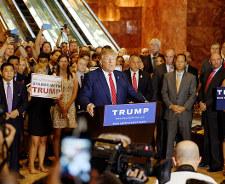 Despite the fact that the US Presidential election is almost a year away, I'm ready for the campaigning to be over. In the last few months, we've seen our share of drama, name-calling, schism, and scandal. Same old, same old, right?
Unfortunately, no. If anything, the Republican primary has already been full of unsettling surprises, not the least of which is the disturbing popularity of a man who is anything but conservative. And it's left many folks—conservative, moderate, and liberal alike—scratching their heads wondering, "Why is Donald Trump so popular?"
In this recent New York Times piece, Justin Wolfers argues that Trump's popularity stems from his rhetorical style rather than what he's actually advocating. Trump's willingness to speak the unspeakable signals to many folks that he's "authentic"—despite the fact that unspeakable things are often best left unsaid.
In this respect, people are not gravitating toward Trump's specific positions so much as his willingness to speak flamboyantly and promote positions that are so obviously apolitically correct. They think he's not like other politicians so he's trustworthy. The problem, of course, is that Trump is being entirely political. He's hit on a winning, albeit risky, strategy, and there's no reason for him to stop.
But as manipulative as Trump may be, the larger concern is that so many people are foolish enough to be manipulated. The real problem is that people generally have a hard time differentiating between what "sounds true" and what is true. And the result is that some folks, like Trump, get away with speaking falsehood because of it.
Dietrich Bonhoeffer writes this of "truth-tellers" like Trump:
It is only the cynic who claims "to speak the truth" at all times and in all places to all men in the same way, but who, in fact, displays nothing but a lifeless image of the truth… . He dons the halo of the fanatical devotee of truth who can make no allowance for human weaknesses; but, in fact, he is destroying the living truth between men. He wounds shame, desecrates mystery, breaks confidence, betrays the community in which he lives, and laughs arrogantly at the devastation he has wrought and at the human weakness which "cannot bear the truth."
Bonhoeffer's observation is even more striking when you remember the political and social milieu in which he existed: Nazi Germany. Bonhoeffer watched as political leaders leveraged violence, fear, and divine right in order to gain power. Today, we look back at the atrocities of WWII and wonder how it is possible that an entire populace could participate in them.
The simplest answer is that they were convinced they heard "truth" in the Nazi message.
The potential that we could believe something to be true simply because of it "sounds true" is particularly significant for those of us who worship a Savior who identifies Himself as "the way, the truth, and the life" (John 14:6). As Christians, it is essential that we learn the difference between what is true and what "sounds true." If nothing else, we need to learn the difference so we can protect our own churches from pastors, teachers, and yes, political leaders, who would manipulate us to gain power. We must learn to spot the difference between a person who is actually living out the truth and one who is simply using "truth" for his own ends. We need discernment.
But not that kind of faux discernment that relies on feelings and false instinct. This approach to "discernment" is exactly what men like Trump are manipulating. They're counting on your suspicion of the establishment. They're counting on your search for a "truer" explanation of reality. They're counting on your emotional response to their words rather than your analyzing the content of them. So in order to be discerning in the face of such "truth-tellers," we must learn to evaluate the effect of their words. According to Bonhoeffer, we must answer these questions:
Do the truth-teller's words set him up as an exclusive source of "truth"?
Do the truth-teller's words mock the poor and weak?
Do the truth-teller's words break trust?
Do the truth-teller's words shame?
Do the truth-teller's words make light of private mysteries and sacred spaces? Does he boldly go where angels fear to tread?
Do the truth-teller's words destroy the bonds of community?
Does the truth-teller mock those who disagree with him? Is it their fault for being unable to receive "truth"?
A person who speaks this way–whether he is in your circle of friends, in politics, or in the church–is not telling you the truth. He may use the language of "truth," but he is manipulative, self-assured, and dishonest. He many not be the "smooth-talker" that we generally associate with falsehood, but he is speaking falsehood nonetheless. And you must not be deceived by it.
7824 reads