Training Up Men for the Church, Part 1
Image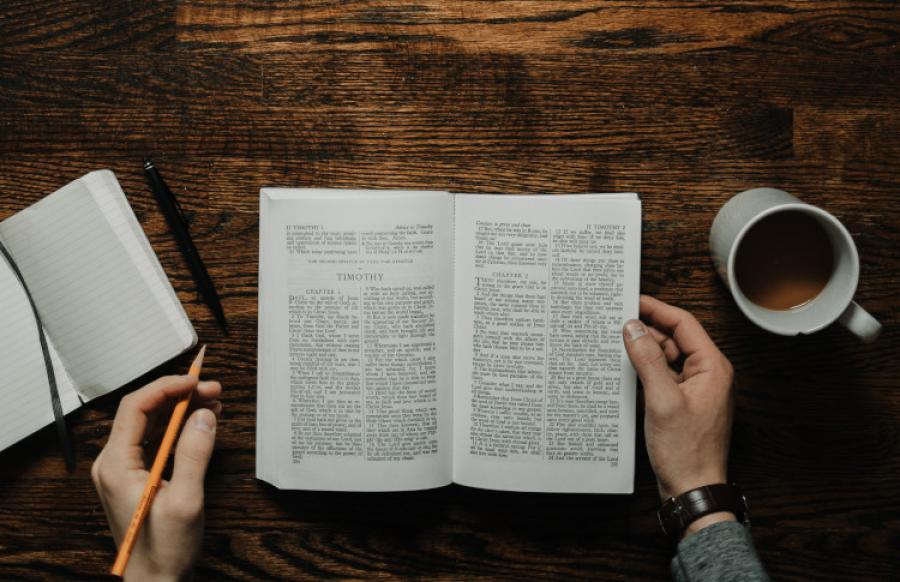 By Tim Sigler. Reposted, with permission, from Voice.
The mandate of training up men for service to the church is straightforward and clear—and the need is always great! In his second letter to Timothy, Paul entrusts the following charge to his son in the faith:
You then, my child, be strengthened by the grace that is in Christ Jesus, and what you have heard from me in the presence of many witnesses entrust to faithful men, who will be able to teach others also. Share in suffering as a good soldier of Christ Jesus. No soldier gets entangled in civilian pursuits, since his aim is to please the one who enlisted him. An athlete is not crowned unless he competes according to the rules. It is the hard-working farmer who ought to have the first share of the crops. Think over what I say, for the Lord will give you understanding in everything. (2Ti 2:1–7)
This solemn stewardship was never to be accomplished alone. In fact, interpreters have observed four generations of stewardship in the key verse at 2:2: Paul, Timothy, other faithful men, and those taught by these faithful men. Each generation was to be faithful with that body of truth being entrusted to them. Paul had just urged Timothy in the immediately preceding context to "guard the good deposit entrusted to you" (1:14). He assured him that ultimately it is God Himself who "is able to guard until that day what has been entrusted to me" (1:12). Guarding the truth and committing it faithfully to the next generation is a great stewardship. As Paul explained to the believers at Corinth, the number one qualification of stewards is "that they be found faithful" (1Co 4:2).
The Biblical Mandate Illustrated
In 2 Timothy 2:1–7, Paul mentions three professions illustrating the faithfulness required of the men to whom Timothy should entrust the deposit of truth that must then be passed on to others. Granted, there were also many female disciples and co-laborers in the gospel who both traveled with and even financially supported Jesus and the twelve disciples (Lk 8:1–3). And it was the female followers of Jesus who were the first to hear the announcement of His resurrection (Mt 28:1–10). However, the context here in 2 Timothy seems to have in mind those male disciples who were to be trained up to serve as elders for the church. Thus, Paul offers three professions associated with men in the first century.
The call to entrust is a call to equip. If those who would be entrusted with the truth for its safekeeping were to be found faithful, they had to gain some experience under the tutelage of others before being sent out on their own. Jesus spent three years with his disciples before sending them out. Paul invested enough time and energy in Timothy to be able to call him his son. For eighteen years, my office was in The Sweeting Center at the Moody Bible Institute, and each day I walked past a painting of the then Chancellor, George Sweeting. He once wrote, "Each of us needs three people in his Christian life: a Paul, a Barnabas, and a Timothy."1 Mentors, colleagues, and disciples all play a part in the equipping process.
This intentionality of investing in other men was not only commanded by Paul but was also modeled by him. And we should be modeling both the desire for training and the duty of training others within our spheres of ministry. Many local churches and other important ministries ripen on the vine, only to die because they fail to train others to continue to work in the harvest. Effective ministry is not simply a matter of gifting. Training equips us to gain skills we may have never had. Training is also part of the process of fanning the flame and rekindling the passions of even our God-given gifts (2Ti 1:6). These roles were not entry-level. One could not decide one day that they suddenly identified as a soldier, an athlete, or a farmer. Someone could aspire to learn to become such, but each profession demanded rigorous training, practice, and apprenticeship.
While I don't have personal experience serving in any of these professions Paul lists, my father was a soldier, my son is an athlete, and my father-in-law is a farmer—so I can at least learn from example about what it took for them to make it in their respective fields. There is also much literature from the ancient world that can inform us about these demanding duties. Yet interpreters must not forget that these professions all illustrate the basic quality of faithfulness—being trustworthy, sure, and true.
The Committed Soldier (2:3–4)
The steward entrusted with the deposit of gospel truth is to fight and focus like a committed soldier who was single-minded and not sidetracked in his duty. So often those who show an initial interest in vocational ministry quit prematurely. When difficulties arise, when congregants treat them poorly, when they don't see the growth they expected, when finances are tight, when legitimately needed change does not happen quickly, they look for other options. But Paul instructs Timothy to share in suffering like a good soldier.
These challenges are to be expected, and the hurts and disappointments can be painful and real. But when we consider that we are engaged in battles against spiritual forces of darkness (Eph 6:12), we should not be surprised that our adversary is on the attack and seeking to destroy (1Pe 5:8). Taking your stand against the devil's schemes (Eph 6:10–11), resisting him (Jas 4:7), and standing firm in the faith (1Pe 5:9) attract suffering because we are in a spiritual war. But we are assured that when this battle is over, and "after you have suffered a little while, the God of all grace, who has called you to his eternal glory in Christ, will himself restore, confirm, strengthen, and establish you" (1Pe 5:10). Knowing His promises are true encourages us to place our sufferings in perspective and suffer like committed soldiers.
The Dedicated Athlete (2:5)
The steward entrusted with the deposit of gospel truth is to compete with the dedication of a disciplined athlete. Paul frequently used athletic metaphors from the Greco-Roman world of his day to speak of the perseverance that is needed by the committed disciple. He describes his own self-discipline in athletic terms, "I discipline [pummel] my body and keep it under control" (1Co 9:27). Whether running a foot race (Heb 12:1; Php 2:16; Gal 2:2; 5:7), chariot racing (likely in Php 4:13–14), or boxing (1Co 9:26), success is often determined by how hard one strives. But here, Paul's emphasis is on keeping the rules which may imply things like making it to the finish line. In 2 Timothy 4:7, Paul writes, "I have fought the good fight, I have finished the race, I have kept the faith."
The faithful will stay in the game like a dedicated athlete. Spurgeon rightly distinguished between being successful in ministry and being faithful: "We can win 'Well done, good and faithful servant': to be a successful servant is not in our power, and we shall not be held responsible for it."2
Notes
1 George Sweeting, "My Pastor," Moody Magazine (March/April 1996), 92.
2 Kerry James Allen, Spurgeon's Quotes–The Definitive Collection (The Woodlands, TX: Kress Biblical Resources, 2018), 156.
---
Dr. Tim Sigler serves as Provost and Dean at Shepherds Theological Seminary. He is also the Israel Scholar-in-Residence for CJF Ministries. Tim and his wife Bernice have been married 30 years and are blessed with three adult children who love the Lord. He can be reached at tsigler at shepherds.edu.