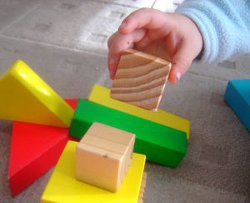 Read Part 1.
Teachers are supposed to discover things ahead of time and then share them with students. But sometimes the discoveries come during the teaching. It's part of the compensation package.
A month or so ago, I experienced one of these moments of discovery during the 9th grade class I teach three days a week—a class in formal logic. (Yes, logic. I dare you to read a short essay about formal logic. What are you afraid of?)
My light bulb moment was not the discovery that evangelical and fundamentalist Christianity are desperate for more constituents capable of thinking clearly about hard questions. That reality struck home a couple of years ago, and I'm reminded almost daily. (Often enough, the guy in the mirror is the evidence.) Nor was my light bulb moment the realization that if we start teaching kids logic again, as in the good old days, we might see a generation of better Christian thinkers succeed the "this feels true to me" generations we've raised up in America over the last century or so. I already believed that. It's why I'm teaching the class.
The light bulb came on when an idea I'd accepted as true in theory became "real" by experience. The students and I were working through some exercises sixteen chapters or so into our textbook1 when we arrived at this question:
Smith said, "Pro-lifers don't care about children who are already born. All they care about is their stupid political agenda." Jones disagreed by saying, "No, there are many pro-lifers who are involved in caring for children."
The assigned task was to analyze the paragraph, "isolate the related statements, and put them into categorical form. Assign abbreviations to the terms, place them on the square of opposition, and determine their relationship." In this case, the available relationships were contradiction, contrariety or subcontrariety.
Sounds daunting, but trust me—the kids made it look easy. And, if you're sixteen chapters into the textbook, it is easy.
But don't get distracted by the technical stuff about squares and contrariety and the like, or you'll miss the good part. The light bulb came on for me when I realized that by working through this exercise, my students were beginning to learn how to do something priceless: they were learning how to look at emotional statements about a highly sensitive topic and identify accurately (a) what is actually being claimed and (b) what sort of reasoning is involved in it. As they left class, I told them, "I'd be surprised if one in ten thousand Americans knows how to see that little bit of dialog as clearly as you can now see it."
We can't fly through sixteen lessons of formal logic here. But for those who haven't glazed over or found something warmer and lighter to read yet, here's a rough approximation of what we did to complete the exercise (and I do mean "we." I'm learning this along with them!).
Step by step
1. Isolate the related statements.
Only two statements are related—"Pro-lifers don't care about children who are already born," and "There are many pro-lifers who are involved in caring for children." They are related because they share all the same terms.2 The unrelated statement ("all they care about is their stupid political agenda" is actually part of a second argument).3
2. Put the statements in categorical form.
The results of this step sound weird, but several rules determine how to do it correctly, and there is definitely a method to the madness. I'm going to take the liberty of paraphrasing a bit to avoid lengthy, hyphenated noun phrases (like "care-about-children-who-are-already-born pro-lifers").
| Conversational form | Categorical form |
| --- | --- |
| Pro-lifers don't care about children who are already born | No pro-lifers are care-about-children pro-lifers. |
Here, the process is already proving to be insightful, because it's only when we put Smith's statement into categorical form that we realize what he is really saying. His generalization is a universal negative: there are no pro-lifers who posses a certain quality—caring about kids. (He might deny that this is what he meant, but if his statement means some (or even many) pro-lifers don't care about living children, he is leaving open the possibility that some pro-lifers do care and no longer has a point.)
Expressing Smith's words categorically not only helps us see more clearly what he's claiming, but also reveals how vulnerable his claim is. You only need one contrary example to disprove a universal negative.
The second related statement, Jones' reply, is also more clear in categorical form.
| Conversational form | Categorical form |
| --- | --- |
| There are many pro-lifers who are involved in caring for children. | Some pro-lifers are for-children-caring pro-lifers. |
3. Assign abbreviations to the terms.
This step is just a bit of arbitrary shorthand. We'll make the first statement "No P are C" and the second, "Some P are C."
The remaining steps involve displaying the relationship between statements using a graphical tool. Positioning the statements on a square of opposition4 shows that their relationship is that of contradiction (if one is true the other must be false and vice versa. They go at opposite corners of the square of opposition, diagonal to each other).
But what if we didn't have Jones' rebuttal (the second statement)? We could put the first in categorical form, place it on the square and determine what form a contradictory statement would have to take. It's a great way to develop and analyze the soundness of arguments.
How useful is it?
If you have an intuitive pull toward logic but have never really understood how it works, seeing a process like this starts making a host of possible uses click in your brain. For me, it was quite exciting.
But the discovery may also make you wonder, as I did, "Why in the world didn't somebody teach me this in high school?!" It's sad to be just learning it at age 45. But better late than never. These tools are too interesting and helpful to go unappreciated.5
Just for fun, see if you can put these generalizations in categorical form—and see if it doesn't open your eyes a bit to why we'd all benefit from learning some formal logic.
Calvinists don't care about reaching the lost.
Those who develop eclectic Scripture texts do so outside the believing community and without the aid of the Holy Spirit.
Parents who punish their children assume children have to feel bad in order to learn.
Fundamentalists don't really care about truth or love. They just love to fight.
Capitalists think greed is good.
People who oppose gay marriage just feel threatened by people who are not like them.
These statements are not all equally easy to put into categorical language, and they are all portions of larger and more complex arguments. But taking statements apart and reassembling them can go a long way toward understanding what kind of argument is being made and what kind of argument (what kinds of statements) will effectively counter it.
A word of caution though. Effective logical arguments are really for "the people in the middle." That is, we shouldn't expect solid logic to convince an abortion-rights activist to change his mind. He is unwilling to do so and—as far as I can tell—logic does not reach the will. Logical argument is only effective when the hearer (or reader) is already willing to be persuaded.
Notes
[node:bio/aaron-blumer body]
5441 reads