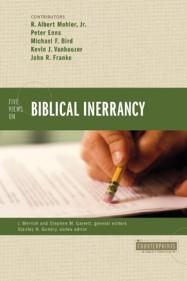 In this excerpt from the book Five Views on Biblical Inerrancy,  Peter Enns shares his initial thoughts about inerrancy from his essay, entitled, "Inerrancy, However Defined, Does Not Describe What the Bible Does."1
The Bible is the book of God for the people of God. It reveals and conceals, is clear yet complex, open to all but impossible to master. Its message clearly reflects the cultural settings of the authors, yet it still comforts and convicts across cultures and across time.

The Bible is a book that tells one grand narrative, but by means of divergent viewpoints and different theologies. It tells of God's acts but also reports some events that either may not have happened or have been significantly reshaped and transformed by centuries of tradition. It presents us with portraits of God and of his people that at times comfort and confirm our faith while at other times challenge and stretch our faith to its breaking point.

This is the Bible we have, the Bible God gave us. Redefining or nuancing inerrancy to account for these properties can be of some value, and some are no doubt content to do so. The core issue, however, is how inerrancy functions in contemporary evangelical theological discourse. This too varies, but when all is said and done, I do not think inerrancy can capture the Bible's varied character and complex dynamics.

Though intended to protect the Bible, inerrancy actually sells it short by placing on it expectations it is not designed to bear—as evidenced by the need for generations of continued publications and debates to defend it. On a deeper and ultimately more important level, inerrancy sells God short. Inerrancy is routinely propounded as the logical entailment of God's truthfulness, which for many inerrantists leads to the necessary expectation of the Bible's historical accuracy.

The premise that such an inerrant Bible is the only kind of book God would be able to produce, or the only effective means of divine communication, strikes me as assuming that God shares our modern interest in accuracy and scientific precision, rather than allowing the phenomena of Scripture to shape our theological expectations. As I see it, the recurring tensions over inerrancy in evangelicalism are largely a byproduct of the distance between a priori theological assertions about God and about how his book should behave and the Bible we meet once we get down to the uncooperative details of the text itself.

When the Bible needs so much careful, persistent tending in order to preserve a particular doctrine of Scripture, we might wonder whether the doctrine is the solution or the very source of the problem. Put another way, inerrancy is a theory. The question before us is whether this theory can explain the phenomena of the text. If not, then inerrancy should be amended accordingly or, in my view, scrapped altogether.

The stark reality, however, faced by evangelicals who are critical of inerrancy is that inerrancy has been a central component of evangelicalism for its entire history, a response to the challenges of biblical higher criticism of the eighteenth and nineteenth centuries. Inerrancy is encoded into the evangelical DNA, and conversations, however discreet, concerning its continued usefulness are rarely valued. In fact, considerable personal and professional fallout are well documented, and examples are not difficult to find. Inerrancy's definitive—and nonnegotiable—role in forming evangelical identity in the face of modern challenges reached a defining moment in the framing of the Chicago Statement on Biblical Inerrancy (1978).
For more, see Enns' essay (and others) from the book.
Notes
1 Peter Enns, "Inerrancy, However Defined, Does Not Describe What the Bible Does," in Five Views on Biblical Inerrancy, ed. Stanley Gundry (Grand Rapids: Zondervan, 2013; Kindle ed.), KL 1354-1378.
9652 reads