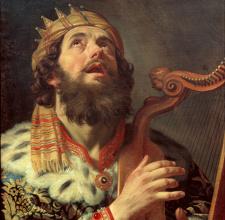 God's Covenant with David
David was the king that Yahweh had promised (Gen. 17:4-6, 16; Deut. 17:14-15). His reign came some four centuries after God had said that He would "surely set a king over you" (Deut. 17:15), and not much shy of a millennium after the covenant made with Abraham. God never seems to be in a hurry.
In many ways 2 Samuel 7 is the strategic point for understanding the covenants with Israel. It pulls together the Abrahamic and Mosaic covenants, land and people and God-centered government, in a way that concretizes the one and shows the righteous yet temporal nature of the other. In the person of the King the Lord's creation goal will take shape. That King is not David, but David, like Abraham, is granted the inestimable privilege of beginning the dynasty (cf. Matt. 1:1).
Scripture presents the Davidic covenant almost as a response from Yahweh to the relocation and veneration of the ark of the covenant. Here is a man who will take the covenant seriously (even though he will sin grievously – Psa. 51).
The importance of the Davidic covenant is underlined by the fact that, as with all the previous Divine covenants, God Himself utters it.
When your days are fulfilled and you rest with your fathers, I will set up your seed after you, who will come from your body, and I will establish his kingdom. He shall build a house for My name, and I will establish the throne of his kingdom forever. I will be his Father, and he shall be My son. If he commits iniquity, I will chasten him with the rod of men and with the blows of the sons of men. But My mercy shall not depart from him, as I took it from Saul, whom I removed from before you. And your house and your kingdom shall be established forever before you. Your throne shall be established forever. (2 Samuel 7:12-16)
The first line of the promise speaks of Solomon, who began well but ended up destabilizing the kingdom through idolatry. Clearly even giving wisdom to a sinful man is not enough to guarantee the high requirements of covenant fulfillment. Wisdom can undermine sin, but it cannot stop it in its tracks. But the promise has more to it than failure at the hands of sinners. It is part of the web of covenant promises intimately linked with the Creation program of God. The real intent of the promise comes only in verse 16:
And your house and your kingdom shall be established forever before you. Your throne shall be established forever.
This is the oath at the center of the Davidic covenant, even though the word berith does not appear in the context. Yet there is ample corroboration of the oath as a covenant vow. For example in his prophetic song at the close of his life David is sure that God,
… has made with me an everlasting covenant, ordered in all things and secure. For this is all my salvation and all my desire; will He not make it increase? (2 Samuel 23:5)
Psalm 89 includes the elements of the original pledge in 2 Samuel 7, but it is unequivocal about the fact that Yahweh did enact a covenant with David:
My mercy I will keep for him forever, and My covenant shall stand firm with him.

His seed also I will make to endure forever, and his throne as the days of heaven.

If his sons forsake My law and do not walk in My judgments, if they break My statutes and do not keep My commandments, then I will punish their transgression with the rod, and their iniquity with stripes.

Nevertheless My lovingkindness I will not utterly take from him, nor allow My faithfulness to fail. My covenant I will not break, nor alter the word that has gone out of My lips.

Once I have sworn by My holiness; I will not lie to David: his seed shall endure forever, and his throne as the sun before Me; it shall be established forever like the moon, even like the faithful witness in the sky. (Psalm 89:28-37)
The expectation of King David as expressed here is that his dynasty will be perpetuated forever. That expectation is fixed even when David himself lets his faith slip. So in 2 Samuel 24 when at the end of his life he numbers the people we read,
Go and tell David, 'Thus says the LORD: "I offer you three things; choose one of them for yourself, that I may do it to you." So Gad came to David and told him; and he said to him, "Shall seven years of famine come to you in your land? Or shall you flee three months before your enemies, while they pursue you? Or shall there be three days' plague in your land? Now consider and see what answer I should take back to Him who sent me." (2 Samuel 24:12-13)
I think it is significant that God linked a misuse of the crown to a plague on the land. David is over the land as its king. And indeed it hardly makes sense to begin a dynasty when there is no land to rule over. King and kingdom must go together. Therefore the covenant with David assumes a land — the land promised to Abraham, Isaac and Jacob — over which the dynasty will reign.
1171 reads