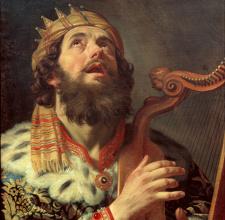 Read Part 1, Part 2 and Part 3.
Returning to chapter 7 of 2 Samuel, verse 13 speaks of David's son building "a house for My name" with the addition of the pledge of an everlasting dynastic kingdom. Walter Kaiser has commented on the connection between the establishing of a kingdom and the right to erect a temple. He writes,
[A]ccording to 2 Samuel 7:13…the "house" of David had to be first established by Yahweh before a temple could be built. Temple building could only be the completion and crowning effect of Yahweh's creation of a kingdom.1
If this is right then David could not begin his reign by ordering the construction of a temple to Yahweh. Why not? Because peace in the kingdom was not attained during David's reign, either through having to impose his reign over dissidents, or through his own disastrous breaking of the law he was supposed to be upholding via the incident with Bathsheba and Uriah (2 Sam. 11).
As Niehaus reminds us, the covenants of God,
1498 reads