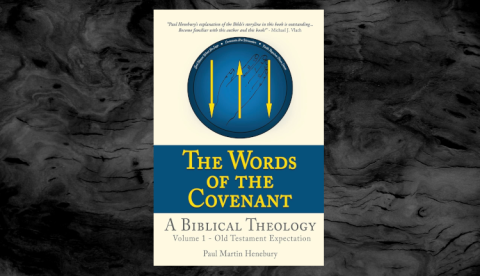 Review: The Words of the Covenant: A Biblical Theology (Volume I – Old Testament Expectation) by Paul Martin Henebury, Maitland, Florida: Xulon Press Elite, 467 pages; reviewed by Ed Vasicek
This is a brilliant, straightforward analysis of the nature of the Old Testament Covenants and their continuity throughout the Old Testament, including its latter portions. The author offers compelling evidence that the purpose of the covenants was clarity, not obscurity. He argues that the covenants should be interpreted in straightforward ways and understood as originally presented, with no future changes-of-definition allowed. When it comes to the covenants, God's very faithfulness is on the line.
Henebury argues convincingly that the covenants are foundational to our interpretation of the rest of Scripture, and are the subject of constant appeal and rehearsal throughout the Bible (but in this volume, the author focus more so upon the Old Testament with only occasional treks to the New).
The author sees six covenants, covenants which are not assumed or interpolated, but stated in Scripture. They include the Noahic Covenant, the Abrahamic Covenant, the Mosaic Covenant, the Priestly Covenant (with Phineas), the Davidic Covenant, and the New Covenant.
1089 reads