Supersessionism Rising: Dispensationalism...? Part 1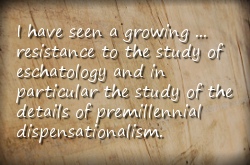 Republished, with permission, from Voice magazine, Sept./Oct 2011.
In October, 2010 many in the evangelical world were focused on the third Lausanne Conference in Capetown, South Africa. The Lausanne Movement begun in 1974 by Billy Graham, John Stott and others in Lausanne, Switzerland has had only three such major conferences in its over sixty-year history.
The purpose of the movement was ostensibly to unite and focus the efforts of global evangelicalism for the task of global evangelization. The preparations for the Lausanne Congress on World Evangelization in Capetown included papers from several study groups; one such group was the Lausanne Theology Working Group. This group produced a document entitled "The Whole Church Taking The Whole Gospel to The Whole World." This document was published on the Lausanne website1 and in the January 2010 issue of Evangelical Review of Theology (vol. 34, no. 1, p. 4-13).
In one startling paragraph of that paper the members of the Theology Working Group at first affirmed the unity of the church: "We give thanks that the one Church that God has called into being in Christ is drawn from every nation, tribe, people and language," but they then went on to assert that "no single ethnic identity can any longer claim to be 'God's chosen people.'" The theologians of the Lausanne Movement who produced this document further argued "God's election of Old Testament Israel was for the sake of the eventual creation of this multi-national community of God's people." In other words, they assert that the purpose of the election of Israel was for the creation of the Church! This, of course, is a denial of God's purposes for the ethnic descendants of Abraham and of a future for the nation of Israel.
The statement also asserted, "It is vital that we strongly affirm, therefore, that while there are multiple ethnicities within the one church by God's clear intention, no single ethnic group holds privileged place in God's economy of salvation or God's eschatological purpose" [italics original]. And just in case the theological and practical thrust of that assertion was not clear enough the paragraph concluded, "For this reason, we strongly believe that the separate and privileged place given to Jewish people today or to the modern Israeli state in certain forms of dispensationalism or Christian Zionism, should be challenged, inasmuch as they deny the essential oneness of the people of God in Christ."
Many readers of this publication will recognize immediately that in this statement is a fairly obvious assertion of "covenant theology," and an affirmation of "supersessionism," or "replacement theology." That is, the theology that denies that God has a future program for the nation of Israel and denies that the promises God has made to the ethnic descendants of Abraham—the Jewish people—will be kept fully and literally.
Why is this important?
Why should we be aware of this statement and what might be its import?
We might begin by observing that the general drift of wider evangelicalism is decidedly in the direction indicated by this statement, namely toward supersessionism.2 Many, both inside the Lausanne movement and those close to it, when made aware of this statement and this paragraph found it unobjectionable and many endorsed it. This might have been surprising since, as noted, one of the professed purposes of the Lausanne movement was to create unity for the evangelistic enterprise of the church and this statement is obviously dismissive of a certain segment of evangelical Christianity. But authors of the statement and its subsequent defenders clearly felt that they were on a sufficiently solid theological footing when they choose to advocate for a particular supersessionist biblical/theological position and chose to dismiss those who hold to "certain forms of dispensationalism or Christian Zionism." The authors of the document certainly believed that the advocates of "certain forms of dispensationalism or Christian Zionism" were insignificant enough as a group that they could be dismissed without significantly impacting the unity of the movement or the cause of global evangelization.
In short, it would appear that the authors of the statement believed that most of the Lausanne movement, and the wider evangelical public would agree with them in this dismissive marginalization of dispensationalism and the theological tradition that holds to a future for ethnic Israel. Sadly, I would have to agree with them in that theoretical estimate; that is, the proponents of "certain forms of dispensationalism or Christian Zionism" have been by and large marginalized by the wider evangelical community. The fact that this paragraph went largely unnoticed and its implications largely dismissed cannot be due simply to the relatively obscure place of publication. The very fact that it was written, published and originally endorsed by the leaders of the Lausanne Movement demonstrates that they and others believed that it reflected (or would reflect when published) the viewpoint of a considerable majority of its adherents. In short, they determined that it was safe to advocate for supersessionism and to dismiss dispensationalism.
The broader picture
Again, why should this matter to us? At this point I want to try and bring into focus the broader picture. That is, I want to widen the focus and by that to enable us to see an even more alarming trend—namely, the marginalization of the dispensational theological tradition and the rise of supersessionism. To be clear, I am asserting here that the statement of the Lausanne Theology Working Group is by no means an isolated aberration but merely one more example that dispensationalism, grounded in the Old Testament covenantal promises to Abraham and his descendants, established in promises to David and the nation of Israel, is a theological position that is an "endangered" position,3 whereas supersessionism is finding a wider and growing support. I have several reasons to think this.
Some authors such as Craig Blaising, have suggested that the view that "God's covenanted promises regarding Israel's future… were transferred by God to the institution of the church" and that "the church was seen as the new Israel,"4 is a view that is "increasingly being rejected by Christians as not accurately representing the message of Jesus, his apostles, or Scripture generally."5 Other authors, however, suggest otherwise. For instance, Barry E. Horner has documented the rise in church history and in the history of Christian thought and has clearly demonstrated the pervasiveness of this view of supersessionism throughout church history and in current Christian thought.6 While it might be true that premillennialism and dispensational eschatology reached in the twentieth century something approaching (at least among North American evangelicals) a degree of "popular theological hegemony" there are reasons to think that that status is very much in question in the early years of the twenty-first century. In short, certain trends seem to be indicating that supersessionism is on the rise and dispensationalism is on the wane.
For instance, as a very general indication of this development it can be observed that three of the latest major evangelical systematic theologies, Wayne Grudem's,7 Millard Erikson's,8 and Robert Reymond's9 each advocate some degree or form of supersessionism.10 It is not a stretch to argue that these systematic theologies represent something of a consensus of a "broad evangelical theology." And if that is so, then they indicate supersessionism is far from vanishing but is in fact becoming more and more the viewpoint of the academically oriented and theologically minded evangelicals. Furthermore, as these texts are assigned and read in evangelical seminaries and Bible colleges they are more likely to move students in a supersessionist direction.
Furthermore, I have seen a growing weariness, even resistance to the study of eschatology and in particular the study of the details of premillennial dispensationalism.11 It may be fatigue from the best-selling Left Behind series or the influence of post-modern relativism.12 In any case, many of my students and their friends in other Christian colleges and universities13 have decided that eschatology is just not that important.14 And the students are not alone in this regard. Many lay people are of the same opinion.
Part 2 continues tomorrow.
Notes
1 http://www.lausanne.org/documents/twg-three-wholes.html accessed March 22, 2011; while the majority of the statement is still posted the offending paragraph discussed in this article has subsequently been removed. However, the original statement remains a matter of record in the journal article cited in the text above (http://www.lausanne.org/docs/TWG/LOP64-2009Panama.pdf, accessed Nov. 7, 2011.)
2 I am using the term "supersessionism, supersessionist" as Michael J. Vlach does, Has the Church Replaced Israel?, (Nashville: B & H Academic, 2010) as "the view that the NT church is the new and/or true Israel that has forever superseded the nation of Israel as the people of God" (p. 12). Vlach's refinements of the definition/position in his chapter on "What is Supersessionism?" (pp. 4-17) inform my use of the term in this article.
3 Some may think that is something of an overstatement or exaggeration—and perhaps it is. But I would contend that if the trends I identify in the rest of this article are not addressed, "endangered" is not too strong a term.
4 Craig A. Blaising, "The Future of Israel as a Theological Question," in To The Jew First: The Case for Jewish Evangelism in Scripture and History, ed. by Darrell L. Bock and Mitch Glaser (Grand Rapids: Kregel Academic & Professional, 2008), 103; i.e. "supersessionism."
5 Blaising, "The Future of Israel," 103.
6 Barry E. Horner, Future Israel: Why Christian Anti-Judaism Must Be Challenged (Nashville: B & H Academic, 2007). Horner styles this view "anti-Judaism" and traces its origins to (mainly) the writings of Aurelius Augustine. See pages 3ff, 22, 65ff, and many other references.
7 Wayne Grudem, Systematic Theology: An Introduction to Biblical Doctrine (Grand Rapids: Zondervan, 1994) " … we should notice the many New Testament verses that understand the church as the 'new Israel' or new 'people of God.'" (861). Grudem holds to "historic premillennialism" (1127).
8 Millard J. Erickson, Christian Theology, 2nd Edition (Grand Rapids: Baker, 1999), 1053; Erickson can say "the church is the new Israel," and yet also affirm, "There is a special future for national Israel. They are still the special people of God." Erickson is premillennial (1224) but post-tribulational (1231).
9 Robert L. Reymond, A New Systematic Theology Of The Christian Faith 2nd Edition—Revised And Updated, (Nashville: Thomas Nelson, 1998); Reymond is a signatory of the Open Letter discussed in the point above.
10 Cf. Vlach, Has The Church Replaced, 22-23; Vlach locates Erickson and Grudem in the category of "moderate supersessionism" along with George Ladd.
11 In what follows I will not attempt to document all of my concerns, some of which are admittedly anecdotal in nature; however, I believe that many IFCA pastors could corroborate these concerns from their own experiences.
12 By that I mean, if we find the interpretation of the past a confusing mix of multi-cultural analyses and ideologically driven revisionisms and reconstructions then how can we possibly say for certain what the future will hold?
13 Here is just one "young evangelical's" view, but it rings true to things I myself have heard: "I get the sense that for many of my young evangelical peers, the doctrine of eschatology is less important not because of careful reflection upon the Scriptures, but because of the political and cultural scorn the doctrine has earned. For most young evangelicals, eschatology is cringe inducing not because traditional formulations are wrong, but because they are weird. That all Christians would disappear in a flash will hardly earn Christians cultural acceptability—and cultural acceptance, today, is their paramount desire." (Matthew Lee Anderson, "The New Evangelical Scandal," The City: A Publication of Huston Baptist University, January 15, 2009; http://www.civitate.org/2009/01/the-new-evangelical-scandal/ accessed Nov. 7, 2011); the whole article is worth reading.
14 See Paul Martin Henebury, "Where Are All The Young People? The Pre-Trib Conference 2010," http://drreluctant.wordpress.com/2010/12/13/where-are-all-the-young-peop… ; Henebury (aka Dr. Reluctant) observes that young people are not flocking to the Pre-Trib conferenre held annually by Tim LaHaye Thomas Ice; "We may wish to point our fingers at the undoubtedly faddish "Young, Restless and Reformed" movement [see the discussion below], but the lack of new blood in dispensationalism is very worrying, even if it was predictable."
---
Dr. Kevin D. Zuber is Professor of Theology at Moodly Bible Institute and Pastor of Grace Bible Church Northwest.