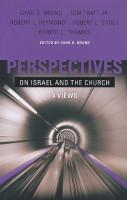 Perhaps there is no issue which more clearly divides conservative Evangelicals, than the question of the relationship between Israel and the Church. Subsumed beneath that overriding concern are the intramural debates over soteriology (Calvinism, Arminianism or "neither"), eschatology (premillennial or amillennial and pre-trib or post-trib), and ecclesiology (paedobaptism or credobaptism).
These questions are not minor. The baptism question divides the Protestant church into denominations. The millennial question bars the entry into parachurch organizations, mission boards and educational institutions. Yet most agree that people from all perspectives on this issue take the Bible seriously: this is a Christian debate, separating fellow believers.
In the last hundred years, the larger question over Israel and the Church has turned from a covenant theology vs. dispensationalism debate into a more nuanced and many-sided affair. Dispensationalism has matured, and progressive dispensationalism presents a new understanding of the question which is both true to its dispensational roots and yet distinct at the same time. And in recent years, new covenant theology has arisen and is often referred to by the term "progressive covenantalism." This refinement and change is not a bad thing. As the views have interacted with each other, people have tried to modify and clarify their understanding of Scripture. Such has been the history of the Church down through the ages. And while some look at the newer positions as an abandonment of principles, others may see a hopeful realignment that results in a greater unity across all the positions. Indeed it seems that progressive dispensationalism has become a primary view in the academy that is viewed with mutual respect by covenantal views.
A new book from Broadman and Holman offers a restatement of the four dominant positions today, and includes an interaction between them. Perspectives on Israel and the Church: 4 Views brings together three of the most proficient authors for their positions, along with a team of authors for the newer progressive covenantal view. This book presents the debate in a calm and safe environment and allows some of the foremost representatives of the positions to advocate their approach.
Covenantal Theology
Robert L. Reymond's chapter on covenantal theology is sharp and clear. He makes a point that modern softenings of dispensationalism still remain somewhat unclear as to the nature of saving faith for Old Testament saints. Throughout his chapter and in his responses, he does a great job unpacking his view and addressing the important points in other positions. He sees both progressive dispensationalism, and progressive covenantalism (as presented in this book) as still too close to dispensationalism and its pre-tribulational, pre-millennial position. His is a strictly amillennial position that sees Revelation as a cyclical book with the millennium being another description of the church age. He does not stress too much the three covenants of classic covenantal theology (coventant of grace, of redemption, and of works), instead he focuses more on the biblical covenants in an approach similar to that of O. Palmer Robertson. He also does not shy away from the term "replacement theology" but proudly uses that description of his position (p. 49).
Traditional Dispensationalism
Robert L. Thomas's chapter on traditional dispensationalism presents the dispensationalism I learned with clarity. This is Ryrie's position which has sometimes been described as "modified" as opposed to "classical." Thomas doesn't agree necessarily with the "modified" descriptor, however. Thomas explains that the kingdom was offered and then rejected in Christ's ministry, and presents a case against taking the NT use of the OT as a guide for how we should interpret Scripture. He also emphasizes how the OT promises are not cancelled by the NT. In his treatment of the land promise, however, he doesn't deal with the conditionality in the OT associated with it (for instance Deuteronomy's exhortations to faithfulness so that they would inherit the land, and even how passages like Ps. 37:9, 11 should be understood). He also doesn't address Rom. 4:13 and how the "land" is expanded to the "world." He makes a big deal too about no clear-cut use of the term "Israel" for the Church (although so many other Jewish terms and descriptions are used for the Church).
Of note is Thomas's interaction with Saucy's chapter on progressive dispensationalism. He takes issue with Saucy's allowance for the NT use of the OT to shape his understanding of the OT passages. Thomas notes:
By allowing NT passages to provide meaning for the OT, one is doing the same as other nondispensational systems… Saucy's statement, "proper interpretation begins with the Old Testament," should be refined to read, "proper interpretation of the Old Testament begins and ends with the Old Testament before going to the New Testament." (p. 218)
He also is not happy with Saucy's refusal to defend a pre-tribulational rapture.
Progressive Dispensationalism
Robert Saucy does a good job explaining progressive dispensationalism. Many reared in traditional dispensationalism, like me, have later rejected that system and now find themselves leaning toward covenant theology but without a good understanding of later developments in dispensationalism. This chapter offers a helpful explanation for those unfamiliar with this position.
Saucy painstakingly lays down hermeneutical principles undergirding his position. He ultimately agrees with an "already, not yet" approach to prophecy but emphasizes the "partial" nature of many of the begun-to-be fulfilled prophecies. Salvation is not just provided through Israel and her Messiah, it is "channeled through" Israel:
From Isaac, the descendants of Abraham are traced by physical descent through Jacob and his sons until the Seed, Jesus Christ, appears and the Gentiles are included in him. It is therefore impossible to ignore this physical dimension and identify Abraham's seed merely as anyone of faith…. Thus, on the basis of the promise to Abraham, Israel is an ethnic people who constitute a nation among nations that bears a unique relationship to God — a nation created by God in fulfillment of his salvation promise. (p. 166-167)
So even though salvation extends to the Gentiles, they are not "spiritual Jews" or "conceived as part of Israel" (p. 184). Eph. 2 does not speak to Gentiles joining Israel in the covenant people of God. Instead both are part of a new humanity, but each are still distinct (p. 191). He again emphasizes that the Church is never called Israel (yet it is called the "real circumcision"…). So there is a unity in the people of God now as both Israel and the Church are together the "eschatological people of God" (p. 190). Yet, there is still a role for political Israel to play in a future millennium to totally fulfill historic promises. Saucy's conclusion explains it best:
Rather than detracting from the spiritual unity of God's saving program present in the church, the fulfillment of Israel's role as a particular nation, in which God is yet to display his glory, will expand the present spiritual salvation to bring about that holistic salvation of individual and society promised by the prophets, in which all people are united in their diversity as the one people of God. (p. 208)
Progressive Covenantalism
Chad Brand and Tom Pratt, in their chapter on progressive covenantalism intriguingly point to the debate over the new perspective on Paul as a way forward in this debate. There is a debate over whether personal salvation was primarily in view in Romans or the wider work of God for the people Israel and indeed all of creation. The answer is yes: both are in view. And that is how they approach the question of Israel vs. the Gentile church. There is a corporate and personal element in this question. Who are the people of God and what are their place in salvation history? "Israel" and the "Church" are terms separating out a "dichotomy" where there really seems to be a unity, a oneness to the people of God throughout the Old and New Testaments (p. 233-237). Supporting points for this include:
The oneness of God demands one people.
The people of God are his by divine election and spiritual birth.
The people of God arise from the supporting root of historic Israel.
The marker of the people is the internal presence of the Holy Spirit.
The people of God are the body of Christ.
This approach avoids the rigid "replacement theology" that is directly advocated by Reymond. Instead it interprets the true people of God through all ages as representative of true believers today. This presentation actually struck me as less directly baptistic than the new covenant theology position of Stephen Wellum and Peter Gentry presented in Kingdom through Covenant (Crossway, 2012). (The authors of this volume mention that Wellum and Gentry's work was released after their book was all but finished, yet they are in substantial agreement with that position, see p. 12.) Emphasizing the experience of the Spirit in the true people of God has the drawback of downplaying the church ordinance of baptism, which seems odd since new covenant theology typically corrects covenant theology on the very question of baptism.
Brand and Pratt go out of their way to renounce a "replacement theology" position:
…we conclude that the idea of "replacement" of Israel by "the church" with a resultant "church age" is not only a misnomer but a misreading of the history of salvation as well. Richard Bauckham remarks, in commenting on Rev 7:4, that the picture there presented "indicates not so much the replacement of the national people of God as the abolition of its national limits." In Goldswothy's characterization, it is the glorious result of the mission to the Gentiles carried out by the saved remnant of ethnic Israelites. Therefore, the current stage is more adequately denominated the age of transformation or new creation, for "in Messiah" nothing matters but "new creation" (Gal 6:15), which for Paul and others has already begun, though it has not yet been consummated. (p. 257)
Brand and Pratt go on to explore how the NT really does refer to the church as "Israel" (or by terms referring to Israel). In this section I was intrigued by their explanation of how Luke in Acts doesn't use the term "church" for the new people of God until after Stephen first roots the term's meaning in the OT assembly of God's people. They then conclude with an explanation of their post-tribulational, premillennial view. They concede that reading Revelation in a roughly chronological order is not necessary to their conclusion (premillennialism), but they don't seem to go out of their way to allow for variations of progressive covenantalism that are not premillennial. Perhaps they are at pains to keep their position tenable for institutions that require premillennialism, I cannot say; but I found their advocacy of premillennialism confusing and contradictory. Kingdom through Covenant's presentation of progressive covenantalism lacked any premillennial hints, and also majored on the land promise (and Israel's identity herself) as typological in nature, and that was extremely persuasive. So the progressive covenantalism offered in this book seems a step lower than what Wellum and Gentry offer. The position as a whole is still young, and this book will certainly help those trying to understand that position.
Recommendation
I highly recommend this book for those seeking to sort out their own position on how the Old and New Testaments should be read in light of each other. Even if you have "landed" on one perspective in this debate, this book will both challenge and sharpen you. With the possible exception of the progressive covenantal view, the book presents a top-notch explanation for each of the major views. The arguments are well-reasoned, and Scriptural discussion abounds. Footnotes point the way to further reading on important questions, and the end result is a useful and accessible manual on the nature of this debate at present. The book will reward careful study and offer help to some who are confused. It was a joy to work my way through it and I trust it will benefit both student and teacher alike.
About the authors
Chad O. Brand has served as a pastor and has taught theology and church history for more than twenty years at three Baptist colleges and seminaries.
Tom Pratt Jr. is president of Eagle Rock Ministries and is a Bible teacher, preacher, and freelance writer.
Robert L. Reymond (1932-2013) was professor of Theology emeritus at Knox Theological Seminary.
Robert L. Saucy is distinguished professor of Systematic Theology at Talbot School of Theology at Biola University.
Robert L. Thomas is professor of New Testament emeritus at The Masters Seminary.
---
Bob Hayton has a BA in Pastoral Theology with a Greek emphasis and a MA in Bible from Fairhaven Baptist College and Seminary in Chesterton, IN. He is a happily married father of seven who resides in St. Paul, MN. Since 2005, he has been blogging theology at FundamentallyReformed.com, where he has also published over 190 book reviews. He can also be found occasionally at KJVOnlyDebate.com.
1148 reads
6929 reads