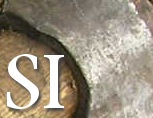 The SharperIron Doctrinal Statement is available here.
Salvation and regeneration
This one came to us via the site contact form in July of 2011.
I would be interested in joining your group and adding to the discussion, however, you require that a person believe your Doctrines Statement and I have a problem with statement #8, which defines "Salvation" as being the result of the inner transformation of the man. This is not Salvation. Your statement is a fine example of the error of Roman Catholicism, which fails to understand the difference between, and relationship of, what Jesus has done FOR us and what the Holy Spirit is doing IN us. Salvation (which is the promise of the believers resurrection from the dead) is what Jesus has done FOR us, outside of us. The new-birth is what the Holy Spirit is doing INSIDE of us (it comes to every believer as a RESULT of trusting the the Gospel of Jesus' life, death and resurrection). The new-birth is not the Gospel itself and it is not a biblical definition of Salvation.

Would I be allowed to join dispite my refusal to accept your false definition of Salvation?
Response
Thanks for reading our Doctrinal Statement.
Let me see if I can help a bit. Our doctrinal statement is actually lifted from the American Council of Christian Churches and was designed by them to accommodate a pretty broad range of groups that embrace the fundamentals of the faith. It is consciously designed to reject Roman Catholicism, along with many other errors.
That said, it's just a doctrinal statement and these things are always imperfect.
Statement 8 reads as follows:
[We believe in…] "Salvation, the effect of regeneration by the Spirit and the Word, not by works, but by grace through faith."
First, the words "saved" and "salvation" are used in a variety of ways in Scripture. A few examples: "Work out your own salvation" (Phil. 2:12), "salvation ready to be revealed" (1 Pet.1:5), "eternal salvation" (Heb. 5:9), "salvation belongs to our God" (Rev. 7:10). The root idea is "deliverance" or "rescue," and it applies mainly to God's work of rescuing believers from sin and its penalty.
Many use the term "salvation" broadly and include regeneration as part of it. Item 8 in our doctrinal statement uses the term specifically for the deliverance that comes to those who have become the sons of God (John 1:12) by believing.
The statement does not deny that resurrection is part of that salvation. Many blessings not mentioned in statement 8 are part of our salvation or inseparably linked to it, such as being glorified (Rom. 8:29-30), receiving an inheritance (1 Pet.1:4), becoming like Christ (1 John 3:2), our union with Christ (Rom. 6) and much more. So the term "salvation" properly includes God's work both within us and outside of us.
The new birth/regeneration is not something the Spirit "is doing" in believers, but something He does immediately and fully when we believe. If any man is in Christ he is a new creation (2 Cor. 5:17, emphasis added). 1 Peter 1:23 describes believers as having been born again. Similarly, 1 Peter 1:3 describes believers as "begotten again." Ephesians 2:5 refers to believers as having been "made alive" and links this to being "saved" by grace. So "salvation" and regeneration can be spoken of as distinct but are truly inseparable.
So the statement is an accurate, though brief, summary of the doctrine of salvation by grace through faith. Still, if we were going to revise it (maybe someday we will), it would probably simply say:
"Salvation, the gift of God, not by works but by grace through faith."
So if you believe that salvation is God's gift for all who believe and that all who believe are also regenerated, there is no reason why you could not agree with the doctrinal statement.
Total depravity
Another inquired in February of this year, also via the site contact form.
Hello Brother Aaron! Of course you don't really know IF I am your 'brother in the Lord' because you do not know what I believe. Fair enough? I came across your 'fundamental' web site while googling for fundamental Christians.

…

I see that one of the requirements of 'joining' this forum is to believe that all humans are totally depraved. It's suprises me that you would make this a 'requirement' for entering a forum which is suppose to be 'open' to discussing, debating, analyzing or simply sharing what one believes (as a Christian) is sound doctrine. Now I am quite aware that YOU…have the option of deciding 'what can' and 'what cannot' be 'debated.'

But in my opinion, I think your 'reasoning' (about what can and cannot) be discussed is wrong. Aaron, there is more to God's Truth than what just you (and I) know to be Truth. I believe you should let 'people' share whatever they believe. In time, IF you are continually faithful to God's Word, you will separate the sheep from the goats. Who knows, you might even find out as I have that many who say they 'know Jesus' as their Savior are not really children of God to begin with. Also I absolutely believe that the Scriptures are quite clear that though all humans are sinners, NOT all humans are totally depraved. I am hoping and praying you are NOT a Calvinist. (Did you know that John Calvin absolutely believed water baptism was 'part' of the gospel package? He was a lot like Martin Luther in his beliefs.)

Luke 8:15 –– But the good soil represents honest, good-hearted people who hear God's message, cling to it, and steadily produce a huge harvest.

Hope to hear from you soon…
Response
Thanks for contacting me.
What do you believe "total depravity" means? We have found that many misunderstand our position on this because they are not clear on how we're using the term. And many mistakenly believe that the doctrine of total depravity came from Calvin.
What we mean by the term is that in Adam all sinned and consequently, all are born sinners by nature. That's the depraved part. The "total" part is that every part of human beings' nature is tainted by sin.
The doctrine of total depravity does not claim that every human being is as sinful as it is possible to be or that everyone is equally wicked. It does teach that apart from a gracious convicting work of the Spirit, human beings do not seek God or believe what He says.
Hope that's helpful.
Rejoinder
Aaron,

I hope and pray you are a teachable person. If you do not believe 'total depravity' means total depravity you should change your wording. Aaron, you are kind of talking out of both sides of your mouth. On one hand you say you don't believe that all humans are equally (i.e. totally) depraved, and then you say that no humans (in and of themselves) seek for God. History shows this world was (is) full of examples of unsaved religious people (totally depraved?) people who 'sought' the Creator God of the universe.

Unfortunately in many instances there were no true Christians (i.e. true messengers of Truth) around (in past history) to direct these people to the God of the Bible. (When the Gentile who have no (direct) Law (written Mosaic Law) do instinctively the inner hidden law of God that the Lord has put in all people these laws will be used to judge these people.) In the Bible Cornelius sought for the God of the Bible–—even though he did not know Him. (He did not get 'saved' until Peter came and preached the gospel to him.) John Calvin would teach that Cornelius had no choice in the matter. Calvinism teaches (falsely) that God ZAPS people (even those who were not seeking God) so that they have no choice in the matter. This is where the foolish idea of total depravity originated. In Acts chapter 17 the Apostle Paul told the unregenerated Greek philosophers that if they sought to know the God of the Bible they would find Him.
Response 2
The "total" in "total depravity" refers to all of a human being's nature. It means there is no part of him that is not depraved. This has never meant that every person is as sinful as every other person, though it does mean we all begin at the same point. Our nature is the same but we do not all make the same choices. The result is that some become more wicked than others in their conduct.
Consequently, there is no need to change the wording in our doctrinal statement. In any case, it's a very old term and though we could use different wording, that wouldn't undo the history. It makes sense to me to continue to use the term as it has been used for centuries.
Your understanding of Calvin is not accurate. Neither he nor Augustine taught that people "have no choice." Rather, he understood that a being is only able to choose what his nature permits him to choose. God cannot choose to sin. A sinner cannot choose to seek God—not because anyone is preventing him from choosing, but because he does not want to and cannot—on his own—want to.
Persons like Cornelius seek God when God draws them. Calvin et. al., have never taught that people who are being drawn do not seek God prior to believing. But in these cases, it's a gracious drawing that moves them toward God and not their own nature.
Yes, Paul told his hearers they would find God if they sought Him. He did not say they were able in themselves to seek Him. Rather, he described what would happen if they did and urged them to do so. Preaching the gospel involves a call to all to repent and believe (seek God). God graciously produces results in hearers. When He draws them, they see the truth of the gospel message and choose to repent and believe. These ideas are far older than Calvin or even Augustine.
[node:bio/aaron-blumer body]
12689 reads